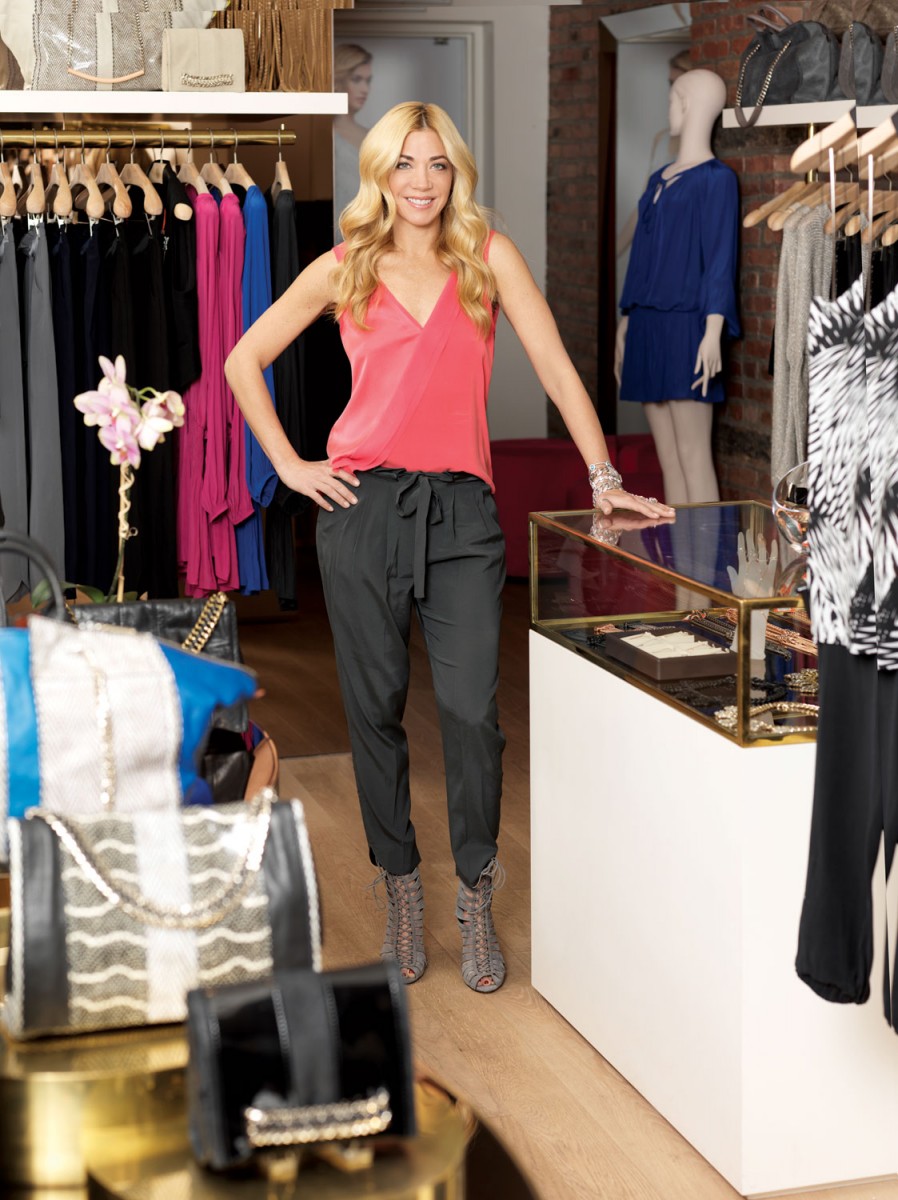 Ramy Sharp took on Soho this fall by opening a flagship for her Ramy Brook label at 22 Prince Street. Complete with exposed brick, a killer soundtrack, and the sexy yet comfortable threads she's known for, her boutique has become a haven where even the most devout Upper East Sider will feel at home.
How's business been since you opened up shop in September?
It's great! Now I understand more about why people are buying Ramy Brook and what their preferences are. I get to learn what works for the customer, why they like our brand, and where they're going in our clothes.

How often are you at the store?
I come to the store on the weekends and at least once a week. I'm always surprised by how many people I know! I thought the area would be much more touristy.
Any celeb fans?
You know who came in recently? Julianna Margulies. She's a big fan of our brand.
Where else in the neighborhood do you usually hang out?
The pizza place across the street, Prince Street Pizza, is so yummy. There's a famous nail salon around the corner, Valley, that does the coolest nail art, but
I can never get an appointment there! If I'm meeting someone, we'll usually go next door to Café Gitane.
We hear you're branching out into athleisure. What's the scoop?
Later this month, we're launching Après Ramy Brook, which is a to-and-from-the-gym collection. It's launching with Nordstrom, Bloomingdale's, and Shopbop. Last May, we did a six-piece collaboration with SoulCycle, and it did incredibly well. I realized that women want to throw on something cute after they workout to run errands, grab coffee, and pick up their kids.
What are your usual workout spots?
Barry's Bootcamp and SoulCycle, obviously. And I just started working out at Exceed Physical Culture. This morning I did Exceed and then I went to spin class. On certain days, I double it up!
Who's your all-time favorite model?
Gisele Bündchen, for sure. My favorite look she ever wore is from the Met Gala in 2008. She was wearing this blush-colored Versace dress that covered her in all the right places but still left so much exposed. Her whole body looked perfect. Of course, it didn't hurt to have Tom Brady on her arm!
Growing up, who was your favorite model?
My favorite model was Christie Brinkley, and I'm a big fan of Heidi Klum and Claudia Schiffer.
Do you ever run into Christie when you're out in the Hamptons?
I do! I see her all the time out there. She's lovely, and she's gorgeous!

Are there any pieces in your collection that are basically made for a model?
We have a few jumpsuits coming out, especially an exclusive for Bergdorf Goodman called the Finn. It has a bit of a '70s vibe, with suede on top and black palazzo pants. There's a chain detail around the neck, too. I think a model would look stunning in it, because we cut the pants really long, so it's perfect for long legs.

Who's your favorite designer to see at Fashion Week?
One of the best shows I've ever attended was Dennis Basso's. I just loved every piece. Not only because he does the best furs, but he also makes really unique dresses. And he always has the best shoes! I bought a dress from him for my son's bar mitzvah. It was a beautiful yellow gown, all beaded, down to the floor, and I bought a yellow fur to go along with it!

Aside from attending shows, what are your favorite Fashion Week pastimes?
You know what I love? Going to the restaurants and seeing all the people. You know it's Fashion Week because everyone looks extra glamorous!