New York-based event staffing and management company Radikel has become a lifesaver around the country. Founded by Tara Pollari and Diego Errea, the company staffs events with any kind of person you can imagine (good-looking people seem to be in high demand!) with a client roster that includes Tommy Hilfiger, Thom Browne, Target, NBC Universal, and The Daily. Pollari and Errea fill us is on all their services.
What is Radikel Events best known for? 
We're a national full-service event staffing and management agency. When our clients call upon us, whether they are a high-end luxury brand or smaller scale start-up, we can provide them with any type of staff and talent their minds can conjure—from models, actors, brand ambassadors, event managers, production assistants, pop-up shop staff, street teams, VIP hosts, guerrilla marketing teams, registration/check-in, captains, and hospitality staff to more over-the-top requests as outrageous as your imagination can think of. We help amplify brand messages and overall brand awareness with the power of human connection, which is the key to any successful activation. The brands we work with tend to be very competitive in their marketing initiatives and look for talent to be unique.
How did the company come together? 
We've been working as a team in the events industry for the past seven years. A little over three years ago, we decided to have a meeting at Madison Square Park. On a gorgeous fall day drinking coffee on a park bench, we discussed a need for Radikel in the event industry: an agency that understood both their clients and employees, and the necessity for that agency to be unique in the talent they provide. We had been hustling doing both production and staffing for events and knew that it was the people working and running the events that really made each one a success. We just celebrated its third anniversary in November! We call ourselves "Team Rad."
What were the needs? 
Brands are always looking for the best teams to run and work their events. A lot of the times, they don't have the resources to activate events successfully, so it's up to us to position the right talent to match a brand's marketing strategy. We have that "sixth sense" of matching what the brands are looking for with the right talent—this can only be achieved by knowing our talent personally—their personalities, their interests, their passions. We work as an extension of the brand to represent them in the most authentic way.
How do you find your brand ambassadors?  
The team has been in the event business for over 10 years, and has an extensive network nationally. We also hold interviews and castings on a weekly basis depending on what events are coming up and what type of talent is needed. Each of our team members have specific qualities that make them unique. They are skilled at getting people to learn about new product features, at influencing audiences to try new products/services, to be the face of a brand, or just to purely entertain. Our staff do more than just stand there and smile—they engage audiences and drive them to be involved in the marketing strategies our brands construct and to meet the metrics the brands strive to reach.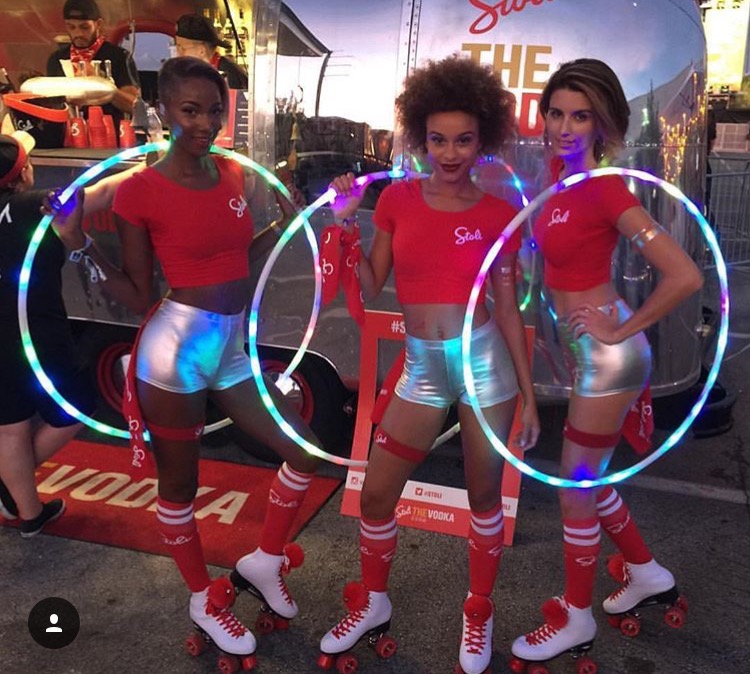 How do you find the talent?
We hire our own models directly through our talent management department. We have developed a unique board that represents brands of every industry and aesthetic. We're proud to always find team members to fit a brand seamlessly.
What are you looking for in your brand ambassadors?
Our clients are all very unique. When they reach out to Radikel, they're  looking for someone to be part of the brand experience during the event, and for someone who is personable, approachable, proactive, reliable, and most importantly, on-brand. They want our talent to be an extension of the brand.
What kinds of events have you done during New York Fashion Week?
Many, including Tommy Hilfiger, IMG NYFW, DSquared2, Diesel, Thom Browne, Uniqlo, Harley Davidson, and Elizabeth and James.
Recent Credits: 
2016 NBC Universal Upfront held in New York City.
2016 Global Citizen Festival in Central Park New York City.
2016 Tony Awards after party for Hamilton in New York City.
2016 Fall Fashion week 2-day Carnival and runway show for Tommy Hilfiger x GiGi Hadid held at the South Street Seaport in New York City.
Warner Brothers VIP pre-screening of War Dogs in Los Angeles.
UFC 205 NYC at Madison Square Garden in New York City.
SEMA in Las Vegas representing Time Inc in Las Vegas.
3 Points Festival in Miami representing Stoli in Miami.
Old Navy Editor Preview at Milk Studios in New York City.
Tribeca Film Festival representing the New York Times in New York City.
Patron Margarita of the Year 2016 in Brooklyn New York
Target x Marimekko 5-day collaboration at the Highline in New York City
Friars Club honoring Martin Scorsese for the Entertainment Icon Award for 2016 held at Cipriani Wall Street in New York City.
Comicon for the USA Networks new show "The Colony" in New York City
Kiehls x Zoolander Experiential Activation in Meatpacking New York City
DSquared2's Halston House in New York City with Lady Fag
Partnered with Faena Art in Miami for Art Basel 2016 for 7 days of events including the opening of the Faena Forum and Dome. Faena Miami held Madonna's Malawi concert and Kendrick Lamar's Art Basel Concert