After bursting into the fashion world, Pyper America has recently been focusing on other monumental projects such as becoming a Mrs. and dipping her toes into the acting world. Now she's navigating her next chapter. The devastatingly beautiful IMG model recently stopped by The Daily offices for a candid catch up! 
What are you up to these days?
I got married about nine months ago and it was so beautiful. I had a disco/dance party/wedding celebration. We got married in a temple in Utah, which is where I'm from. Marriage has been a huge change and really awesome.
Tell us more about the disco theme!
Whenever I go to weddings, the most fun part is the dancing. I knew I didn't want to do anything too traditional. I knew we were going to have a more private ceremony in a temple so I thought we should just have a dance party. I wanted tons of disco balls and silver decorations. We found this very cool music venue, which was very whimsical and almost looked like a museum inside. The guy who owns it does set decoration.  I told everyone they had to wear their most fabulous sparkly outfit or disco outfit.
What was your wedding song?
"You Are Mine" by Secret Nation. It's not a disco song, but it's a really sweet song.
Tell me about your wedding party look!
I wore a sparkly jumpsuit. I was searching and searching for something modest, but still disco-y. It's so easy to find fun and sexy disco outfits, but I was having a hard time finding something that was covered and long and cool. I found this random lingerie store on Hollywood Blvd. and they had tons of raver outfits with amazing material and they custom made my look in two days. It was perfect.
How long have you been with your husband for?
We met two summers ago and I just knew! "You're my husband!" It was just a fact that we were meant to be together. I had never been with someone who understood me. We felt so relaxed and comfortable.
Is he in the fashion world?
No. He just graduated from a coding school. He wants to work in the tech industry. In Utah, there's a big boom. The tech industry is exploding. I'm still in LA and New York a lot. I used to be in a band with my siblings and we took a break and I explored acting. I'm still auditioning. My sister [Starlie Cheyenne] was the lead singer of the band and is doing her own music projects. I told her the other day that I really miss performing and playing music so we're starting to get into that again.
It was a big deal when you guys first entered the fashion business!
We grew up in Utah and [sister] Daisy got scouted. She had an agency in LA and we went there and they saw all of us together. They said they wanted to sign all of us. The week we signed with them we shot for Vogue Japan. It boomed really quickly.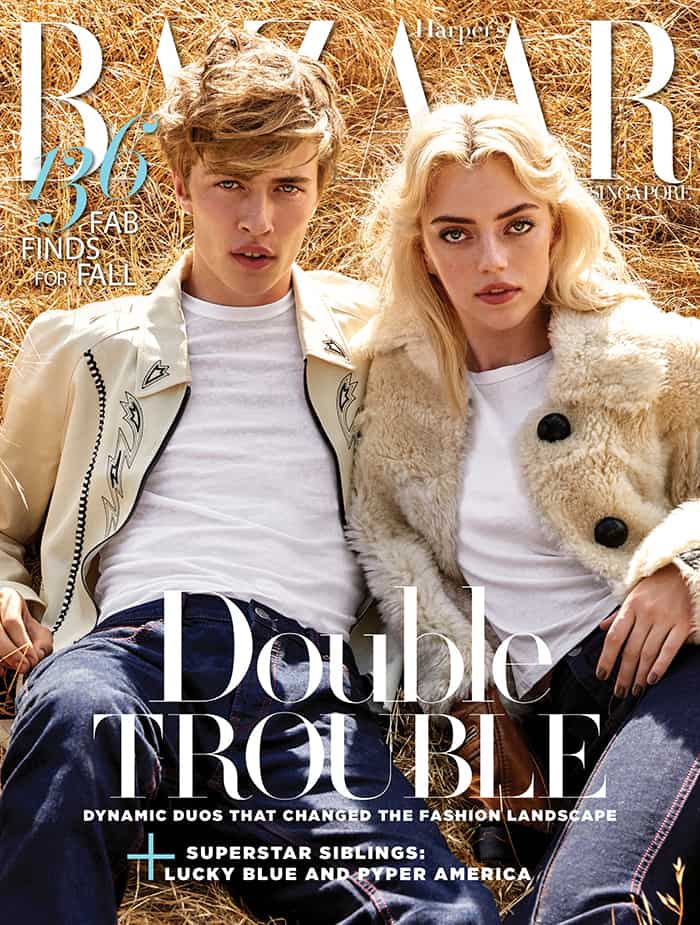 That was about six years ago. How do you look back at that time?
When it was happening it was just so surreal. It's definitely been a journey. There was this big explosion. The fashion world moves so fast. I'm trying to find my place in it again. I work with my brother all the time and I was really focusing on acting. I do comedy on my Instagram. I've been exploring what message I have to share with the world. What do I want to share with the audience I have on Instagram? [Smith has 700K followers] How can I make this all meaningful and empowering The main message that I want to share with youth is that everyone is unique. You're the only you!
It seems really simple, but it's really powerful. I came into the world and wondered why people like me and where do I fit. I was 15-years-old and now I'm 22. I never though I was going to model, but it has been amazing. I think I got lost a little in how I can change myself to fit. What's powerful and what makes me special is that I'm me. I know that sounds simple. Everyone has their own unique thing that they bring to the table. I love that. Everyone wants to feel confident. I want to feel confident and some days I do and some day I don't. I've woken up some days and my face is puffy or I don't feel as beautiful or great, but I'm finding a way to be consistently confident in who I am. It doesn't need to fluctuate.
What makes you feel confident? It it a mental thing for you or putting on a look?
It's both. Clothes can make me feel confident. A lot of things can make me feel confident, but what I'm really working on is how I can feel confident without dressing up or wearing makeup. I love exploring. I've changed my hair. Listening to music makes me feel confident, it makes me feel heard. I love when I can listen to an artist and connect to what they're saying. As a musician, I want to make music that people can say that they felt that.
When I listen to the radio and listen to an amazing pop song, it's so fun to dance to and a lot artists speak about relevant things, but when I'm listening to a more emotional song and I connect to it, I love that. One of my favorite artists right now is Rüfüs Du Sol. They're a cool band out of Australia. It's electronic dance music. The messages in their music is really raw.
Who else are you listening to?
I love Tame Impala so much. Getting back to what makes me feel confident, sometimes it's just a matter that I need to change my mindset if I'm not feeling confident. I need to change my perspective. Reading books helps me change my perspective.
What kind of books?
I like self help books, spiritual books, reading the Bible. There's a book about this guy [F. Enzio Busche] who is from the same church as me called Yearning for the Living God. He grew up in World War II in Germany and he found a spirituality and religion in the most interesting way. I'm religious so I love reading books that take me out of the world in a sense and culture. They center me and ground me.
You're open about your Mormon religion. Did you find you could talk openly about it in the fashion world?
When I'm on set and people ask where I'm from and I say Utah, it's the first question they ask because they know it's predominantly a Christian place. I never felt any judgement from speaking openly about my religion. I got a lot of misconceptions about the Church that I'm a part of. I got a lot of questions. I've been talking about it on social media and how it applies to me. Why I love it and how I navigate it in this world. People ask me how I navigate my spirituality.
What's the answer?
It's just an open dialogue with Heavenly Father. Prayer is a huge thing for me and I think a lot of times that helps me feel confident. I feel like religion is a touchy subject.
People don't often talk about religion in interviews.
Everyone has their own experience with spirituality. I grew up with it and that for me is a blessing. The strength and the power and the realness and feeling I get by practicing and being conscious about my spirituality and my spiritual nature, that's why I'm in it. It gives me confidence. Everyone is on their own journey. I do like to talk about what I believe in because people are curious.
You obviously have a sense of humor. How would you describe it?
It's really dry. One thing I love about my relationship with my husband is when we started dating we'd be in a group setting watching a movie and we'd laugh at the same thing. I've been trying to understand what [exactly] my sense of humor is because I want to develop it more.  The Office is one of my favorite TV shows. I love mocumentary films and TV.
Do you get nervous on auditions?
Yes! Not castings but auditions. When I can do a self tape, I'm so grateful. When you go on an audition, you have to nail it the first time. You have to have it memorized and I'm not so good at memorizing. But I feel so comfortable on set. I just shot this comedy series and I have a fun part in it.
Who would you like to work with in fashion?
I sent my agents a list of brands I want to connect with, like Marc Jacobs and Schrimps. I just started following [photographer] Hugo Comte on Instagram. His photography is super cinematic. The lighting is just so beautiful. There's a story in each image. I just found this shoe brand called Nodaleto, which is amazing.
What else would you like to do in fashion?
I'd love to work with a beauty company and talk about uniqueness and why it's so important. A lot of beauty can feel like trends and fitting in but there are companies and voices out there that are doing their own thing. I want to be part of the message that everyone is unique and to accentuate what makes you special.
Subscribe to our newsletter and follow us on Facebook and Instagram to stay up to date on all the latest fashion news and juicy industry gossip.