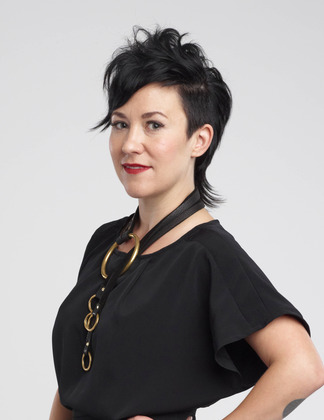 Project Runway's Michelle Franklin on Her Reality Show Career and Stalking Nina
|
Last night's episode of Project Runway was a doozy, y'all! In case you missed it, the designers' latest challenge in the season 11 showdown was to create ready-to-wear looks inspired by Lord & Taylor's signature "American Beauty Rose" to be sold exclusively at select Lord & Taylor stores and on LordandTaylor.com. Spoiler alert! Michelle Franklin took home the top prize. This morning, the designer celebrated her big win on the second floor of the 5th Ave. department store, unveiling a chartreuse color-block satin shift dress, which will retail for $259. We checked in with Franklin to find out what didn't make the cut, how she really feels about Nina Garcia, and her future reality show plans.
Congratulations on winning the Lord & Taylor challenge! What were the first words that came to mind when you found out you won?
Holy sh*t! That's generally my reaction to things.
What was it about your design that met the L&T look?
It's sophisticated and figure flattering on every body type. You can be a size 0 or a size 22 and still be able to wear this dress and look amazing. And it wasn't pink, unlike a lot of the other designs.
What section of Lord & Taylor would you want to be stranded in for a week?
I'd pick the shoe department because you can just gorge yourself on shoes and your feet will always stay the same size.
In addition to Lord & Taylor, what other department stores would you love to be carried in?
Lord & Taylor is pretty phenomenal, so you can just pin a rose on my nose right now! But I think something that would be great for the masses would be H&M. Also, I'm from the Pacific Northwest and that's where Nordstrom originated, so I'd have to say Nordy's.
What was your experience like with Project Runway?
It's been awesome, scary, wonderful, crazy, maddening, and embarrassing.
Any behind the scenes facts you can share that we may not know?
We actually really all like each other. We have a strong group of designers, and I think it's because we were in teams and had to work together so it made us bond more than perhaps other seasons.
The show doesn't always portray you all getting along…
No, it doesn't. And you don't get to see how funny Tu [Suthiwat Nakchat] is. You also don't get to see a whole lot of Stanley [Hudson]'s personality, which is huge, but he's kind of reserved on camera.
Let's talk about those judges. Which one did you click with the most?
I don't know if I ever clicked with any of them, but I'm super obsessed with Nina Garcia. I have an impersonation of her that I do all the time. I just want to hide out in her closet and watch her get ready in the morning and just be like "you're amazing Nina!" That sounds really scary…I'm not going to go stalk her, but I might if I could for a day or two.
Ha! Did you ever consider signing up for other reality TV shows?
My fellow designer Matt [Arthur] and I have an idea that we're going to do the whole circuit. So we did Project Runway and next we're going to do the Amazing Race, and then we're going to do The Bachelor together. After that, we're going to do Top Chef, and then we're going to gain a lot of weight and do The Biggest Loser. It's a pretty big schedule.