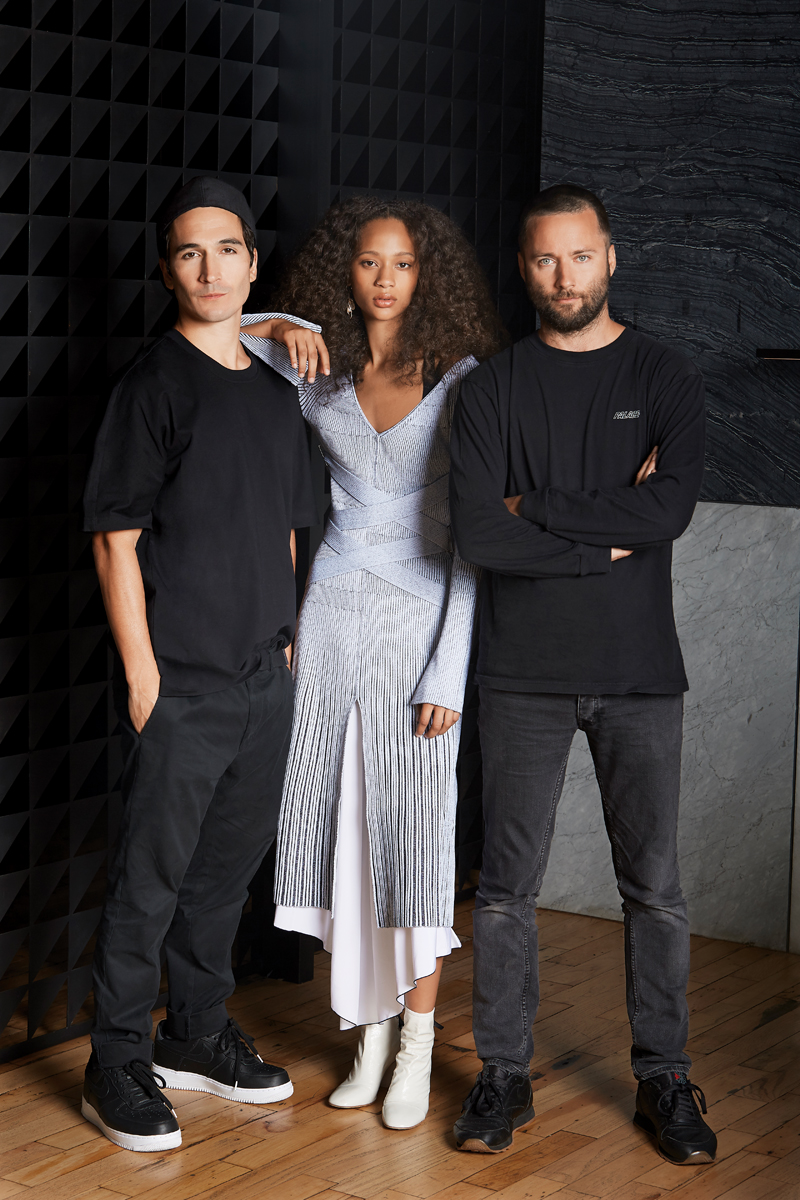 After 14 years in business, Proenza Schouler's Jack McCollough and Lazaro Hernandez are firmly established as one of New York Fashion Week's unmissable moments. But despite their commercial and creative successes, the designers remain chronically dissatisfied. At their Greene Street flagship, they explain why.
What do you think of the "buy now, wear now" model?
Jack McCollough: We're definitely down for switching things up. It's funny—fashion is supposed to be a sign of the times that's looking toward the future, and yet the whole system is so antiquated. We're reevaluating how we do things, and how we put out collections. For example, we're now holding pre-collections until they hit stores.
Lazaro Hernandez: Streetwear brands seem like they're kicking everyone's ass, because they're so much more contemporary in terms of attitude. Part of that is how they deliver product—in limited runs, with different collections here and there. It's so regimented.
Jack: I don't know if the "show now, buy now" model would work for us, because when we make something and it's ready, we need to put it out in the world in that moment. There's no way we could sit on the collection for five months. We would want to make little tweaks and changes; we would drive our team absolutely bonkers.
Lazaro: For us, it's an attitude, silhouette, and shape, and very much about a moment. I don't think it would resonate as much six months later. We've experimented with "buy now, wear now," but for us, it doesn't really make sense.
How important is critical feedback to you? From retailers, critics…
Jack: Sometimes it's really important, and other times, we couldn't care less. Retailer feedback is very interesting. On a review level, we take it or leave it. There are certain reviewers who are amazing, and we deeply respect what they have to say. Then, there are people on Instagram…
Lazaro: Yeah, but we don't really care about that.
When do you feel like the collection is completed?
Jack: When we've got a couple of hours left, and there's nothing else we can do…
Lazaro: And our team is like, "Stop changing things."
Jack: They're telling us that we can't develop a new fabric in Italy when the show is weeks away! We do tend to push and push till the very end.
What do you stress out about most?
Jack: I was stressing a little bit during our vacation.
Lazaro: You were?
Jack: Yeah, a little bit. I had things on my mind that weren't resolved quite yet, and I was itching to sort them out.
Lazaro: I sat there swiping through the whole collection, looking at proportions. We have a shared [digital] library that connects to everyone on our team, so the whole collection and all the fitting pictures are on our iPad.
Jack: You can literally just sketch on top of the photo—for example, that collar felt a little wrong, the size was off, etc. So we sketch the lines, and then e-mail the photo back to our team, so they can start tweaking it. It's nice when you step back and take a break from it so you can come back in, and all of a sudden, certain things are very clear.
Lazaro: Spring is the best because you have so much time.
Jack: It's like seven months, from February to September! Fall is such a tricky one for us, especially with the amount of development that we do on a fabric and materials level.
Lazaro: It tends to be a more vicious collection, because there are coats and materials that are a bit richer. It sucks that the time frame is so short, but we get it done.
After all these years of fabric development, you must have really strong relationships with the Italian mills.
Jack: One of the Como mills, in particular, has become like family—we're on the phone constantly, and we hang out off-hours. They can kind of do anything you dream up, and they are down to do it. There are some mills that make amazing fabrics but are afraid to develop.
Lazaro: A lot of the development is done by our in-house team; there are a lot of other people besides just a fabric mill who are involved in the process of making the garment. This year we have pieces being made in Bolivia, Italy, Paris, India, L.A., and New York.
Jack: And some garments have to go to all of those countries in order to get to the final steps. Logistically, it's quite a process.
How did you build this team of people to help realize your vision?
Jack: We started 14 years ago now, with one intern who is now the head of our production. Barneys bought our senior collection; we didn't know what the hell we were doing. Shirley Cook would come over after work and help us sort things out. We then started buying fabrics; we didn't know what to do with the receipts. She became our CEO, and we just slowly started taking people on as the company has grown. It's been really grass roots in a lot of ways—it's not like we got this huge injection of cash in the very beginning. It was a slow building process.
In addition to your New York boutiques, you've opened several stores in Asia. How did that
come about?
Lazaro: The minute you open a brick-and-mortar store, all these licensees kind of see that. We signed deals with Shinsegae and Club 21, which are two big distributors in Asia, and they've been opening stores in different markets and handling press and brand awareness. We've had stores in Thailand, Japan, South Korea, Guam, and Hong Kong.
Jack: We were in South Korea recently; we went to Japan a few months ago. I love Asia, especially Japan. I was born there and lived there for a couple of years, so it's interesting to go back. I went to visit my old house, back in the day, in Tokyo. My dad was working there doing investment banking, so my little brother and I were born there. Then he started working in New York, so we transferred back. I grew up in New Jersey.
Is opening up stores in New York more of a marketing endeavor?
Jack: It's also a great way for people to see the collection in its entirety. We're able to curate pieces we feel strongly about, so we offer the showpieces that you're not going to see everywhere else.
Lazaro: It's a great marketing tool—they get to see the entire world of Proenza and experience the entire collection full blast, not just the cherry-picked items from stores.
What do you make of all the changes in the big fashion houses?
Lazaro: Especially here in New York, this season feels pretty weird—no Calvin, no Donna Karan shows. I feel like our generation is the establishment now.
Jack: We are by no means the establishment, either—we are definitely somewhere in between.
Lazaro: It's an interesting time for American fashion, and fashion in general. The world is moving in a very different way; social media and the Internet have changed the way everything is done.
Jack: There are so many more designers than ever before. If you don't have a vision that's true to what you do and doesn't step on anyone else's toes, you're going to fall through the cracks. People will forget about you.
Lazaro: If we would have started [the brand] today, I don't think we would have been doing what we do. I feel like the stakes are so much higher—you can't f**k up anymore. When we started, we were kids; it was more of a big, ongoing party for a few years.
Jack: We'd miss interviews. Editors would come in, and we'd be sleeping on the floor because our alarm didn't go off. It was just a different time. Now things are much more serious, even for the young, emerging kids.
How do you guys keep pushing yourselves creatively?
Jack: We get a little bored. We like to immerse ourselves in one idea, and once we've done that, we ask ourselves, what else could we explore?
Lazaro: It's ADD and curiosity—we do it, we hate it, and we move on and we want to make it better the next time. We are never like, "Oh, that's great," because once you think like that, you stop pushing yourself and you stop trying to attain perfection.
Jack: It's not until a couple of seasons have passed that we can look at some of our designs, because we're so wrapped up in the minutiae of the whole thing.
Are your archives stored in a basement warehouse somewhere?
Jack: Yeah, in our building, every collection we've ever had! We've never been down there. One day we'll check it out. For the time being, we're staying away.
Do you have any interest in doing menswear?
Jack: We've talked about it with no immediate plans to do so. We want to do it even on a more selfish level. If we did menswear, it would be more focused on everyday basics, similar to how we dress. We'd develop some sneakers, jeans, sweaters, T-shirts—maybe a slightly different price point.
Have you ever been tempted to work at a big fashion house?
Jack: It would be interesting to apply what we do to another house with different codes and maybe a longer history. Few people have managed to do two brands successfully at the same time. I can't imagine cutting in half the amount of work, love, and attention we put into what we do now. So for the time being, we are here; but it is tempting. We've been approached by a number of people. There are houses with amazing histories and unlimited resources. On a creative level, we could really push ourselves to a crazy level.
How did the PS1 bag change things for you?
Lazaro: It was game-changing. People are buying more casual clothes now, but they still buy designer bags. You can be wearing a T-shirt, jeans, and flip-flops, but if you're carrying a designer bag, somehow, it's all good. The fact that we have strong leather goods has been a saving grace for us. The company keeps growing, and the handbags are a big part of that. We launched the PS1 in 2008, right before the crash—thank God.
Jack: It was our least commercial collection ever, and that bag saved everything.
You're known for spending much of your time together. But when you each get alone time, where do you go?
Jack: We always go back to our [respective] parents' houses for Christmas.
Lazaro: We've never spent Christmas together, ever.
What's happening up at your home in the Berkshires?
Jack: We do a lot of work up there! We built a studio, and we go there for 10 days and sketch for 12 hours a day. It's a great place to get into your head, and get away from all the noise, meetings, telephones, and e-mails. We've been up there for eight or nine years now, and people have slowly started getting houses in our area, so we've got a little community of friends who live up there.
Lazaro: Restoring our old house from the 1700s is like another aesthetic process. We can't stop doing projects.
Jack: We're not good at having a weekend off and sitting around on the couch watching TV. I like getting my hands dirty, pushing a wheelbarrow around, and doing some manual labor. It's amazing to feel the earth and run around barefoot.
Read the issue HERE.