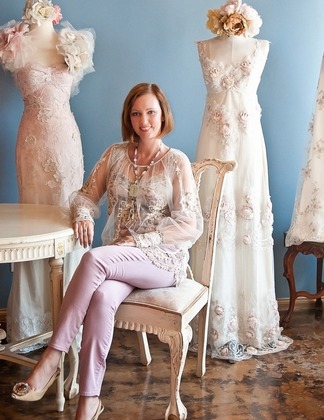 Pretty Penmanship With Claire Pettibone
|
Playing catch-up with bridal designer extraordinaire Claire Pettibone on her first foray into the world of stationery. Chic lettering indeed!
How'd your stationery collab come about?
I met Wedding Paper Divas during April bridal market, and they approached me to design stationery.
What's your creative process like?
I imagine a whole story; I envision the whole wedding! The invitations are another aspect of that story. I incorporated one of my most treasured possessions, my great-grandmother's photo album, into some designs.
What's the aesthetic M.O.?
Each design relates to a specific bride type: an outdoor garden, a rustic winery, a dreamy destination, or an elegant fairy tale. There's a mix of moods and stories.
When will the line debut?
We're previewing three of the 12 suites at our show. All of them will debut in January.
What makes for a great invite?
Charm your guests. Romance them a little! Give them a taste of the celebration to come.
What were your invites like?
I handwrote them all on Victorian paper doilies. That was 19 years ago, so I was DIY-ing before the term even existed!

Feelings on wedding e-vites?
Absolutely not! A wedding merits an invitation. It's for your grandmother to hold, and for your best friend to tuck away in an album that you'll look at 20 years later.