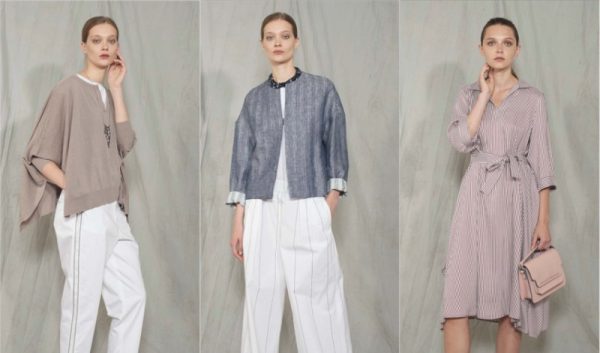 In the spirit of Milan Fashion Week, we present one of Italy's prestigious family-owned brands, Peserico. CEO Riccardo Peruffo gives the scoop on the brand that his mother began over 50 years ago.
What's the brand's backstory?
My mother, Maria Peserico, launched the line in the '60s—she was a tailor and decided to set out on her own adventure. It was Italy after WWII, a time when it seemed impossible for a woman to launch a company, and she was brave to do it. Eventually, I took over as CEO, and with my wife, Paola [Gonella], we carry on the brand's feminine style, and we've expanded the company internationally.
When did you become interested in fashion?
It's in my DNA. I was born in this world, working alongside my mom. I was her student before I was CEO. I am part of every process that goes into the collections—I help choose the fabrics, the styles, and I know how to tailor.
Why did you choose to open up in the Hamptons?
We believe that our collection meshed with the environment in the Hamptons—the colors and the materials match the lifestyle and the clientele. The Hamptons customer is very particular, and they recognize quality. Everything from Peserico is made in Italy, and we pay great attention to detail. We knew we could meet the expectations.
What is the Hamptons of Italy?
Forte dei Marmi [in Tuscany] is similar—it has that sophisticated clientele, but our stores stay open until 1 a.m.!
Who is the Peserico woman?
A dynamic woman who is culturally elevated and socially active. She's sophisticated but never flashy, and she loves luxury and innovation.
What are some highlights of the S/S 18 collection?
We introduced two tones of white—optic and chalk—in addition to bringing back our iconic blue Peserico color. Oversize dresses and shirts with an emphasis on flared sleeves combined with retro-style wheel skirts and pants that are slimmer. Athleisure is also a big part of the collection—we introduced sporty looks in technical fabrics. As always, the big focus is our prints. This season's inspiration comes from small Japanese ceramics.
What makes the brand special?
We pay great attention to quality, making sure everything is extremely well-made. In the past, it was common for people to go to a tailor for custom-made clothing, but that tradition has pretty much disappeared. At Peserico, we continue that tradition. Every piece has a story. If you touch our clothes, you can tell the difference instantly. Sometimes we sacrifice profit because we prefer to guarantee that every product is well-made.