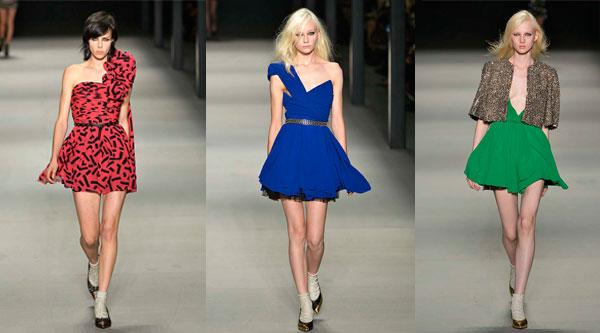 Paris Spring 2014: Saint Laurent, Stella McCartney, Giambattista Valli, Givenchy
|
(PARIS) Saint Laurent
Devoid of the grunge factor this time around, Hedi Slimane stuck a bit more closely to concepts he knows best. His mods, eyes rimmed in kohl, stole some pointers from the boys this time around. And considering quite a bit of Slimane's Fall Men's collection was largely lusted over by the female set, this was a smart move. A grey suit with a pin-thin leather tie was the first look, which set off many trouser and jacket combinations, whether that was a full-on tuxedo get-up or a leather biker jacket and skinny black jeans. Not a trouser fan? No worries. Dresses ran the gamut from golden Lurex to a beaded red zebra print. Always paying homage to the house's past, there was a nod to Yves' safari collection, thanks to a cropped green coat and red lips that were a kiss back to a Warhol-inspired motif from the Sixties. The shoes du jour were pointy, with kitten heels paired with Lurex socks and booties tied up with sultry laces. The party dresses, which were given just one sleeve, also involved big, showy details like ruffles or prominent shoulder pads. Alas, a collection that should prove equally as alluring for girly girls and tomboyish types.
Stella McCartney
"Understated seduction" was the theme at Stella McCartney this season. How French! But despite the understatement it was also much more feminine than previous collections. Of course, there were plenty of chic pantsuits for the working woman, but don't let that give you the wrong idea. These were sleekly cut and done in shades of ruby reds and deep sapphire. But the key looks appeared in the form of full-on lace accents, like a black sheer lace overlay that came over a deep V split down the middle and at the waist for a peep of skin, or a sexy black cut-out one-shoulder dress worn by model du moment Cara Delevingne. Indeed, it was seductive without being overt. It was dressed up while still being casual and it felt like something you might find if you opened Stella's own closet after a bit of flirty self reinvention.
Giambattista Valli

A crisp, clean look with a touch of floral is exactly what Giambattista Valli prescribed for Spring 2014. Muted colors and select patterns helped the designer accomplish this feat, composing an assortment of pieces that would please both trendy and august Parisians. Case in point: a golden dress faded to white, revealing flaxen wheat, which was offered in a modest knee length cut as well as a version with an empire waist and a thigh-grazing hem. A sense of whimsy and fun prevailed, evidenced in a well-executed silk number with a drop shoulder was gathered at the waist, where it split to reveal a teeny pair of black shorts and a chiffon dress dotted with a velvet burnout motif, sporting a ballerina-esque tulle peplum. Furry sheepskin made an appearance on straw tote bags, shirt sleeves, and collars alike, providing a contrast to many sheer fabrics with revealing black underpinnings that, besides their translucency, are prim and proper. Also present, and vibrantly so: lilac and electric yellow pansies blossomed on suit jackets, overtook a chiffon skirt, and were sewn upon black and white prints of the same family.
Givenchy
With a smoldering car wreck in the background, a troupe of live drummers setting the beat, and Kimye holding court in the front row, the Givenchy show was off to great start. The runway itself was host to not only diverse clothing, inspired by a clash between African and Japanese culture, but faces as well. A few of those faces were covered with colorful Swarovski crystal masks, the others were nearly bare, with not a (visible) trace of makeup. The core of the collection was comprised of a number of draped jersey gowns, some of which had low necklines revealing a bra top underneath, others secured with a suspender-like leather strap. Sequined pieces competed for shiny factor with the face masks, toned down by flat, wide sandals that left not one model teetering on the runway. The seemingly pared-down looks were not quite what Riccardo Tisci has done in the past, but the last dozen looks of the show were ever true to the Givenchy DNA. A sequin gown's stripes glimmered from the fitted waistline down to the ankles, and the blazer flared out in silken pleats, moving fluidly over a pair of black pants and a glittered bodysuit. The effect? Nothing short of transporting.