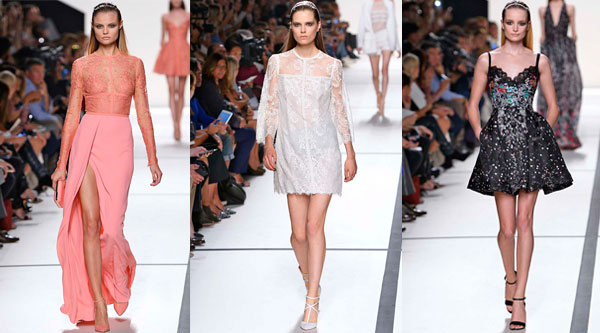 Paris Spring 2014: Elie Saab, Collette Dinnigan, Emanuel Ungaro
|
(PARIS) Elie Saab
It was another hot one at the Tuileries, with editors standing outside longer than usual to avoid the stifling heat. But once the show began it was all nearly forgotten, as Saab's gorgeous gowns in chiaroscuro and Chantilly lace, macro cabochon beading, and florals dazzled on the runway. Saab makes the kind of clothing for which his loyal clients will fly all the way to Paris to see his show—and his show only. After perching front row, Saab's adorers were at The Four Seasons later that eve checking out his couture gowns on display. Saab is reportedly the most profitable of all couturiers on the roster.
Pieces like a coral jumpsuit with a sequined floral design will look just right on his younger clientele or starlets like Saab fangirl Taylor Swift. Florals bloomed abundantly, from the skirt of a flouncy white dress to the waists and hems of evening gowns. There were stunning emerald looks, a hue that's having its moment this season. But the black sheer lace numbers at the end of the show were the sexy attention getters. How sexy? "My wife can have any dress in this show but she's not walking out there in one of those black lace ones with her ass hanging out!" comedian Steve Harvey was overheard saying. Any other dress? Sounds like a fair compromise to us. Lucky lady!
Collette Dinnigan
Lace, florals, sequins. Colette Dinnigan's show had all of the materials that seem to be de rigeuer this season, but the surprise material came via wool for Spring. She showed six garments created with Woolmark's Cool Wool. Bright floral appliqués adorned wool dresses, like a sky blue knee-length dress that gathered at the waist and had red flowers that sprinkled down from the neckline. "It was about a sense of nonchalance mixed with surprises and contrast—like evening looks that can be pared down for day, and details you'd expect in the front, but instead they're in the back," said Dinnigan. "I was playing around with it and having fun." Other surprises came in pieces like a white jacket that had a silver beaded tassel necklace that hung in the back (in keeping with the show's theme "Both Sides Now") and the styling of bras worn with strappy dresses and backless numbers. Good news for girls that can't go without some underpinnings! The show was full of pretty, wearable frocks like a floral sequined shift dress that came in blush and pale blue with black ribbon bows on the shoulders, or a fully sequined sapphire blue pencil dress with incredible detail. "It took weeks and months to hand bead that dress!" said Dinnigan. It's Dinnigan's 18th year at Paris Fashion Week, and she's also the only Australian to show on the Paris Couture schedule to boot. But the busy designer and mother manages to juggle it all, it seems. "It's very intense and you know like most mothers I want to have the time to spend with my family, but at the same time they need to grow up understanding priorities and what a working mom does and what I bring to them." said Dinnigan. "It's hard though. You're never prepared for it." So when is she going to get a little R&R? "I have a long weekend next weekend and then I'm off to China," said Dinnigan. Bon Voyage!
Emanuel Ungaro
The ruffle is back, with a vengeance! Lining seams on chiffon gowns, leather pants, shoe straps and just about any other surface they could attach to, Fausto Puglisi adorned his designs heavily with 3-D squiggles at Emanuel Ungaro. While busy patterns of polka dots and stripes were used throughout the collection, a simple silhouette was adhered to: a looser top nipped at the waist by a simple black belt, finished off with a flared bottom. As for the color palette? Bright and cheerful, yet taken down a notch when paired with heavy black fabrics. Frocks were fashioned into a toughened up version of a baby doll dress or given one solid short sleeve and one spotted long sleeve, somehow working in the designers favor, especially when paired with a short hemline. Offsetting the bright colors of the clothes, each mod was given hair that differed slightly from the one that followed her, but each 'do was roughed up and piece-y. The makeup reflected that notion of a party-hopping chicster who's just rolled out of bed. Also of note: how closely the corkscrews of ruffles mimicked bursts of confetti, the ultimate party detail! Puglisi is the life of the party, apparently.