The first daughter of pop music recently signed with IMG Models, has nabbed the covers of CR Fashion Book, Harper's Bazaar, and Rolling Stone, and has even more high-profile gigs coming our way this spring. Isn't it about time you met Paris Jackson?
Your CR Fashion Book cover was major. How did the shoot go?
Carine [Roitfeld] made me feel so comfortable; it was such a lovely experience. She really took a chance with me by putting me on her cover as a total rookie. I really can't thank her enough for being so incredibly kind and helping me learn about the fashion world.
Do you have a goal in fashion?
Not so much a goal in the fashion industry for myself, but I guess I want to create a new sense of the word "beauty." I want to be someone who shows young girls that you don't have to be a certain size or shape or color to be considered beautiful—beauty comes from within, and it's only through self-expression and staying true to yourself and being able to share your own inner light that shows the world your own beauty. Beauty isn't an opinion or a template—beauty is soul.
Which models do you admire, and why?
RuPaul, for sure. Ru has truly inspired others to feel comfortable in their own skin and has definitely paved the way for our youth in the LGBTQ community. Candice Huffine is also someone who I really look up to as well. I had the pleasure of meeting her at our shoot for CR Fashion Book in December. She is a total angel and has such immense beauty, inside and out. I also have always looked up to Marilyn Monroe since I was young. She seemed like such a courageous human being, and I really wish I could have met her.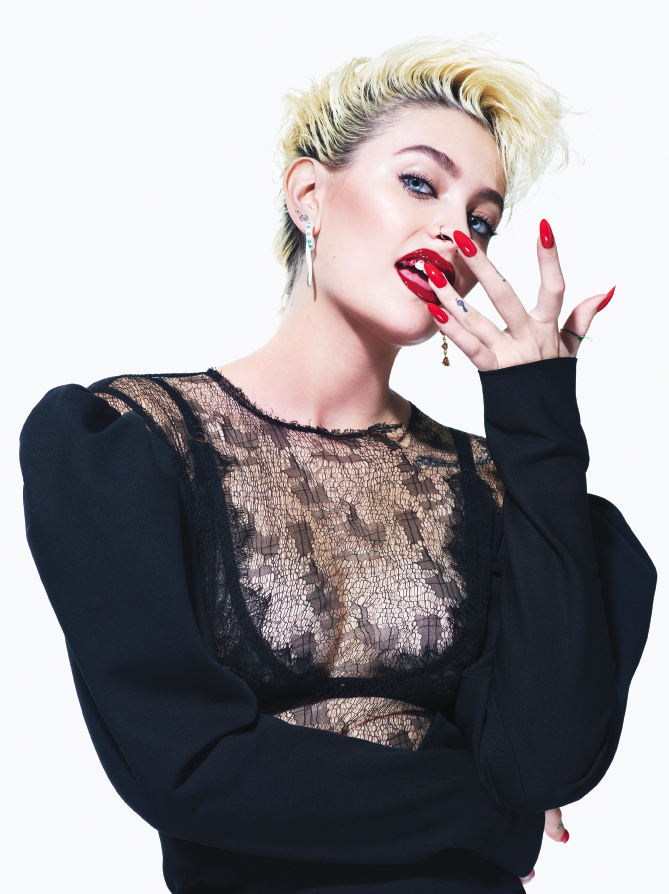 How do you shop?
Goodwill is one of my go-to's because it's a give-and-take system I got goin' on. Every season, I clear my closet and box away what I'd like to donate. Then when I need more clothes, I go back and get new things. Reduce, reuse, and recycle.
You're also an actor. What do you enjoy about it?
I'm always trying to find new ways of expression, and acting is one. It's a fun, creative outlet for me.
You were on [the Fox TV show] Star. What was that experience like?
Absolutely incredible. Everyone was so lovely and welcoming and treated me like family. The writers are awesome—the entire cast, the director, everyone. They are honestly some of the sweetest people I've ever met. I would be honored to work with them again.
Which actors do you admire?
Johnny Depp, Robert Downey Jr., Marlon Brando, and Vincent Price.
What are some of your favorite movies?
Donnie Darko, The Lost Boys, The Craft, Empire Records, Heathers, and Captain Fantastic.
Social media has become such a huge part of our world. Who do you love to follow?
I follow a lot of meme pages. Dank meme pages, of course. I enjoy keeping up with my favorite musicians, as well as close friends and a few fan pages.
What's your motto?
I tell myself every day that I am enough. It's an empowering mantra that I try to repeat in order to throw that energy out into the universe in hopes that it comes back to me full circle.
What's your favorite quote?
John Lennon's "A dream you dream alone is only a dream. A dream you dream together is reality."