Paris Fashion Week is in full swing!  Fashion editor-at-large and stylist Sofia Achaval de Montaigu is perched front row reporting for The Daily this season. She writes in on Day One of PFW from the season's very first and only show on Monday, bright rising star Jacquemus.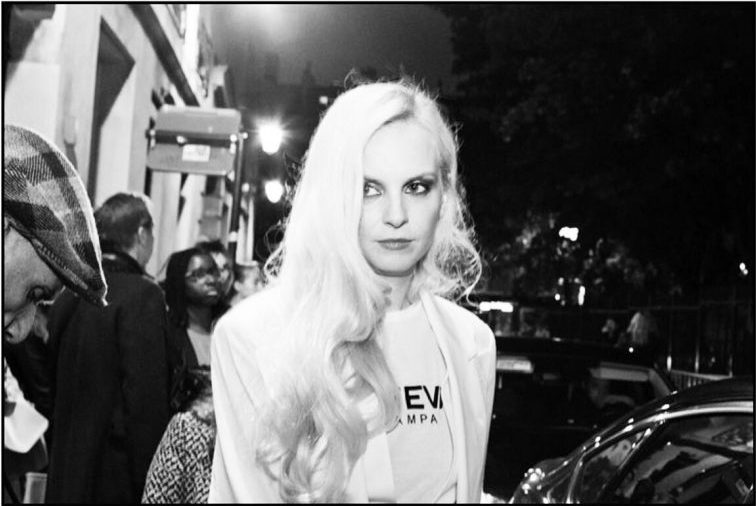 Being Jacquemus, it would of course make sense that the designer moved the date of his fashion show to Monday for a strong beginning to Paris Fashion Week. The first of many PFW shows to come took place in the Museé Picasso, one of the most beautiful places in Paris.
The critically acclaimed designer named his collection "La Bombe," inspired by the summers spent with his mother in the South of France. Earrings, headbands, ceramics, and sarongs are what made Jacquemus´mother happy, and that's the story he chose to tell for this upcoming season. [Ed. Note: Simon Porte de Jacquemus quit fashion school at 18 when his mother passed away. He founded his breakout label Jacquemus just one year later.]
When I arrived, the place was magnetic and full of photographers. The entrance was decorated with tiny little lights all over with a lemon tree in its middle, which transported us to the South of France. I took a staircase to a well-lit salon with many chairs, which suggested there was going to be a big crowd. Lots of celebrities were there, like Emily Ratajkowski, Jeanne Damas, and Læticia Hallyday.
The show began with thumping, hypnotic music followed by a '50s version of the song "La Bamba." A retro feeling accompanied us all along. The designs were mesmerizing, like little sexy dresses with transparencies that enabled a view of the models´silhouettes, revealing legs for days. Skirts with fringes and shirt-dresses were the protagonists of the show. One of my favorite outfits was a polka-dotted bodysuit with a yellow beach-wrap that served as a modern skirt and a short orange dress with black fringes that was a little see-through. But for me, the spotlight was on the accessories: earrings in different sizes and colors, hats, purses, and shoes with very sharp heels. The contrast between very big straw hats and tiny leather purses stole the show. It was magnificent.
It is important to mention Jacquemus' incredible design skills. The exquisite work, which included draped dresses, skirts, and shirts, amazing cuts, and fringes in a couple of garments, were astonishing to look at. That, added to the styling, made for a perfect show. The models wore headbands and scarves on their heads, and each pair of shoes—which were all different— had heels that were like sculptures.
The Jacquemus show's big finale was set to the tune of "Conga" by Gloria Estefan. The music created a magical climate that transported us through time and space to the South of France. The show screamed modern-retro. "Revisited '50s" could sum up the idea of the line.
After the show, I met Roos van Bosstraeten, a muse for Jacquemus and a good friend of mine whom I met from my modeling days. I congratulated her about her new baby and we discussed the highlights of the show, specifically about how we both loved and wanted the straw hats. They were to die for. All I can say is, Paris Fashion Week is off to a brilliant beginning.