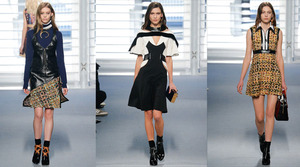 Paris Fall 2014: Louis Vuitton
|
(NEW YORK) Louis Vuitton
The long awaited moment chez Louis Vuitton finally arrived. Marc Jacobs' successor, Nicolas Ghesquière, took over the reins after Jacobs' 14-year tenure at the brand as creative director. So, how did he fare? Ghesquière's view on Vuitton was much more pared-down than his predecessor's elaborate fantastical collections. There were no headdresses, ornate beading, or Steven Sprouse leggings; nor were there any elevators, carousels, or escalators to serve as the backdrop. Instead, it was a reserved but firm first showing for Ghesquière. There were plenty of '60s silhouettes in earth tones like brown leather A-line skirts, a burnt orange skirted baby doll dress with a printed top worn over a white turtleneck, and sweaters with hippie Nordic prints.
Some of the strongest pieces came in the latter half of the collection, and felt a bit more signature Ghesquière. A white knit skirt with a leather panel and swaths of tiny square leather pieces that ran down the length of the skirt for a fringe effect, while leather frocks looked as if they'd been diagonally unzipped at the skirts' hems to reveal tweed underneath. There were geometric dresses, too, like a B&W off-the-shoulder look with a collar, which was belted at the center and slightly cut out at the hips. And how about the brand's biggest cash cow? Accessories were comprised of simple, clean totes in baby blue or a black and cream lattice pattern. The mini Vuitton trunk bags were mignon, but that's about as kitsch as it got under Ghesquière's direction. Perhaps Ghesquière needs a bit more time to loosen up his creative collar under the watchful eye of his boss, LVMH titan Bernard Arnault.