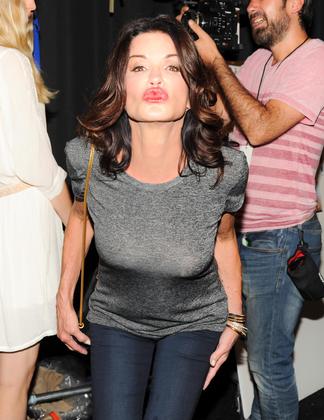 Oh, Look! Janice Dickinson Returns To Paris Fashion Week
|
When we saw former Vogue cover model and the self-proclaimed "World's First Supermodel" Janice Dickinson perched front row at Collette Dinnigan yesterday in Paris, we had to find out what brought her back to her former stomping grounds. You'll never guess…
Hi there! [Photographers snapping her photo]
They get so excited when they see me! It's so nice!
Are you a friend of Collette Dinnigan?
I've been a fan of Collette Dinnigan for such a long time. The elegance, the silhouettes, the fabric, and the combination of color and fabric, her design, her stitching, and the cut, which is for women of all ages, especially me. I've been in the industry since the late Seventies. I'm 59!
What do you like to do in Paris when you're not attending shows?
Other than fashion week I have to go pay homage to the Mona Lisa at the Louvre. There's no better art in the world than in France. Also, I've always appreciated Marie Anotinette for starting prêt-à-porter. She was the first to bring couture to the streets. It was her idea. I also love Joan of Arc and the statues. Paris women are the chicest women in the world.
Do you think it's Marc Jacobs last season at Louis Vuitton?
No, I think it's like Cher's last tour. I've known Marc since he was an assistant at Perry Ellis, when he was picking up the pins off the floor and handing them to Perry. I've seen him grow and he's creates revolutionary collections. I adore Marc! I love what he's done with the Marc Jacobs line and, most importantly, Louis Vuitton.
Are you in Paris just for the shows?
Well, I'm about to launch a stem cell serum. I was just in China to have a stem cell operation and I feel vitality, I have energy, and the sex is off the chain!
Who is your show buddy?
This is Dr. Brian Mehling. He's an orthopedic surgeon and he is developing a stem cell serum with me called Blue Horizon Stem Cell Skin Care Serum. It's genius! Here, you can have some. Use it sparingly. After the first application, you'll have that glow, which we as women all love. I feel like I'm glowing in the dark inside and out with the stem cells!
Thanks! Where can people find it?
Janice: It's not out until November. We're also doing skin cream. The product works for both men and women. But we're taking pre-orders! It's taken a few years of development. It's going to be revolutionary. I mean look at me! Look at my skin! I'm 59 years old. It tightens and firms the skin after only three or four applications.
Brian: And I'm 47 years old and I've been in the sun a lot.
Janice: Yeah, but you're not Janice Dickinson!