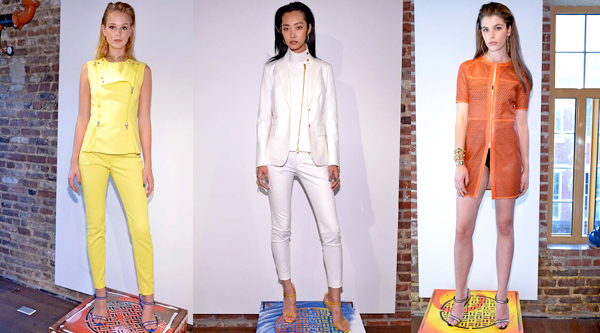 NYFW Spring 2014: Veronica Beard, Lisa Perry, Harbison, Josie Natori
|
(NEW YORK) Veronica Beard
One story above Bleecker Street, a crowd of heeled and coifed fashion folk time-traveled back to the Eighties with Veronica Beard. Luckily for all, not a shoulder pad was in sight. Rather, the collection from the sister-in-law design team focused on the energy of the time and staying true to the silhouettes of the current era, although the slicked back hair was certainly a ode to past styles. The collection spanned the gamut from a three-dimensional leopard print short suit, bright floral separates, an angular white double-breasted vest, a soft white turtleneck, and pops of yellow. The glamourous lot of looks got accessorized with Jennifer Fisher jewels, a fellow CFDA Fund Finalist.
Lisa Perry
"Tennis anyone? Please excuse us as we set up for a match," read the sign on Lisa Perry's Madison Avenue boutique as her team transformed the retail space to allow for, literally, court-side seats to the Spring '14 collection. A resounding "Yes!" to you, Ms. Perry, we are in the mood for a quick set, and we weren't the only ones. "The whole tennis theme was gorgeous and very apropos with the U.S. Open," Simon Doonan remarked to The Daily. With a cup of refreshing lemonade in one hand and a smartphone in the other, the crowd looked on as looks were presented on loop to a mix of retro songs of the summer. How to lend variety to a white-on-white(-on-white) collection? A slew of fabrics. Perry borrowed a few from traditional tennis uniforms—piqué, knits, and wovens—and used them in a more modern, elegant way. There were silk crepe gowns and cotton piqué maxi-dresses, plus a fresh hybrid-skirt silhouette for the season: asymmetrical from left to right, in a very straight-edged, geometric way. A pleated mini in lambskin added a touch of luxe. Perry also blended playful with classic, showing modest cable knit sweaters alongside fun cutouts that resounded throughout, including a very striking look with three strategically-placed, circular cutouts centered down the front of the dress. White sneakers, wristbands, and sleek high ponytails completed the sporty, off-court look.
Harbison
Charles Harbison definitely counts as a designer to watch this NYFW. With just one collection under his belt, the former Billy Reid menswear designer is already becoming an industry darling. To wit: He's already been picked up by Ikram in Chicago (a retail coup scored by flying out to present the collection in person) as well as Satine in LA, a key boutique for emerging designers. What's more? Harbison has already had his first feature in Vogue after just one season. "Kathryn Neale Schaffer is a friend of mine; I showed her the collection, and eventually Virginia Smith and Mark Holgate saw the collection, and Chioma Nnadi wrote the story for Vogue," said Harbison. The designer's influences ran the gamut from Aaliyah's iconic look, circa the Nineties, to Katharine Hepburn in mid-century Jamaica, to Yves Klein's use of color. If you're wondering what that entails, think crop tops mixed with baggy pants, American glamour mixed with patterns that pop, and plenty of bold colors like Klein's use of bold cobalt blues, magenta, and gold. (As for those crop tops, expect those to carry over from Resort into Spring.) Also on tap: preppy plaids, and mix n' match prints. Plus, there were fun color-blocked muffs. That's right, fur muffs for Spring. "The muffs are fun, right?" said Harbison. "I was like, 'let's do a ridiculous thing of a girl in a sleeveless dress with a fur muff.' And honestly, Spring fur accessories are selling." It's fashion, after all! Bonus: Harbison has a big personality to match to scale of his talent.
Josie Natori
Lights, camera, action: It was all vintage Hollywood glamour for Josie Natori. If a screen siren is only as good as her wardrobe, Natori's Spring '14 looks are a pretty superb start. The powerful personalities of Marlene Dietrich, Lana Turner, and Joan Crawford were all present in Natori's motivation to design based on the iconic actresses of Thirties and Forties film. A time when femme silhouettes "showed power alluringly, not aggressively," Natori explained. Felicitous fabrics for the season allowed for the clothing's soft take on shape. It's all part of Natori's evolution from "very soft to more structure, but soft structure that just gives some form and yet, is still very feminine," she said. The show opened with dreamy matelassé, followed by metallic raffia and geometric piqué. Tailored, slim trousers paired with straight, belted tunics accompanied gathered, pleated tops wrapped tightly into high-waist, asymmetrical hemmed skirts. What's a film without a captivating twist? Juicy bright hues later intertwined with subdued pastels. Billowing gowns in liquid jersey followed the body's movement. Natori offered a few color-saturated as well as noir-inspired black and white prints. Oversized jewelry of knotted leather, brushed gold rings, or a string of ornamental spheres topped things off decidedly modernly.