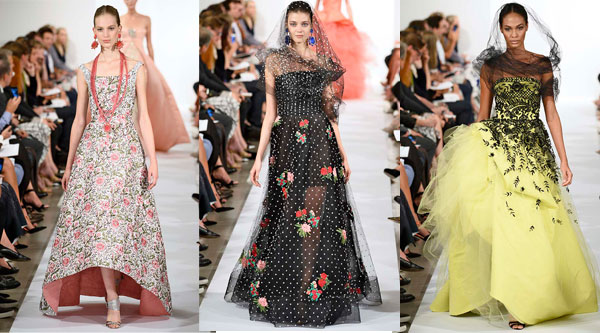 NYFW Spring 2014: Oscar de la Renta, Rodarte, Michael Kors, Zang Toi
|
(NEW YORK) Oscar de la Renta
Those in search of Galliano chez Oscar might have to keep guessing. Galliano's avant garde touch wasn't quite as evident as last season, but no matter. The reason Mr. de la Renta has been in business for so long is because he knows his customer. His uptown milieu will find plenty of their beloved Oscar looks here, like a black and white check knee-length skirt, cardigan, and gilet by day. After sunset, one of his classic floral a-line cocktail dresses in turquoise or an elaborate lime green with black embroidery ball gown hit all the right notes. And how about the younger clientele? A retro Sixties-style lime green short dress with a big white floral pattern will look just right.
Rodarte
Add a bit of Melrose Avenue circa the early Nineties to Sunset Strip in the Eighties, and add in a dash of present day South Central. The result? A recipe for every 20-something's wardrobe in L.A. It's Miley! Rihanna! Lohan! The Mulleavy sisters were looking to the overly exposed style of the town's youngest trend hounds. There were leopard vests, rear-exposing jean shorts, fringe, studded suspenders, backwards baseball caps, and flannels just barely buttoned, Chola style. Wild would be putting it mildly.
Michael Kors
Romantic, sportif, and a softer attitude! Michael Kors turned it up a notch this season by dialing it down. The palette was about earth tones like emerald green, chocolate brown, and khaki mixed with white floral prints, as well as solids like stark white and deep navy. Up first was Kors' muse, Carmen Pedaru, in a simple chic white blazer cinched at the waist with a brown belt and worn with a flowy below-the-knee skirt. What followed was classic Kors with retro Forties silhouettes, like brown floral high-waisted shorts worn with a matching bikini top and short sleeve jacket thrown over. More cues of the Forties included a floor-length floral green gown with a white blazer draped over the shoulders, and a navy sequined swing dress. Wearable (and sellable) American design at its best!
Zang Toi

If you're interested in seriously putting on a show, why not start a runway with Cory Sterns, a principal dancer at the American Ballet Theatre? When Zang Toi goes with a theme, he really goes with it, as he did with his most recent 'Ballet Babes' collection. Following the surprise performance, the collection started with a warm up—as in, fancy variations of leotards, practice sweaters, and simple gowns. Lest we forget, a variation on the leg warmer were included. Once the mods were all warmed up, the drama was amped up and the performance really began. Jackets were lined with a scenic yet spooky backdrop in shades of blue and black, one of which belonged to Sterns, who made more than one appearance on the runway. Then, it was time for the gowns. Gradually easing into things, a mid-length pink princess dress with a poufy skirt and a litter of appliqué flowers started the introduction. Soon after, layers of tulle, sequins and silk gazaar were the norm. Before long, the ballet was over. But it finished on a sweet note, with a standing ovation from the packed room.