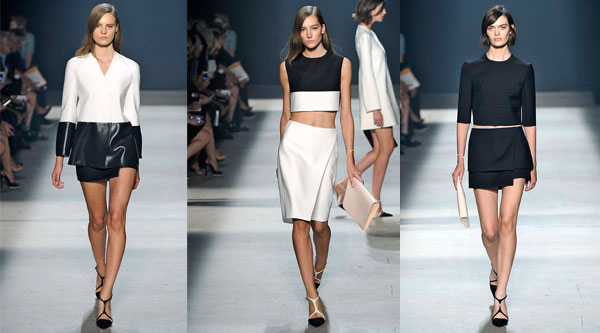 NYFW Spring 2014: Narciso Rodriguez, Sophie Theallet, Jil Sander Navy, Sass & Bide
|
(NEW YORK) Narciso Rodriguez
Refined silhouettes of the sexily simple variety defined Narciso's Spring 2014 season. The show opened with mostly black and white pieces like a long black skirt that billowed down the runway with a high slit that revealed a mini skirt and a lot of leg and modestly topped off with a black pullover sweater. A simple black and white crop top was worn with a knee-length white wrap skirt to touch on the required trend du jour. But color emerged later in the show with a peachy pink assym mini dress with a shiny pink hemline and a bright orange mini with a built in cape. Perched front row, we imagine starlets like Jessica Alba are already placing their orders.
Sophie Theallet
Sophie Theallet can sum up the inspiration for the Spring 2014 collection of her eponymous line in one word: Sensuality. "I think it's very important to show the sexyness of the girl and embrace the woman. This collection is a woman's collection, done by a woman," she tells us backstage after a successful show. Another case in point, the famously sensual front row: Carine Roitfeld, June Ambrose, Lindsay Ellingson, and Veronica Webb to name a few. When it comes to sexy the collection speaks for itself, really. Opening the show was a revealing rouge-colored sweater set. That sounds like an oxymoron, yes, but Madame Theallet has transcended knitwear norms with her brand new custom design. "It's a special stitch that I made with silk. I work with a factory in Italy and I can do my dream knitwear, it's fantastic to be able to do that!" Fantastically sexy indeed! More iterations of the knitwear followed in clingy shift styles and elsewhere in design details. There was a range of juicy coral hues set off by the perfect pairing with cool aqua. Playful rompers and voluminous gowns were created in luxe hammered silk, some with a sweet botanical print. Ultimately, there was a dress for any occasion—some with swinging skirts, others with edgy details in lush glove leather—Theallet's sophisticated femmes fatales may encounter.
Jil Sander Navy
Jil Sander Navy enters new waters with a collection that strays from the stark minimalism of the label's past. A presentation, held in the Chelsea Arts Tower (also home to Calvin Klein's studio) was a cold background to the pleasantly surprisingly colorful and warm assortment of clothes. The fabric choices worked in a way that added a certain intrigue to the apparel. A summer-weight corduroy striped cuffed palazzo pants, a crisp blue button down tucked into a yellow silk skirt and navy blue cotton was perforated to adorn a shirtdress or decorate the hem of a blush dress. Sander shockingly showed a few prints, which is quite out of the norm for this minimalist. Also on display, the most perfectly simple white tee, scaled was a bit oversized, a bit cropped and certainly fitting to be in every girls closet.

Sass & Bide
Australian design duo Heidi Middleton and Sarah-Jane Clarke of Sass & Bide had a little something extra to celebrate with the finale of their show this season. After a five-year hiatus from NYFW, during which they showed their illustrious collections in London, the pair returns to NYC for a very welcome homecoming. The reason? A sparkling new retail shop in Soho, the first Northern Hemisphere outpost for the brand, set to open this November. That considered—new city, new boutique, it's fitting that the two would strive to create a new aesthetic, though still remaining faithful to the Sass & Bide signature heritage. The collection was called Free Town. The inspiration: Collision of time. A modern, considered clash of eras, cities, cultures, and people. "The charge was also just to make that polished and modern. Not to make it look too referenced, to turn it on it's head and present it in a new way," Middleton told The Daily. As for specifics, there were fabrics sourced in Peru, design details inspired by antique royal military embroidery, and even a bit of Deco. It was also true that the designers wanted the collection to achieve an indefinable quality, something that would be hard to describe. So in the simplest language, here's what we saw. Structured blazers and dresses with pin-tucked waist and bustle details. Sophisticated black and white menswear fabrics like hounds tooth and herringbone mixed with Deco-inspired prints and gold details shown in sexy short dresses and jackets paired with wrap skirts over wide legged trousers. Glamorous flowing floor length gowns and hybrid skirts that were short with sheer full-length overlays and occasionally topped with intricately designed bodices. There was also a juicy orange and leafy green print in the mix, to liven up the otherwise neutral palette that lacked color, but certainly not interest. Ultimately, for a collection that can be described in the technical sense with finite terminology, the feelings, reactions it evokes are truly elusive.