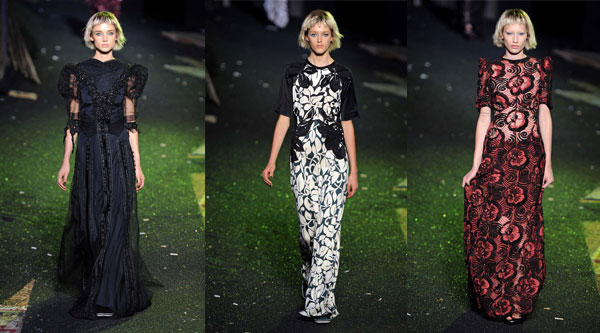 NYFW Spring 2014: Marc Jacobs
|
(NEW YORK) Marc Jacobs
A stylish shipwreck: Such was the jumping-off point for Jacobs' latest collection. Military toppers with fringed and braided trim, some with slightly tropical floral patterns, plus fancified board shorts, were donned by the first slew of mods to stomp out petulantly (and very quickly, given the all-flats footwear array). Chicification of formerly ugly sandals, a Spring trendlet of sorts, surfaced at Marc in the form of B&W, tweaked Teva-type sandals plus glittery and fringed booties. Scowls and choppy, green-tinged blonde bobs with bangs courtesy of Guido were de rigueur. Oversized sweatshirts, boxy yet slouchy, in shades of navy, olive, and bordeaux were festooned with more noir fringing and braiding, and befitted the sullen swagger of Jacob's troupe of mods. Sheer gowns in the same muted, dark palette came high-necked, long-sleeved, some backless for a zip of sexiness, and splashed with dark lacy embroidery.
Mother Nature dovetailed nicely with the show's moodiness: editrices whooshed in from the epic monsoon outside, some looking as surf-splashed and wind-wrecked as the Stefan Beckman-designed set, replete with a cigarette-butt peppered "sand" runway, the skeleton of a destroyed ship, and rickety-looking wooden beach chairs. Fans and petite Fiji water bottles doled out upon entering provided a bit of relief from the massive sauna effect. Upon exit, talk turned to the potential contents of the circular Marc-logoed boxes placed on most seats. "Did Marc give us hats this year?!" one fashionette queried. That would be Marc Jacobs makeup, darlings. Though the "hatbox" could also be utilized as a rain shield for the umbrella-less (like yours truly). Aside from the epic showers, all in all? Always a delightful spectacle at Marc's main line, and the perfect send-off to NYFW.