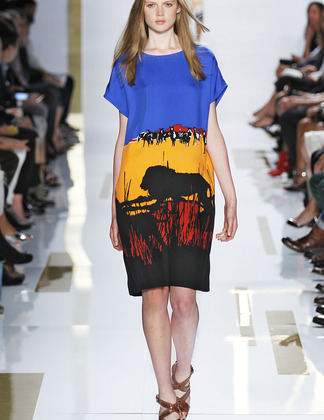 NYFW Spring 2014: Diane von Furstenberg, Trina Turk, Lela Rose, threeASFOUR
|
(NEW YORK) Diane von Furstenberg
If DvF's goal was to create a stylish, color-kissed Oasis in the midst of a rough, unpredictable, and scary world (or New York Fashion Week. as we like to call it!) she hit the nail right on the head! Furstenberg's Spring 2014 collection was at least an escape from the dreary and mundane. Karen Elson opened the show in a swingy, black and white diamond print skirt followed by more casual, flirty iterations in the same fishnet-like print, with layers of lace peeking out from under the full skirts. Tunics over wide legged pants and equally relaxed, loose fitting jumpsuits abounded. An underlying nautical theme coursed through the collection with thick ropes weaving through large-ring grommets, lacing up sides of said jumpsuits. Similarly laced up details appeared on crop tops for corset-esque appeal. Cork print also made an appearance (perhaps a nod to flotation devices desired if stranded on an island oasis?) The all-tied-up vibe soon gave way to a much more relaxed vibration. Long flowing maxi dresses in light-as-air silk and figure-hugging jersey made their way onto the runway, too. It wouldn't be DvF without an animal print and an element of surprise, both of which appeared in the final looks. A safari inspired tribal shift dress left us longing for the Serengeti. As for Naomi Campbell gracing the runway? Talk about a joyous surprise. Also glorious: DvF taking her bow as she bounced to the beat. Manifique Diane! We'll jet away to your island oasis any day.
Trina Turk

If you have to go on a road trip, why not take one up the scenic Pacific Coast Highway in California? While you're at it, grab a cute guy for company and let the good times roll. This was Trina Turk's vision for her spring 2014 presentation, which also included the Mr. Turk line, designed by her husband, Jonathan Skow. Pieces included easy separates in bright colors, such as red skirts, printed silk tops, a cotton crop top and skirt dup with prison stripes and a floral burst. Of course bikinis figured into the mix, peeking out from a denim jumpsuit, paired with a cozy sweater, or layered under a sheer printed caftan. The boys had fun, too, sporting plaid suiting, a floral shorts suit, teeny little striped shorts and plenty of color. Embracing the Birkenstocks trend, a few of the Turk girls were modeling an upgraded version of the sandal in white leather with gold grommets. If the crowded display in Lincoln Center wasn't busy enough, a live photoshoot was being put on at the same time, attracting mobs of iPhone wielding attendees, waiting for an opportune moment to shoot the photographer in action.
Lela Rose
As most designers have incredibly decorated homes, it's only second nature to turn to the furniture for a touch of fresh inspiration. Lela Rose found hers in the work of Arne Jacobson, whose swan and egg chairs have been hailed as the most iconic pieces of the 20th century, the latter of which can be found in her own abode. Rose told The Daily that "black has never been one of the more interesting canvases for me," and instead infused her floaty and form-fitting frocks with "light reflecting blue, a lot of citirines, and light pinks." The first few looks sent down the runway evoked modernist painters with abstract shapes in shocking colors, sharing impeccable fit that followed with the rest of the collection. A citrine shift dress hugged the body with curved silk seams while a silk gazar gown in the same shade featured romantic draped lines, a relaxed peplum and a long fluid skirt. Hues of blue contrasted against white backgrounds, and the cool hues were also found striping strapless white dresses and forming a mosaic an embroidered frock. The pinks were strictly girly, as the color usually is, composing bouquets of flowers that decorated a cropped T and full skirt.
threeASFOUR
The design collective threeASFOUR has always been known for their shows that typically double as a virtual art exhibition. They've been known to collaborate with good friend, Yoko Ono (and indeed her son, Sean Lennon was perched front row per usual) and last season they did their at downtown gallery space The Hole, where they debuted looks that each represented the signs of the zodiac. So what was on display this season? Plenty! As guest entered the space at The Jewish Museum uptown they walked through a hallway where a giant geometric art sculpture "temple" by Studio Christian Wassman accented by a visual display that dance along its surface. As guests took their seats pre-show they were treated to a light display of various shapes by Alex Czetwertynski that was projected onto the ceiling. As for the clothing, designers Gabriel Asfour, Angela Donahuser, and Adi Gil were looking to the future. Every piece in the shows was constructed using 3-D printing, even the shoes. Developed in partnership with architect Bradley Rothenberg, the trio sent out an incredible array of looks. Dresses so intricate they almost looked like some kind of futuristic cage, plus jackets with exaggerate shoulders, and leggings and pants that mimicked lace or laser cutting mad, and the shoes were webby platforms. The looks came in white, grey, and black and some were made with various combinations of shapes done in parts like pyramids, octahedrons, cubes, dodecahedrons, and icosahedrons. Sound complex? "It took us nine months just to develop the technology with Bradley [Rothenberg] and we've been putting everything together since April," said Asfour. And just what exactly does 3-D clothing feel like? Sponge-y plastic, according to Asfour. For those that weren't able to catch the show, the looks will be part of a threeASFOUR exhibition called threeASFOUR: Mer Ka Ba (Merkaba is a mystical form of Judaism) on display at The Jewish Museum opening on the 15th. It's not to be missed.