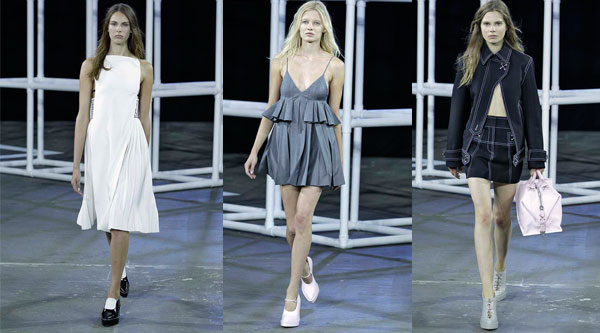 NYFW Spring 2014: Alexander Wang, Altuzarra, Tibi, Yigal Azrouël
|
(NEW YORK) Alexander Wang
Name drop it like it's hot! It's official. Alexander Wang has made a name for himself—and he's declaring it to the world with his spring collection, featuring looks of perforated leather and long white gloves that spell out his moniker. The pleated mini-mini-mini skirts and babydoll dresses in deceptively saccharine pastels were cute, too, but this season, forget saying his name: Wang wants you to wear it, too. Shoes were sleek in texture, clunky in silhouette, with tapered toes and Mary Jane detailing a plenty, amounting to a kind of naughty nurse vibe. Those cultish Wang bags took on boxy, perfect-weekender proportions this time around. A few sweatshirts bore a "Parental Advisory" logo, which seemed pretty fitting for the (sometimes literally) cheeky skirting and all that wasn't left to the imagination through those B&W leather logo perforations. Why all the logo mania? It's tongue in chic, according to the word-association-esque buzzwords floating around the liner notes ("…branding, cults, youth culture, and humor…"). Brand away, Wang!
Altuzarra
From the boardroom to the bedroom. The most anticipated show of the season started out subtle, with deconstructed Oxford white dress-shirts in all their striped, buttoned and sometimes collar-less glory. More crispness was delivered via an enlarged French ticking motif. Then came luxe leather fringe, followed by high-slit skirts and embellished tops. But it was his hot and shiny finish, featuring separates of liquid-like silver and gold that dripped off the body…and into our sweet dreams. Japanese Boro garb (for farming and fishing, loves) provided Joseph Altuzarra with the initial point of inspiration. Translation for sophisticated, urbane pavement pounders: "…the beauty of the utilitarian, and the elegance of the imperfect," according to the liner notes. Those scrolling chokers down in brass were the results of a Philip Crangi collab, and we j'adore the clavicle-gracing outcome. Another Altuzarra victory!
Tibi
Seriously cool and effortlessly chic, Tibi got a slight makeunder this season from designer Amy Smilovic. Cool, minimal, and just enough added femininity, it's a collection poised for a downtown lass with a decidedly polished sensibility. Smilovic's iteration of the right-on-trend leather crop is modest, but paired with low-slung silk culottes and draped skirts hits a modesty sexy note that's pitch-perfect for the Tibi gal. Drop waist jumpsuits look not only cool, but supremely comfortable. Expect that to be a post Memorial Day uniform. Beaded, flat platform sandals rounded off the look, along with other black and white leather sandals. Smilovic kept vibrant hues to a minimum for this collection, which made the juicy tangerine look pop all the more against the background of neutrals and a subdued floral print with the occasional sage green accent. Frisky fringe, sweet eyelet, and granite-colored gradient also made appearances. Breezy silhouettes and silk-trimmed skirts, not to mention opaque pastel nails and a simple, shimmered eye, all contributed to keeping the aesthetic minimal, yet decidedly feminine indeed. No wonder it's the first collection Smilovic's ever done in her lengthy career that made her cry upon seeing the looks traipse down the runway, as the designer told The Daily post-show. Tears for good reason!
Yigal Azrouël
Designer Yigal Azrouël remains an expert of the feminine form, and for Spring '14, he reinterpreted his signature minimalist aesthetic for the season. The collection was strong enough to hold its own on the extended runway space at 82 Mercer, a perfect venue to convey his inspiration, a play on shadows, as it was flooded with a mixture of artificial and natural Sunday morning light. Silhouettes came in the form of structured separates and precisely contoured dresses and full-length gowns. Shades of black and white reigned throughout the collection seen in monochromatic looks, a busy geo-jacquard, and a print reminiscent of tangled sticks although it was designed with the contrast between shadow and light in mind. Patchwork-like creations juxtaposed luxe lambskin leather with playful eyelet in silk organza and signature Azrouel details like zippers and visible countered seams also showed face in the range. Our favorites? The swing dresses in eyelet and lambskin iterations, paired with peek-a-boo sheer paneling on top. The effect: just the right amount of sensual and sophisticated. A parfait spring cocktail.