Read today's dose of chic intel right here…
Jonathan Simkhai Loosens Up
Slip dresses and draped cuts slinked down the runway at Jonathan Simkhai — a more relaxed take on the designer's usual contemporary attire. Though he still presented suits and cocktail dresses, the silhouettes had a flowing, effortless attitude. He also made a great case for bringing back the brief early-2000s fad of wearing dresses over pants, opting to pair slip dresses with scandalously high cuts over trousers.
Fern Mallis Reacts to All That Seating Drama
The Daily's Eddie Roche ran into Fern Mallis front row at the Christian Siriano show and took the opportunity to ask her about all the drama surrounding her "standing" seat at an unnamed fashion show earlier in the week.
Did you expect that Instagram post of you getting standing room would make such news?
Not even close! I was amused by it. It was not a big deal. I think people overreacted to it a lot, but pleasantly so on my behalf. I was happily encouraged by everybody's comments. I've never gotten that many comments on a post in my life. There were over 500 comments and everyone of them was funnier and more supportive than the next.
View this post on Instagram
Was there one that stands out?
Someone commented that I should have a throne at every show. Someone else wrote "A11 Always For You." People then got crazy saying off with their heads, "these millennials." It wasn't a big deal. Ultimately at the end of the day, it was a show that had no assigned seating. I didn't know that when I got the ticket. I wasn't even planning on going to the show so nobody's head should be taken off!
What do you think of the state of fashion week right now?
It's going well. There's a lot of new faces. There's a lot of names that I don't know. If you are out there exploring. The disorganization of the venues is kind of hurting it. There are people who need to get to other shows and you have to eliminate because of the logistics and that's unfortunate. It's not that you don't want to see it.
Gingham and Cold Shoulders Make a Splash at Self-Portrait
For Fall 2019 Han Chong mixed a bevy of bold details — including one-shoulder looks, lace appliqué, sheer knee socks, and gingham — together. The results were surprisingly cohesive, somehow working together to create intricate looks, rather than competing for attention. Chong clearly has a knack for knowing how to balance a look while avoiding boredom.
Designer Snow Xue Gao Missed Her Show Due to the Government Shutdown (The Cut)
Rising designer Snow Xue Gao was stuck in Beijing during her show on Friday. Her visa was not processed in time, which she believes is due to the recent government shutdown. Luckily, Gao's team was able to pull off the show on her behalf, with the designer watching via video. Gao is based in New York but had been back in China on business. She told the Cut that she hopes to be able to present her collection in person during buyer appointments.
View this post on Instagram
Eckhaus Latta Debuts Funky Ugg Shoe Collaboration at Fall 2019 Runway Show
Mike Eckhaus and Zoe Latta are the latest in a growing list of designers to collaborate with Ugg, debuting a capsule collection of six shoes — four women's and two unisex — as part of their Fall 2019 collection, which the designers showed Saturday at a derelict warehouse space in Brooklyn. 
"We love the fact that UGG products embody an easygoing lifestyle and have crossed from being a more casual product to being iconic in a fashion sense," said Eckhaus and Latta. "Being able to add to this foundation has been an exciting honor." The shoes range in price from $295 to $525 and will be available for purchase in September. 
The Story Behind Robin Givhan's Broken Foot
Robin Givhan has been valiantly hobbling her way from show to show this season with the aide of a crutch. The Daily's Eddie Roche caught up with her at the Brandon Maxwell show to find out what happened.
Why are you on a crutch?
I broke my foot about four weeks ago. I've been in a boot for three weeks and I have three more to go. It was an unfortunate jump roping accident.
Do you often jump rope?
I do. I take a class that's interval jump rope with weights and I was using a weighted jump rope and I was jumping really fast and feeling like a bad ass and my hubris was punished when I missed a step.
View this post on Instagram
How's it going dealing with this running around fashion week?
It's going well. It's tiring having it on, because it's heavy but people have been super kind and accommodating. There's a lot of kindness.
And what does Givhan think of Maxwell?
I think he's still developing as a designer, but what's so impressive is he came out of the box with a really clear and distinctive sensibility and aesthetic. A lot of times you don't see that.
Beauty Spotlight: Christian Siriano's Blue Lashes and Face Jewels
Christian Siriano took a trip to the future for his Fall 2019 show. Playing off the sparkle and shine found in the fantastical collection, Maybelline New York Global Makeup Artist, Erin Parsons, framed vivid blue lashes with a delicate "veil of crystals."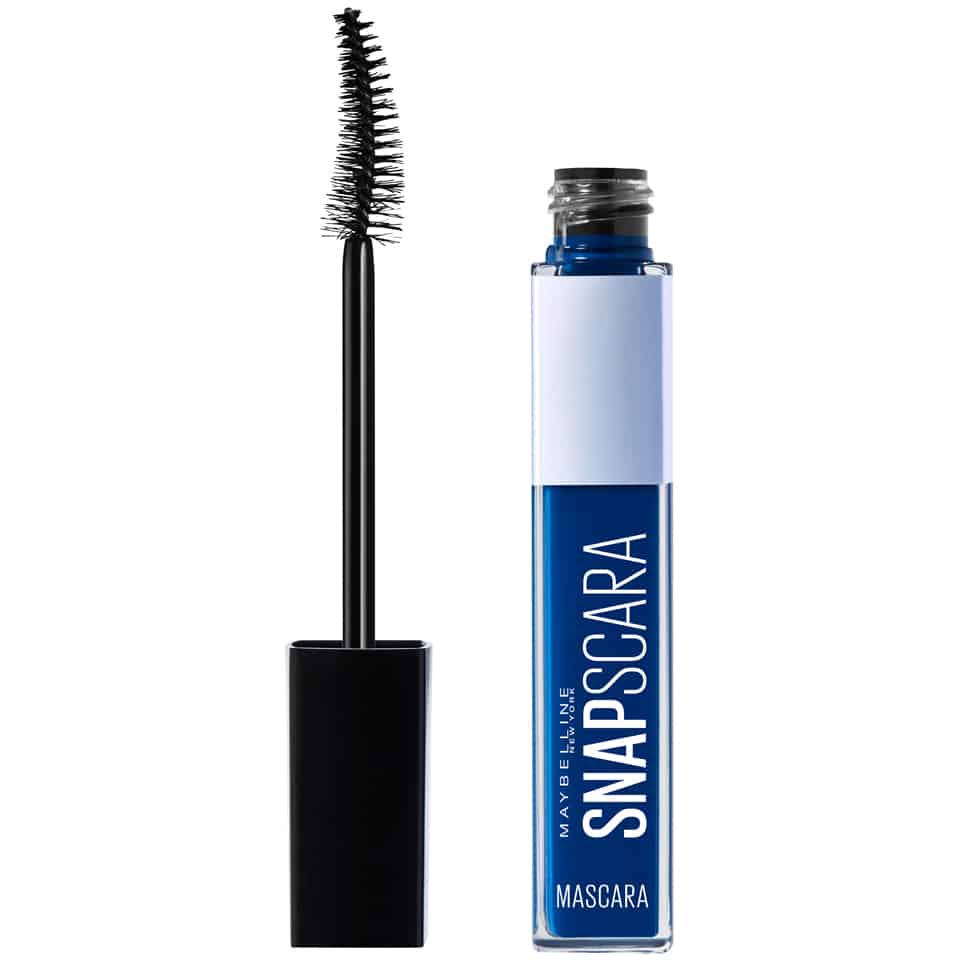 Snapscara Washable Mascara in Deja Blue, MAYBELLINE NEW YORK, $8
Subscribe to our newsletter and follow us on Facebook and Instagram to stay up to date on all the latest fashion news and juicy industry gossip.