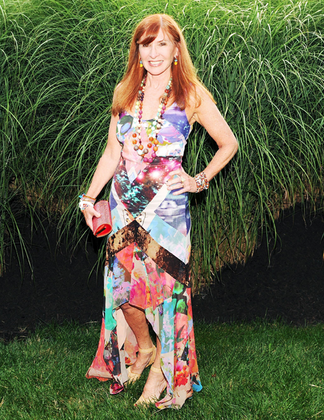 Nicole Miller's Greatest Foodie Hits For Summer (And Fall)!
|
After another delectable summer of chronicling her dining and cooking adventures out East, Nicole Miller dishes on her best meals, fall must-eats…and penchant for clams.
BEST MEAL DU SEASON: I took my son Palmer on a trip to Europe, and ate at Assunta Madre in Rome. I had the most divine pasta with branzino, lemon, and mint.
TOP SUPPER SOIRÉE: I hosted an intimate dinner party earlier this summer with a few of my friends: Mary Jane Marcasiano, Ralph Gibson, Eric Fischl, Alex Loeb, Joe Driscoll, Howard Bloom, and Ivana Lowell. I served a salad from the farmer's market, linguini with mixed seafood—fresh scallops, clams, mussels, and shrimp—and ended the meal with one of my rhubarb pies!
SUMMER ADDICTION: Clams, in every variation! Half shell, steamed, stuffed, with linguini, clam chowder…
SORELY LACKING INGREDIENT: I only had one lobster all summer, so I certainly need more of those. And, as always, I definitely need more rosé.
FAVE FALL DISH: I looking forward to eating stews this fall! Beef bourguignon is a perennial favorite. Traditional French fare like coq au vin is also high on my list.
EAST END AUTUMN PICK: I head to The Crow's Nest Inn and Restaurant in Montauk in the fall because the crowds are gone!

ON NICOLE'S NYC RESTO RADAR: The Butterfly is a new favorite in TriBeCa. Recently, I had the pork rinds and the BLT salad, the buttermilk fried chicken, and the hot blonde dessert. Also, I'll be returning to The Musket Room on Elizabeth Street. The mushroom custard with raw mushrooms and herbs was phenomenal.