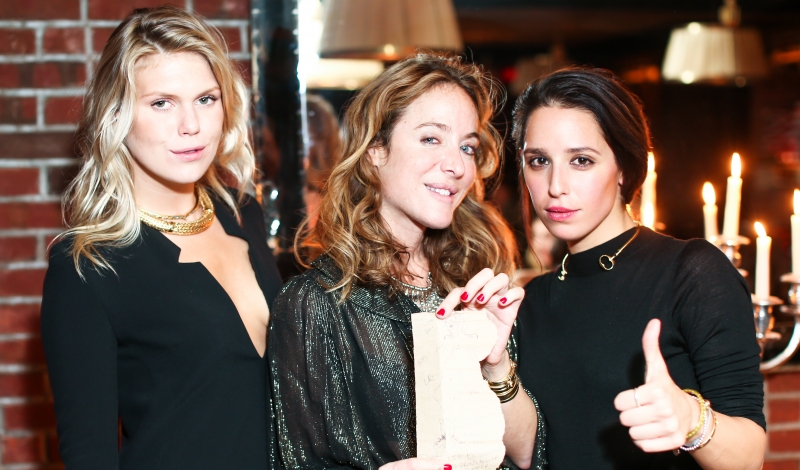 Billy Farrell Agency
A New York Moment With Jewelry Designer Aurélie Bidermann
|
In early August, Aurélie Bidermann brought her cult-fave line of baubles to her first New York store, located on Lafayette Street in Soho. But she chose last night to officially celebrate the opening of her boutique with a chic set of close friends. She drew quite the crowd for a freezing Tuesday night. The likes of Garance Dore, Emily Weiss, Inez and Vinoodh, Waris Ahluwalia, Natalie Joos, Alexandra Richards, Kate Foley, Laure Heriard Dubreuil, and Giovanna Battaglia made an appearance to support the designer. The evening started at her store, where guests shopped her latest collection and warmed up with a cocktail or two. Afterwards everyone trooped down the street to Lafayette for a bite to eat. Decked out with silver and gold jewels from head to toe, Bidermann told us all about why she adores NYC…
Congrats on your new store, it's beautiful!
I'm so excited to celebrate this opening night. I feel like a little girl in a candy store. It's nice because I get to be surrounded by people who I care about very much. I think it is important to celebrate with people who helped make this possible.
When you're not at your store, where in Soho can we find you?
I love Café Select because it's kind of French, and it feels very homey to me. I also adore Lafayette because it has that rustic French look to it and it's very low-key. And Sant Ambroeus, which is right next door. But I won't speak only about restaurants! I like the store BLK DNM, which is owned by my friend, Johan Lindeberg. I hang out there a lot. And there's also McNally Jackson Books, which is right next door, I love it there so much.
What's your very first memory of New York?
The first time I came here, I was maybe ten or eleven and I remember at the time downtown was kind of dangerous. I remember that I had to sit in the car, and I couldn't get out! But I also remember I visited once during Christmas time. To me, it was so special to see the whole city lit up [with decorations] for the first time.
How do you choose the jewelry you wear to an event like this?
You have no idea, I have my own collection. Everyone wants to kill me because of it, although my girlfriends think it's the best!