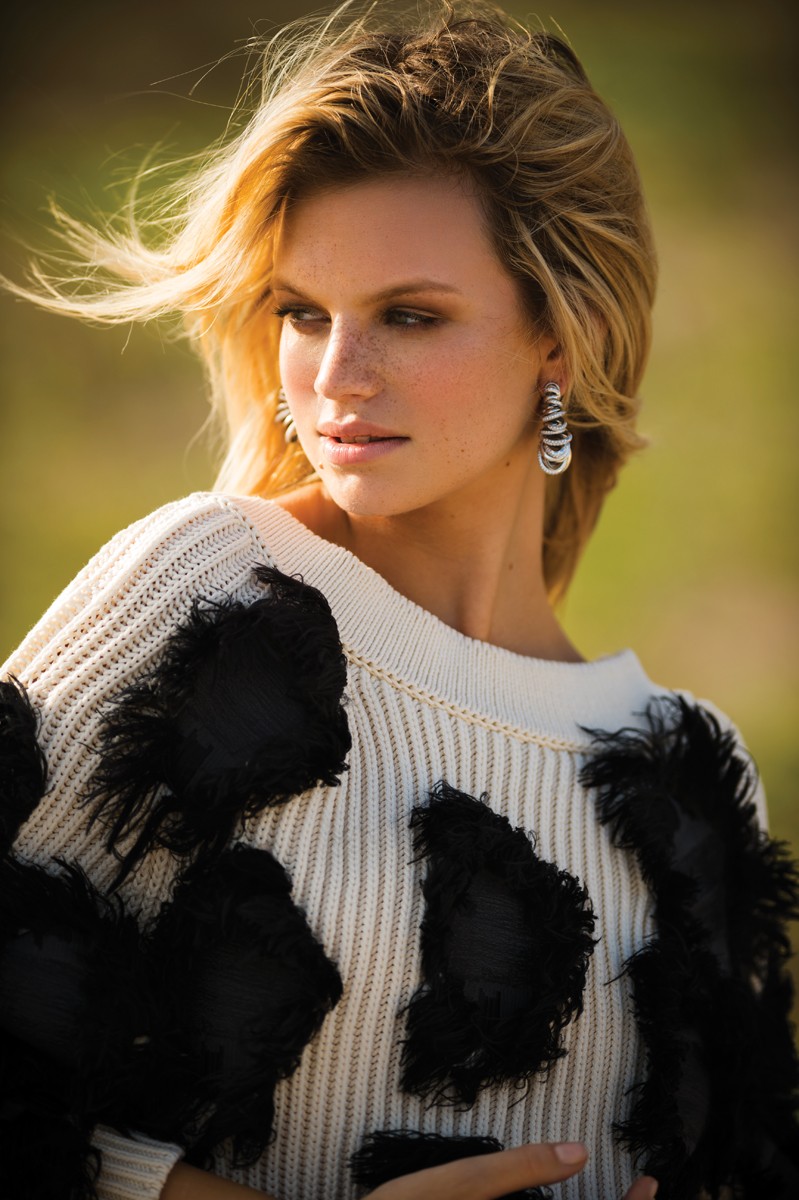 Austrian-born stunner Nadine Leopold is living the good life: she travels the world, works for Victoria's Secret, and has a very high-profile ex. (Any Harry Styles fans in the house?) From the pages of the Daily Summer, meet one of fashion's brightest stars.
How's your summer?
It's good! I just got back from a vacation in St. Tropez with a bunch of friends. It was my first time there, and we went on a few boat parties and had some nice dinners. The shopping is great, too. Everybody's dressed really well. I really, really enjoyed it! We also went to the Leonardo DiCaprio Foundation party, which was amazing. Elton John and John Legend performed. And on the plane ride home, Elton was sitting right behind me! It was pretty crazy.
I told him that he gave a great performance. He's a legend!
Did you ever have a lot of "How did I get here?" moments?
Oh, yeah. I had a lot of those!
What else do you have lined up for the summer?
I'm trying to go home to Vienna for a few days to see my parents and my brother. I want to go to Mykonos, Greece, at the end of August. Everyone is obsessed with it these days. I've been working a lot—I've already been in Berlin and London this summer.
What was your childhood like?
Pretty wild. I was "discovered" when I was 15. I'm from a very small and conservative town, so nobody really understood much about my modeling career. I was bullied really badly until I was 17 or 18. People gave me the wrong books to study, or gave me the wrong dates for tests. When I look back now, I think it was jealousy—it wasn't normal for a girl from Austria to get booked for a job in Barcelona or Ibiza. At some point, it was impossible for me to go to school. I moved to London, and I never really came back to Austria. But the experience made me a lot stronger, because I became really independent.
What's your best advice for girls who are being bullied?
Well, a lot of girls reach out to me on Twitter and Instagram and ask how to deal with certain situations. I try to help if I can. I tell them it's a phase, and you have to be strong and you might be thankful it happened.
Do you miss anything about Austria?
Nature. I miss how quiet it is. I like to go back to relax and go hiking or skiing.
Have you ever been to Life Ball in Vienna?
Only once, but it was so much fun! It was one of the best times ever. People prepare for it forever!
How did you spend your childhood summers?
My hometown was really close to Italy, so we used to go camping there.
What do you love about living in New York City?
The energy! You walk out of your apartment and there's always something to do. There are people around at all times of the day. There's always something going on!
Are you a healthy eater?
I'm trying really hard. My body doesn't work like most of my model friends' bodies—I've always been curvy, so staying skinny is really hard. I have to work out every day, and I have to be careful with what I eat. But I definitely have my moments, especially in summer! I have more cheat days than I should have.
What's your exercise routine?
I see my trainer, Marc Gordon, every other day, and I do Pilates on the days I don't see him. I also spin. My trainer can be really exhausting, especially the cardio, but it's good because it's a stress-reliever. I do a lot of jumping rope, which is great because I can do it everywhere. I always feel great afterward.
How did you find your trainer?
I tried so many, but my friend who was pregnant told me about Marc, who helped her get back in shape in two months. It's all about connection, and we just connected. I've also seen the most results after working with him. He also trains Joan Smalls and Jac Jagaciak.
Have you been checking out any movies on your days off?
I've seen a lot! I'm a big fan of Minions, and I also caught Magic Mike XXL, which was entertaining.
Who was your favorite hottie in the movie?
Channing Tatum!
We're partial to Matt Bomer.
He's insane. Wow!
Who are your best girlfriends?
I have so many girlfriends that it's kind of hard to say who my best friend is. I do hang out with a lot of models and people from the industry because they understand my schedule.
What's the heart tattoo on your wrist?
I'm a huge fan of Rosie Huntington-Whiteley, and she has the same tattoo, so that was a big reason I got it. I consider her a role model. I also feel that a heart stands for so many things, like friends and family and love.
What did Rosie think?
We've been in the same room, but I'm always too starstruck to say hi.
Any other career aspirations?
I'd love to try acting. People keep telling me I should do it, and I know a lot of people in that industry. I'm taking acting classes now. I'd love to be in action movies or dramas. I don't want to be just a pretty blonde in funny movies.
What do you consider a major luxury?
My friends and family. You can buy whatever you want with money, but you can't buy yourself good friends or the support of your family. If you don't have someone to share it with, it's just not the same.
Sweet. If there was a luxury item that just appeared in your life…
I'd love my own yacht! Jets are cool because you can fly everywhere, but being on a boat is the most incredible feeling.
What's your 10-year plan?
So many things in this industry happen out of nowhere, so right now, I'm trying to take it day by day. There's always so much happening!