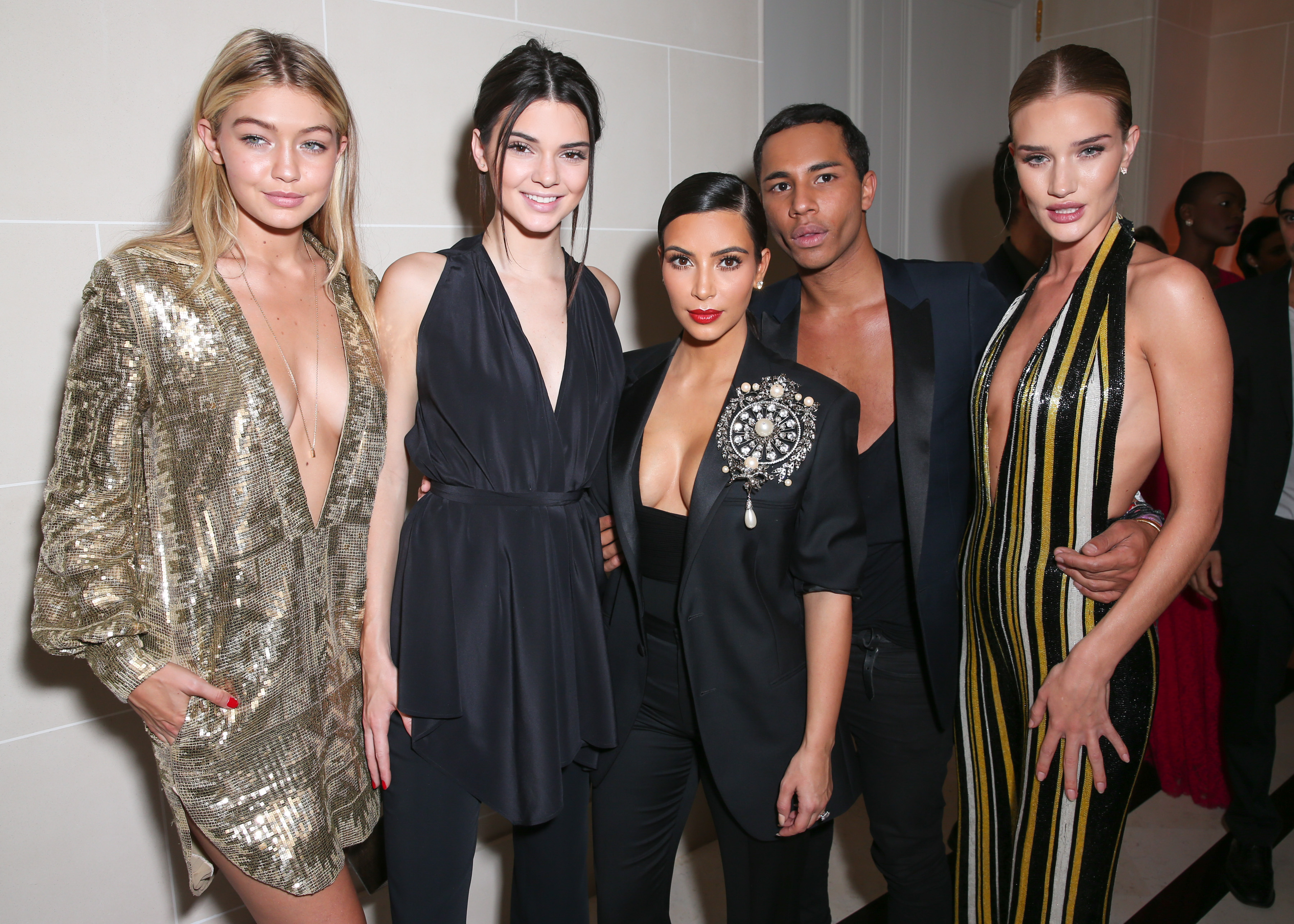 We lost count of the number of girls wearing Balmain at last night's CR Fashion Book party at The Peninsula Hotel. But no one could take their eyes off of the gorgeous Rosie Huntington-Whiteley in a Balmain jumpsuit, fresh off the runway. We caught up with her and designer Olivier Rousteing for a peek into the world of Balmain. 
When did you and Rosie first meet?
Olivier: We met like two years ago in L.A. It was love at first sight at The Chateau Marmont! From that day onwards, we just stayed together.
Rosie: It's a love affair!
Olivier: She's my muse. She's a confident woman who inspires me. She's strong. She's a girl of 2014: she is fierce and not scared.
Rosie: I've been a big fan of Balmain and of Olivier for a long time even before we met. When I met him in L.A., he invited me to an event. I went to the hotel for a fitting, and we spent three hours together where I tried on every single piece of clothing. Every time we do a fitting, I have to try on everything even if I've already chosen the dress. The clothes really transform you as a women.
How was the reception for your collection this season?
Olivier: I loved the reception for the last collection. At the end of the day, I do what I want and I please myself. If people hate it, it's fine. If people love it, it's fine. Of course, I prefer to be loved, but either way it's about evoking emotions.
Kim and Kanye caused quite a scene with the photographers at your show.
Olivier: Kim is my friend, and Kanye is, too. I was just really excited, because it was their first time to see Kendall [Jenner] walking on the catwalk. Kim and Kanye and Kris [Jenner]. It was amazing for them to see Kendall walk. I love it. I'm really proud they were at my show.
We loved the Michael Jackson soundtrack for the show!
Rosie: The music is actually almost as important as what you're wearing. It puts you in the mood! It affects the way you walk in the clothes.
Olivier, did you let Rosie choose what she wanted to wear in the show?
Olivier: I know her so well already! I proposed a few looks to her; I usually have it right. But when I don't, I can see it in her face and eyes. You know what? With her, there is so much love and truth! She will tell me when she feels really, really good.  She will never tell me that she hates an outfit, but she will always let me know which one is her favorite. That's what I love about Rosie. She's true to me. That's what fashion needs today: friendship and truth. 
What's it like when you see a woman on the street wearing your clothing?
Olivier: I love seeing the message from the show, on the street. It's all thanks to a woman like Rosie, who walks in the show and expresses something more than just wearing clothes. I think so many designers hide the woman in their clothes.