One Management mod Louise Donegan has no fear of multitasking, and this week her "side job" is unearthed at the opening of her own art show at Salomon Contemporary Gallery in New York. The British stunner fills us in! 
When did you move to New York City?
Ten years ago, I came on a whim and ended up staying.
How did you get involved in the modeling world? 
I was scouted in a nightclub in my hometown by a top London agency when I was 15. I've been working as a model since then. I went full time at 19 after my studies.
What's your other passion?
Well I have several…triathlons, playing the violin, acting, conservation, but I'm also an artist. I make collages.
How long have you been painting? 
I don't actually paint very much any more. I use paint somewhat in my mixed media pieces. I suppose when I manipulate the ink in expired Polaroid film it's similar to painting. That's a technique I've been using lately in my pieces. Ever since I can remember I have always enjoyed creating beautiful things.
Did you study art?
I studied photography and art at The Henley College and then I went on to do my Art Foundation, which is a year of multidisciplinary training that is a pre-requisite for Art, Design or Architecture degrees in the U.K. I was accepted to my first choice university, The Surrey Institute of Art and Design. Then I decided to defer my entry for one year to pursue modeling. In the end, I never went to uni. Wherever I went on my travels as a model I would always take my camera, and I still do. It's a point and shoot Olympus Stylus with a built-in flash and I use black and white film. Initially I would also take a travel watercolor set. As time moved forward I had less and less opportunities to make paintings but I still was taking photographs and I also began to amass fashion magazines. That's when I started to cut up magazines and create new images. It all began as a bit of fun but it gained momentum and has become more serious. In a way, collage is a recycling effort. It seems such a sad waste to me that these magazines (trees) are single-use items. I read the articles and then cut them up! My process has evolved and now has many stages. I make the initial collage then scan it into Photoshop. I clean up the dust or any impurities.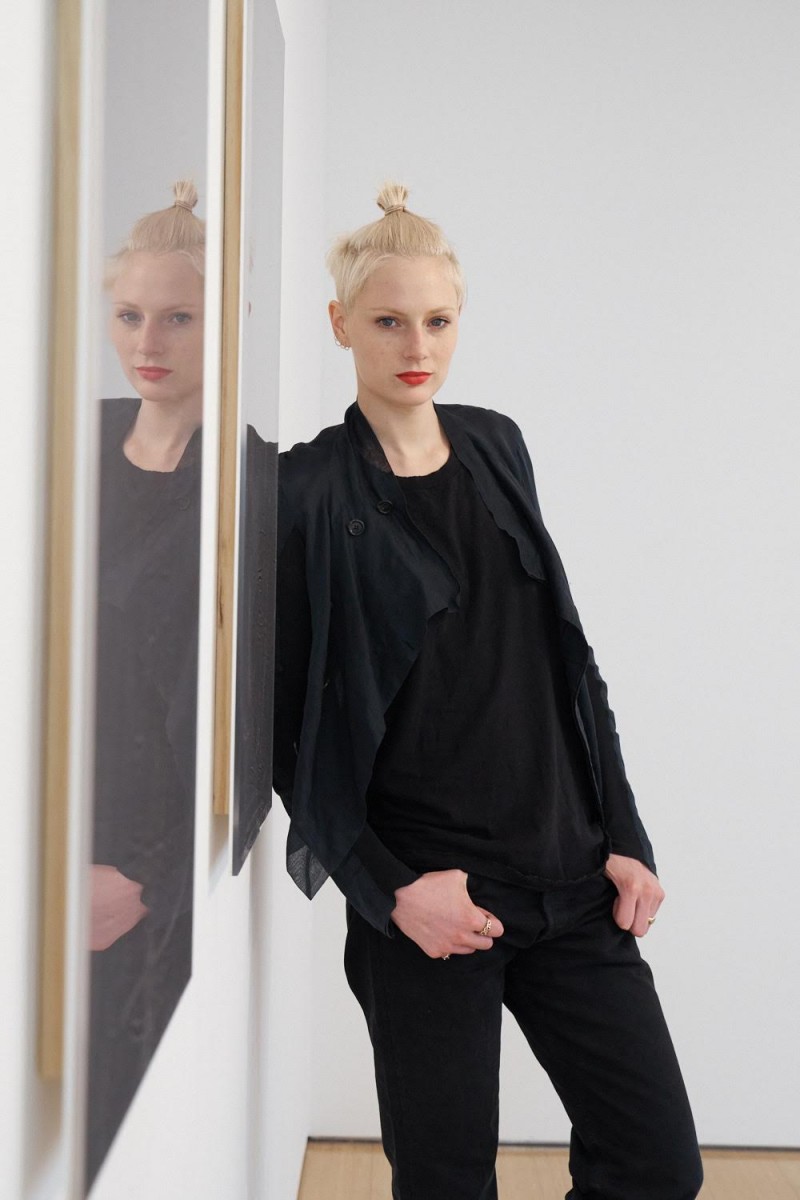 How much time each week do you spend on your art?
Somedays I'll cut things for 10 hours straight. Photoshop can get me in a time warp as well. I do a lot of retouching on the plane. There are many different stages in my work so I will always have different pieces at a different point in production. The last couple of weeks I've been finalizing the pieces for the exhibit, and organizing the show.
What's in your current show?
The collection of images I am currently exhibiting is called Liath, which is the Gaelic word for grey. With these images I also pass them through a filter so that nearly all of the color is washed away. We just see the tiniest hint of the color. After Photoshop, they are printed as large photographs and then laminated onto clear plexiglass so they have this really high sheen. The plexiglass polarizes all of the colors. I have thoroughly enjoyed making this exhibition.
Who are your favorite artists?
Wassilly Kandinksy, for his color theory. Chris Ofili—his collages really captivated me when I was a teenager, and his latest work "Night and Day" has definitely informed my grey work. Wangechi Mutu is an amazing female, Brooklyn-based artist and sculptor. Her exhibit "A Fantastic Journey" at the Brooklyn Museum was terrific.
What have your teachers taught you?
My old photography tutor, Julian Brinsford used to say, "Remember the Seven Ps: Prior Preparation and Planning Prevents Piss Poor Performance." I think that was pretty helpful.
What's next for you?
I'm interested to show in Los Angeles. I'm keen to get started on my next project. I'd like to do something that highlights human impact on our planet. I'd like to do something to bring about positive change.
Summer plans?
Wearing sunscreen.
Liath is up today through June 11 at Salomon Contemporary Gallery, 525-531 West 26th Street 4th floor in Chelsea, New York.