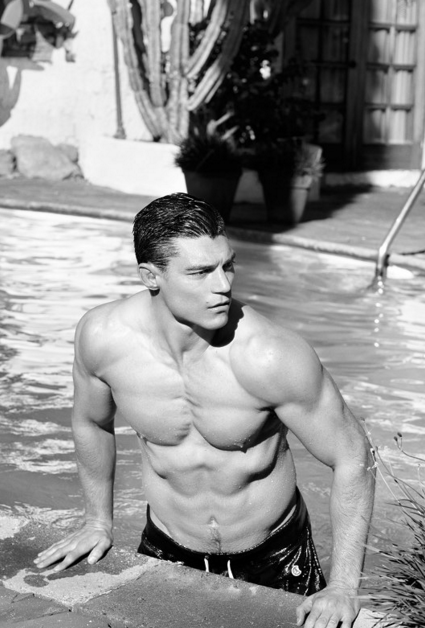 We don't get a lot of interview opportunities with UFC fighters so we were intrigued by the chance to meet fighter Alan Jouban, who has been having a major comeback in the modeling world lately and currently appears in the Equinox "Commit To Something" campaign. He was recently in New York and stopped by The Daily's office (poor us!) to answer some burning questions we had about fighting, body issues, and his impressive past year. 
Did modeling or fighting come first?
When I was 20 I moved to New York to give modeling a shot. From there, I went to Los Angeles and I eventually found fighting, and realized it was what I was passionate about, good at, and what I was meant to do. I also met my wife. As I became more successful at fighting, [Soul Artist Management owner] Jason Kanner saw me fighting on TV one day and we had a mutual friend and he got ahold of me. He brought me back into the modeling world, and he's been doing nothing but great stuff. I've kind of been modeling for 15 years, but it's been on the back burner. Then, in the last year, he's got me shooting with Bruce Weber, Peter Lindbergh, Steven Klein, Giampaolo Sgura, all these amazing people, so it's been great for it to come full circle.
How did you even get into fighting?
It was really something that was in my heart. I always loved it! If I was watching a movie, it was going to be Rocky or Rambo. I grew up with a punching bag in my garage. It was something I wanted to do but I never had the training. I had my share of riffraffs and fights as a kid as well. When I moved to L.A. I met my wife, who is Thai, and we we're speaking and I said, "Oh you're Thai? Because I love Muay Thai." After meeting her I went and took a Muay Thai class, and literally never stopped going. I had a fight four months after the day I joined.
What drives you to want to fight someone?
Back in the day, many fighters were looked at as guys who came up from hard times, were poverty stricken, or maybe had anger issues. But, MMA [Ed Note: Mixed Martial Arts] modern day fighters, we're people from all walks of life. Some guys are even very unassuming, comic-looking nerds who have never been in a street fight in their life, but they looked at it as a sport. I always wanted to be Rocky—I wanted to be the guy who gets punched in the face and then he gets up and people are cheering. When I found it I kind of became obsessed with it.
Doesn't it hurt?!
You have to be tough; the adrenaline going through you makes you have superhuman powers at the time. The next day you really feel everything—everything hurts—and my wife puts her feet on me and kicks my butt up to get me out of bed. I don't enjoy taking this kind of damage to my body, but this is my career. Thankfully you only fight four times a year, for MMAs.
When's your next fight?
July 7th at the MGM in Vegas.
How does it feel when the crowd goes crazy for you during a match?
In every sport they talk about the electricity of it, the magnitude of it, but I feel like fighting stands alone. In these other sports, you're with a team, you're with a group of people, 24 players, but when you're in an arena, with 30,000 people, inside of a cage and it's only you and one other person and you raise your hand for victory, or you knock somebody out and you let out a roar….you can't compare to that to a group sport. And fighting is a sport now, but there's no gain or props involved; it's true hand-to-hand combat. So you could be good at tricks, but this is, "May the best man win." And I get emotional after my fight, because I think for the last 10 weeks I sacrificed, to diet, cut weight, beat my body up, not see my family, and then I win my fight…that's what makes it worth it.
Are you able to be friends with the competition?
Yes, you become friends, but you don't tell them your every secret because you know you might be fighting them one day. But it's inevitable, especially in the UFC, they kind of monopolize the sport and they bring us out to Vegas all the time and want us to do signings, so you share the weekend with them, you're going to have conversations with them, exchange numbers, train with them. But there's always the possibility that you might fight them one day.
Do people ask you for fitness tips all the time?
I get that now and then, but I need to come up with a good gimmick. Drink a gallon of water a day is good advice. It's so true…it's so healthy for you and it's good for your skin, and it gets your metabolism flushed out. People ask me all the time, "How do you get your six pack?" I wish I had some type of secret abdominal workout, but I train three hours a day, six days a week, year round.
Do you ever have body issues?
No, I've never had body issues. I don't think so. I'm so used to being in the best shape I could possibly be in. I'm in decent shape right now, but I fought a few weeks ago and afterwards I was eating cupcakes for breakfast.
That's what people want to hear!
You go on these diets where you have to lose 20 pounds to make weight, so after my fights we go get ice cream and yogurt everyday. After two weeks of that, if somebody said, "Hey we're going to do a last minute photo shoot," I'd say, "Can you give me a couple days?" They'd say, "But you look fine." And I'd say, "Dude, I've been eating nothing but Skittles everyday."
You're part of the current Equinox "Commit To Something" campaign. How was it working with Steven Klein?
It was dope. He's super cool. I felt that, honestly, he did the whole thing…I'm just the mold. I walked onto the set, this awesome background was there, the lighting was done, I sat in the chair, they contoured me, and I was done 20 minutes later. I was just blown away. I just had to go in there, hold my trophy, flex my abs, and he delivered. That was the first shot of the day at 9 a.m., and by 9:20 a.m. I was done.
The campaign is everywhere.
I've been seeing it on billboards! I'm friends with Mickey Rourke. We train together, and every time he goes to Equinox he takes a picture of it. I posted a picture on Instagram of Mickey pointing at it, which Equinox loved.
Are there photographers you're dying to work with now?
I'll be honest…I haven't studied fashion but I know from the guys I've worked with that I've worked with some of the top guys already. I'm open!
Who's your hero?
My grandfather, who passed away three years ago. I looked up to him my whole life. He was a farmer, a cowboy, and had these bulls and raised them called Brahma. That's my fight nickname, Brahma. It's more of a tribute to him when I'm fighting.
What's your dream?
Its growing every day, honestly. My dream for half my life now was to be part of the UFC. Once you meet your goals, you have to reassess them and I find myself doing that more often lately. It's a beautiful thing. Now that I'm in UFC, I'm always trying to do more stuff. Being the best fighter in the world is always going to be my number one goal, and it's a tall mountain to climb…to be the UFC champion and have that belt one day. But at the same time, I'm exploring the modeling world more, and commentating for a channel like Fox to analyze fights. I'm also interested in doing movies. I love exploring all these different possibilities to find what my niche is.
Photo Credits: Randall Medson for At Large, Getty Images, Giampaolo Sgura, Steven Klein