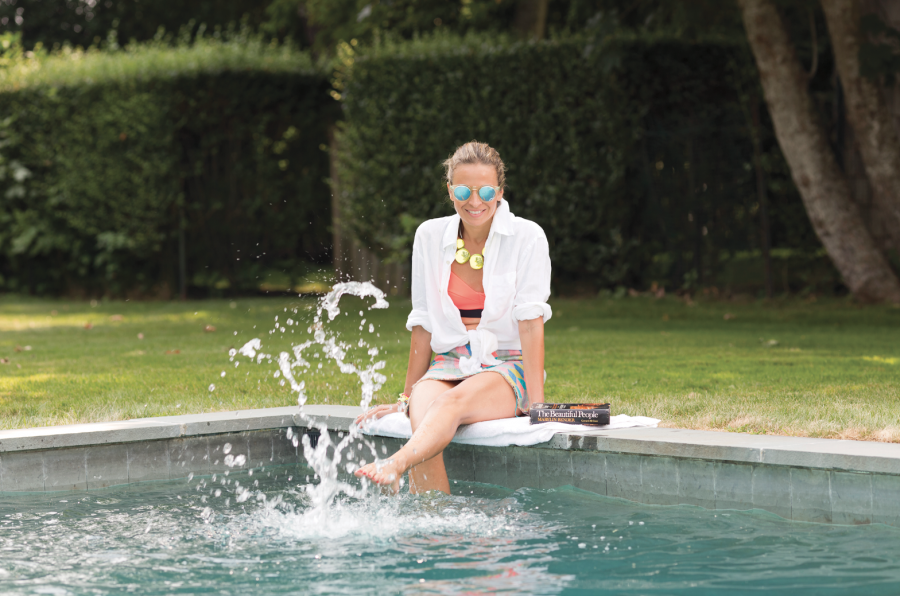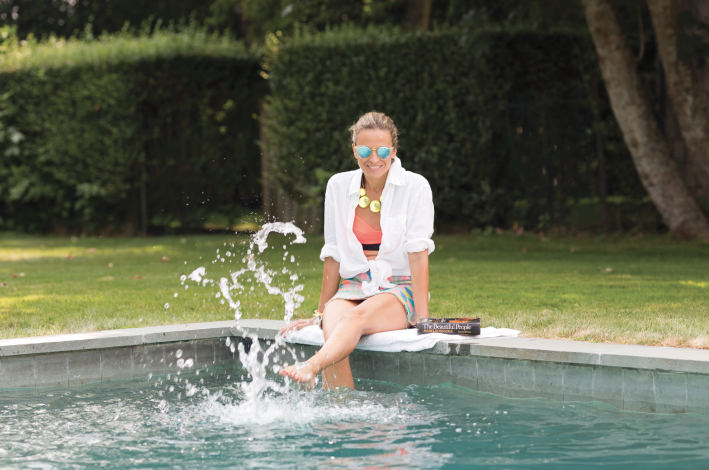 For Milly designer Michelle Smith, the East End is a place to relax and rejuvenate. And now that she's a retailer, thanks to her booming store on Main Street in East Hampton, she's even learning to enjoy the occasional rainy day. BY ASHLEY BAKER
What is your personal history of the Hamptons?
I started coming out in '96 or '97. I was dating Andy [Oshrin], who is now my husband, and we spent a lot of time in Sagaponack. Gibson Beach was our favorite. Now that we have kids, we tend to go to Sagg Main or Flying Point, because they have bathrooms and food trucks, but Gibson was a really cool hangout at the time. I really love it here—there are so many artists and photographers. I love the light, I love the sea…. I'm really inspired by this place.
What are some of your favorite memories from your time here?
We had a really fun party when Andy and I were dating—it was supposed to be outdoors, for like 500 people, but we had to move it inside, to the house. Afterward, it looked like it was painted red from all the vodka punch flying all over the walls. It was an amazing night. But most of my memories are pretty simple—walking the beaches when I was pregnant, having my children with me.… Now, it's really a family place for me.
What are some of your rituals?
We like to go crabbing on Mecox Bay, and I love to wake up and walk down the street to the coffee shop for breakfast. I like to go to SoulCycle in Bridgehampton to get a little cardio, and then I feel like I can do whatever I want, even if that's just hanging by the pool. I make salads, Andy likes to grill, and we receive friends. I really like the outdoor life here. I love paddleboarding—Mecox Bay is a great place to do it—and it's a beautiful area to run and golf.

Where do you golf?
At Montauk Downs. And we take the kids to mini-golf. I've been golfing for about 15 years. I don't belong to a club, and we don't do it that often, but I can pick up a club and play.

What's your East End look?
When I first came out, we went out a little bit more, but dressing up was never really what it was about for me: I always want to leave my high heels in the city and live barefoot. It's about really relaxed living and being close to nature—the sun, the sea, and farms. I love my Milly Cabana bikinis and cover-ups. I wear a different bikini every weekend. I'm a little bit spoiled in that respect. I get to keep a copy of every bikini I've made for myself. I pretty much live in a swimsuit all summer long. I'll put on an easy dress, maybe with some rhinestone flip-flops, to go out to dinner with my husband, but we'll usually pack up the kids in the car and take them to the Clam Bar in Napeague, and I'm usually in cutoffs and a sweater. But we do go to a few events, like Super Saturday, which is a really great day, and I do make an effort for that. I love color and print, and this is a great place to show it off.
How has your perspective on the Hamptons changed now that you're a retailer out here?
It's funny—I'm not as depressed on rainy days, because people tend to shop! I love having a store and spending some time there, meeting the customers. On summer afternoons, we have cocktails.

What are people buying this season?
Long, colorful dresses are great, because there are a few big benefits—like Watermill and Southampton Hospital, and the Parrish Art Museum, VH1 Save the Music—where people want to wear something that's very eye-catching. I think I'm the go-to for that! Other than that, our Milly Cabana bikinis and cover-ups do really well. And the minis—little girls love to match their mommies!
Sophia Oshrin [sitting on mom's lap]: I love matching.
How many stores do you have now?
Two stores in the U.S.—Madison Avenue and East Hampton—five in the Middle East, and one in Japan. Opening more stores in the United States is definitely part of the plan.

You went through a rebranding two years ago. How's the response?
It's been amazing. It was scary at first, because you don't want to alienate your current customer while bringing a new girl into the mix, but it's been fantastic. It was time for a refresh.
Love your Instagram [@millybymichelle]. What constitutes a #millymoment?
[Laughs] An amazing thing that happens to you when you're wearing Milly.