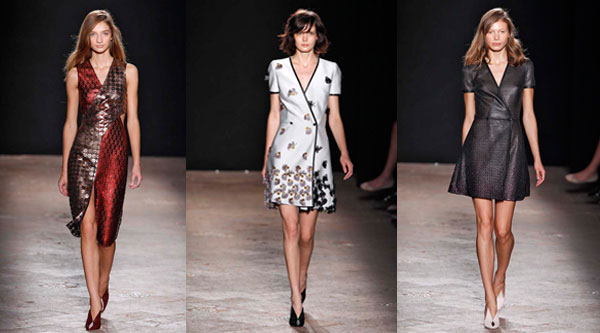 Milan Spring 2014: Marco De Vincenzo
|
(MILAN) Marco De Vincenzo
If there was ever a "one to watch" at Milan Fashion Week, Marco De Vincenzo is it. How come? Although the design has been showing for seven seasons, this year people took notice. Namely, Anna Wintour, who was perched front row. The room was also full of all of the big name editors, but perhaps the most important face in the room was Pietro Beccari, president and CEO of Fendi. LVMH reportedly has their eye on the brand. We hear that the fashion conglomerate along with its competitor Kering are flush with cash and looking to take on young designers and cultivate them to one day run bigger fashion houses (a la Marc Jacobs for Vuitton and Alexander Wang for Balenciaga).
The show was held in one of the oldest buildings in the Piazza Mercanti—formerly the center of Milan circa the middle ages and currently one of the few structures untouched by the devastation of WWII bombings. Despite the historical setting, the Roman designer's clothing proved thoroughly modern. De Vincenzo served up fantastic trompe l'oeil features in intricate pleating constructions with Sangallo motifs, geometric patterned leathers, 3D appliqués, and perforations. The movement of a black perforated leather wrap dress would reveal flecks of shiny purples and magenta that appeared woven into the fabric. Also of note, a blue checked top sporting shiny mutli-colored ombre stripes down the front, paired with a matching pleated skirt that showed hints of gold in the folds as the model walked. A sporty ruby-hued sleeveless hoodie vest mingled with a matching skirt and mesh knit underneath, showing bits of white as it moved. The construction? Masterful. The top tier is taking note (for good reason!) so expect this young designer's career take flight.