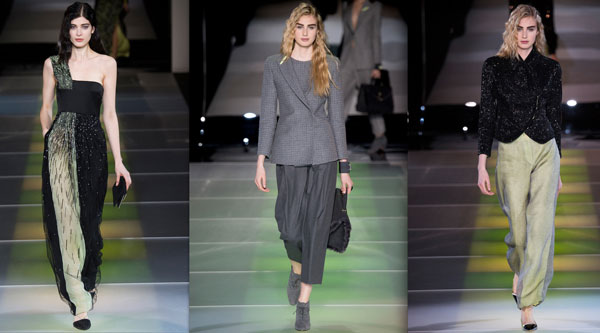 Milan Fall 2014: Giorgio Armani, DSquared²
|
(NEW YORK) Giorgio Armani
Giorgio Armani knows what his women want. He knows that a society dame will need a great gala dress and a career woman will need a good sophisticated pantsuit. The latter this season came in shades of mostly grey flannel. If that sounds a bit drab, they were anything but dull. The first look came as a single lapel jacket over cropped slouchy trousers in a darker shade of grey. It was cool, while maintaining a sense of safe sophistication. Outerwear also came in grey hues like a simple and chic gradient coat and in a long overcoat with a single lime button. Lime gave a burst of color to the second half of the collection like surprisingly youthful pair of cropped slouchy pants worn with a short black woven jacket and patent combat boots. For evening, as you would suspect, there were plenty of looks that will be red carpet ready by next weekend. Since Cate Blanchett will probably go for one of Armani's archival pieces, we have to imagine a PYT like Lupita Nyong'o would look stunning in a lime green beaded gown with a deep-v. A black and green strapless dress with lines that fell like confetti was a wearable, but statement making and one-shouldered black floor-length number with a sash on beaded pale lime green was stunning. Armani consistently turns out collections of clothing that women want to wear. Sure, it may not look as trend-inspiring as other collections on the runways, but there's a reason this man is a billionaire.

DSquared²
Campy chic! Such was the '60s-inflected latest by Dean and Dan Caten, rife with cheeky getups. With mental institutions and drag among the thematic undercurrents, things were a little askew and plenty sexy. Even the order of events was a little off—a smattering of gowns, some quite sophisticated and flowy, opened up the show, interspersed with tart skirtsuits, fun pops of leopard print, and abbreviated hems galore. The shorter looks worked best, mod to the core; a duo of navy, olive, and brown colorblocked getups trimmed in fur were a playful highlight. On the accouterments front, collars encircled necks, thick gold bracelets weighed down wrists (and forearms and triceps), and teal bracelets extended down the digits. To wrap up, things moved to the boudoir, with slinky underthings serving as the finale.