We're just over a month away from Meghan Markle and Prince Harry's big day. And while we care about the couple living happily ever after and all that, what we really care about is the fashion. What will Meghan Markle's wedding gown look like? Who has she selected to design her dress? Will it be a Brit? Could it be Erdem Moralıoğlu? Could it be Christopher Bailey — perhaps his swan song after exiting Burberry? So many possibilities!
And while there is, realistically, zero chance that Markle will be wearing a dress that showed at last week's NYFW: Bridal, a girl can still dream. So, dream we did (and Photoshop), imagining the ten best looks from NYFW: Bridal on the future Duchess.
1. Amsale spring 2019
The final collection from Amsale Aberra, presented just weeks after she suddently passed, reflected the restraint and nuance the designer brought to the bridal industry. This look is minimalist but not devoid of flourish, and exudes a quiet, sweet, elegance.
2. Gracy Accad spring 2019
While the mandated degree of modesty could be considered a hinderance, it's a challenge that calls for creative solutions. Long-sleeves are an option but so is a jacket or some sort. How about a semi-sheer sheath layered over a Chantilly lace column.
3. Mira Zwillinger spring 2019
How divine would an intricate lace cape be? Please, let it happen.
4. Francesca Miranda spring 2019
Okay, okay. We know she could never wear something this revealing. But we're letting ourselves go there. Her bod is incredible, particularly her décolletage, shoulders, and arms. She'd look stunning in this.
5. Reem Acra 2019
Reem called this look her "divine dream" and we can see why. We're partial to a high neckline and long-sleeve silhouette and the oversized florals in the lace give it a slightly vintage feel.

6. Mira Zwillinger spring 2019
The gypsy-ish, off-the shoulder silhouette of this Mira Zwillinger look may not read royal but, then again, Markle has been known to do the sartorially unexpected. Just today, she showed her bare shoulders at a public appearance which isn't customary. And despite showcasing her shoulders, the neckline of this gown is relatively high. Besides, the floral webbed lace on the bodice and upper skirting here is gorgeous.
7. Anne Barge spring 2019
The key for dressing Markle is balance: her dress needs to be timeless yet contemporary, modest yet alluring — this gown satisfies all those requirements. The detailing on the bodice is spectacular and the tulle skirting is just dreamy.
8. Naeem Khan spring 2019
We love the textural depth of this material — a floral georgette crepe silk with beaded appliqué. The heft and volume of the ball skirt is perfect.
9. Mira Zwillinger spring 2019
Delicate, ethereal, and consummately feminine. Isn't that how every bride wants to look on their big day? Markle would never wear strapless, even if semi-obscured by mesh but we love the pearl floral embroideries here at the neckline spilling down this cape. It's beautiful.
 10. Monique Lhuillier spring 2019
"If I were to be commissioned to do Meghan's dress, this is what I would envision," Monique Lhuillier told Vogue of this collection. We couldn't agree more.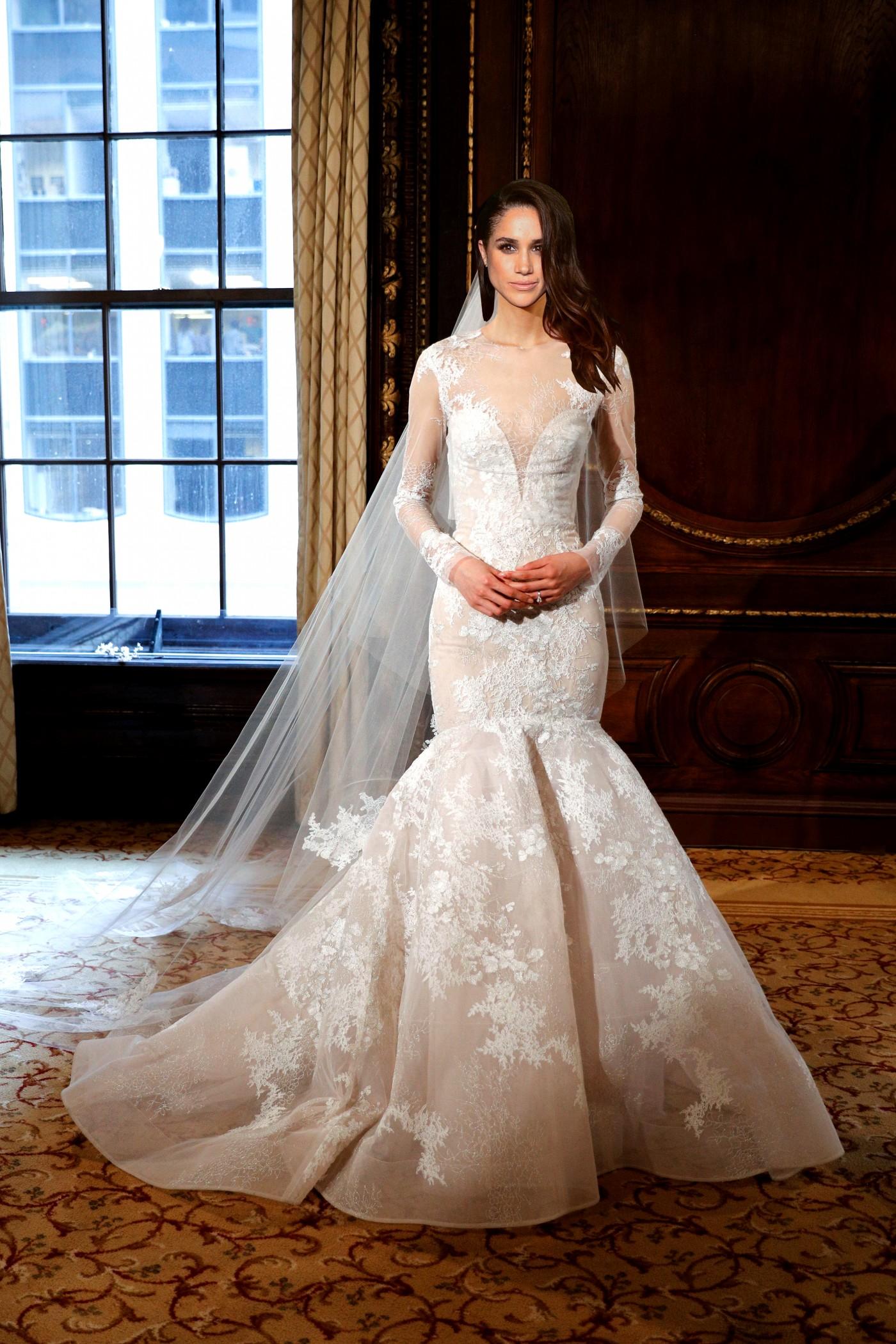 Subscribe to our newsletter and follow us on Facebook to stay up to date on all the latest fashion news and juicy industry gossip.