Whether you're striving to achieve a model-off-duty look, shopping for your new favorite new go-to tank top, or searching for a new staple athleisure brand to be simultaneously comfy and chic, look no further than BRIAVIA.
What began as just a hobby for founder Brianna Wu, has turned into a passion-driven, successful business,BRIAVIA. The AAPI women-owned and operated clothing brand based in Los Angeles, California, offers high-quality, timeless designs that will last in a wardrobe collection for years to come, and has developed a cult following as they continue to grow and soar.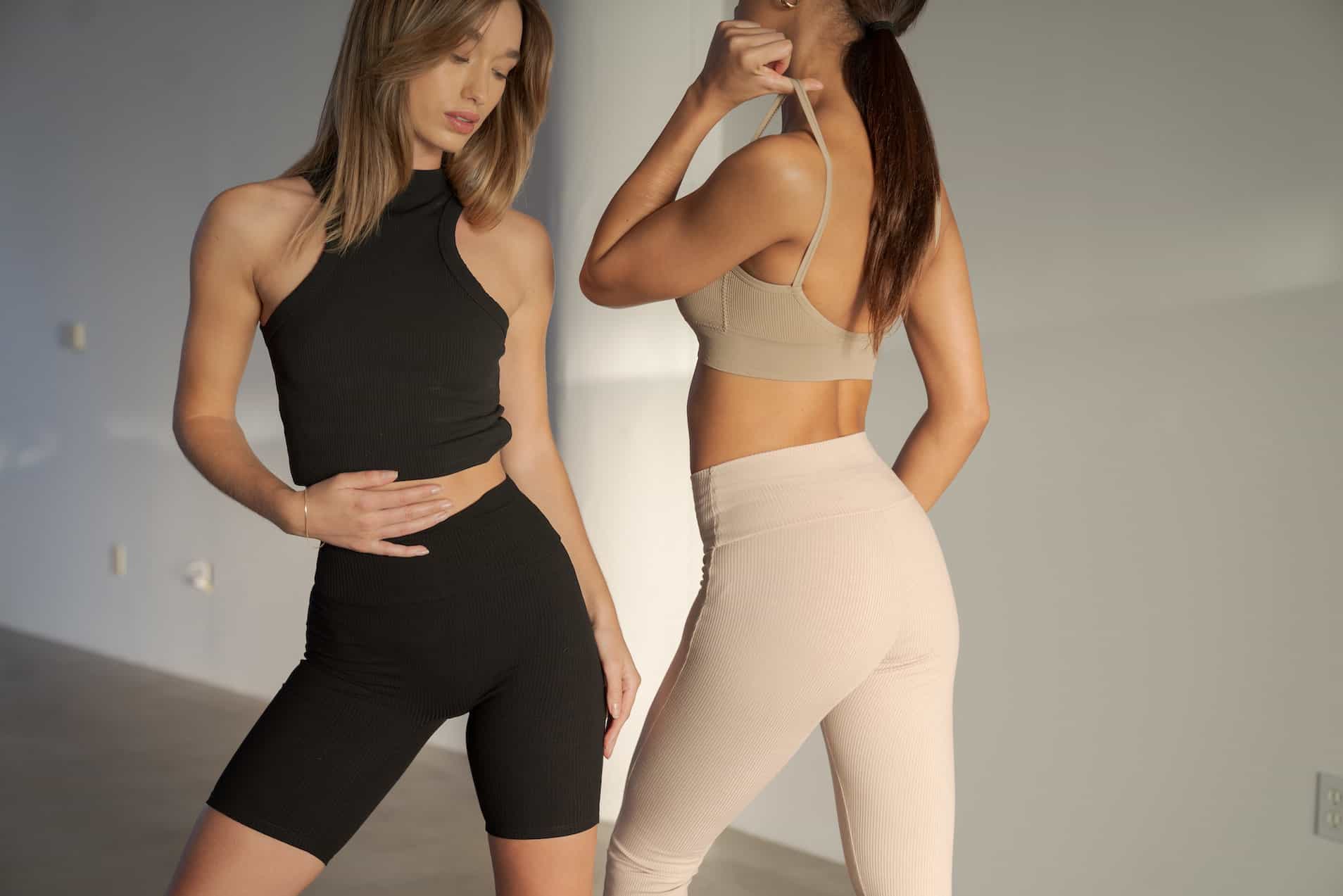 The ethos behind the brand is to create clothing that respects the planet and everyone involved in the process. As the daughter of immigrants, Brianna Wu has a strong pride in the diverse cultures, people, and places that make the world what it is. Starting from the ground up, BRIAVIA is a brand that focuses on quality, longevity and versatility. Wu is a founder that is, and always will be, heavily involved in every step of the development process of BRIAVIA, making it a hands-on, honest brand that consumers can trust and believe in.
From the brand's ideation to development into a cult-favorite, closet classic for women everywhere, Wu takes Daily Front Row through the journey of BRIAVIA.
What was the main source of inspiration behind BRIAVIA? What inspires your creative process?
Besides having a background in fashion and loving the whole process of building a brand from scratch, my inspiration starting BRIAVIA came a lot from my travels. I learned to pack light and always gravitated towards basics over statement pieces. While exploring new cities, I found inspiration for new designs, which led me to name each piece after a city on my website. I realized that the key to the perfect travel wardrobe was functional and high-quality pieces. As I dove deeper into the fashion industry, I became aware of the negative impact of fast fashion on the environment. I believe that people continue to buy fast fashion because they are not educated on the amount of waste it produces. This led me to make it my mission to plant a tree for every order and educate my audience on the impacts they can make.
My present inspiration for designing stems from giving my customers a fresh sense of confidence. All I want to do is fix daily wardrobe issues and help them look and feel their absolute best. I make it a point to read every single review and use the feedback during my design process. I am hoping that my dedication for continuous improvement and openness to customer critique allows me to build a brand that caters to the needs of everyone!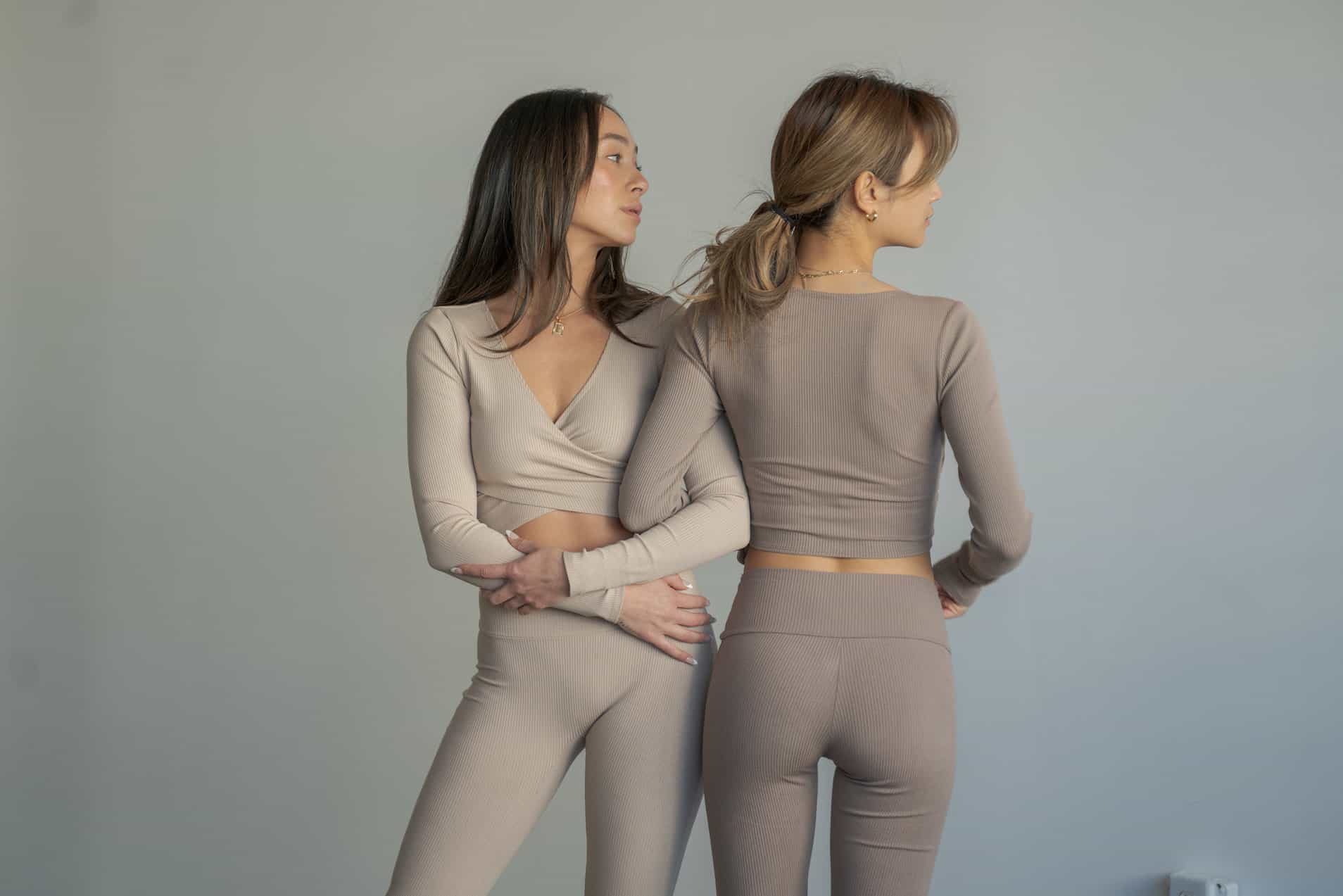 Athlesiure can be a saturated market, but BRIAVIA really sets itself apart through innovative designs, a give-back initiative, and quality. When founding the brand, how did you identify what your competitive edge would be?
With BRIAVIA, I aimed to create a brand that people could wear everyday. Though the designs may seem simple, we undergo numerous rounds of sampling to ensure that the clothing is well-made and flattering. When developing pieces, I identify problems people struggle with and try to design with solutions in mind. For example, I disliked how flimsy my white tank tops were, so I focused on thicker fabrics that weren't see through. Additionally, I created tops with removable padding for those who preferred not to wear bras and I removed the front seam of my biker shorts to prevent camel toe. By providing solutions to common wardrobe issues, I believe that my company has been successful. Designing these pieces backwards starting with the problem and only using high quality materials has also given me a much higher customer retention rate! Moreover, my pieces are versatile enough to be worn throughout the day. They can be dressed up or down to suit any occasion, whether you're running errands, going out, or hitting the gym. I have received fantastic feedback from customers, and seeing videos of people confidently wearing my clothing makes me feel like I am doing all the right things!
Tell us how you developed your plant-a-tree initiative, and how you created a sustainable line and continue setting the standard.
I want to establish a brand that strays away from the fast fashion industry and motivates others to shop responsibly. I care to deliver designs people find themselves wearing daily and recommend them to their friends and family. I believe waste is the biggest downfall of fashion with the overfill of landfills. I hope to continue to launch all my basics with the intent of people keeping these staple items in their closets for years and for a cleaner tomorrow.
I strongly believe that every business, regardless of its size, can incorporate sustainable practices. Currently, I sell BRIAVIA samples and gently used returns at a discounted price on a third-party resell app. Additionally, we provide monthly reports to educate our customers on how they are contributing to environmental efforts. As companies grow their audience, why not provide resources and options for customers to learn more? I recognize that these steps alone are not a complete solution to saving our planet, but something any business can do that won't hurt them too much financially.
In addition to our GO GREEN initiative, where we plant a tree for every order placed, we also partner with a minimum of two non-profit organizations annually. Recently, we created a "Think Pink" collection and donated 100% of profits to breast cancer research. As we grow, I anticipate more extensive opportunities, and it will always be a top priority to involve my team and customers in charitable efforts. This business is not just about designing clothes I am proud of; it is about building a brand that challenges the current fast-fashion ecosystem, encouraging everyday individuals to shop with a positive impact.
Who is the ideal BRIAVIA customer?
The BRIAVIA customer is someone who values functionality and practicality in their clothing, suitable for both casual and elevated occasions. They strive for a minimalist lifestyle that prioritizes quality over quantity, with a focus on creating a capsule wardrobe. While comfort is important to them, they also want to look stylish and accentuate their best features with thoughtfully designed garments!
BRIAVIA is truly universal – whether you're doing a workout, running errands, or doing a girls night in – there's something for everyone. How did you set out to create a brand that can be worn and enjoyed for so many occasions?
I like to think of my pieces as your favorite basic, but better. Because there's always something a little extra, whether it's a sexy open back or made of a plush ribbed fabric, it becomes an elevated basic. To showcase the versatility of my designs, I feature photos and videos of my pieces dressed up or down. By creating lookbooks and tons of Instagram content I can help inspire my audience to style the pieces in their own unique way. All the fabrics I use are also very stretchy to move with your body no matter what you're doing. At the end of the day, people are going to wear what they are comfortable in and what makes them feel good, and all the BRIAVIA designs do this!
Tell us more about how your personal story led to the creation of a brand built on a platform of intentionality.
Growing up, I developed a deep passion for fashion, and my outfit had the power to determine whether I would have a good or bad day. I knew from a young age that I wanted to pursue a career in clothing. After working multiple jobs within fashion, I was inspired to start my own clothing line. During my time working in retail as a teenager, I learned the importance of keeping a clothing company organized and looking sharp at all times. As a stylist in my late teens, I discovered that an outfit someone felt confident and beautiful in could transform their demeanor entirely. When I worked as a fashion influencer in my early twenties, I found fulfillment in inspiring and connecting with an audience. Later on, as a model and creative director, I learned the true value of teamwork and that I couldn't achieve my goals alone. BRIAVIA has enabled me to combine all of my passions into one enterprise. At the core of BRIAVIA's mission is not just about making money for myself, but about creating products that I am proud of and building a talented team to support me. I am now able to make someone's day better by creating clothes they feel confident in the same way clothing provided me with confidence when I was younger.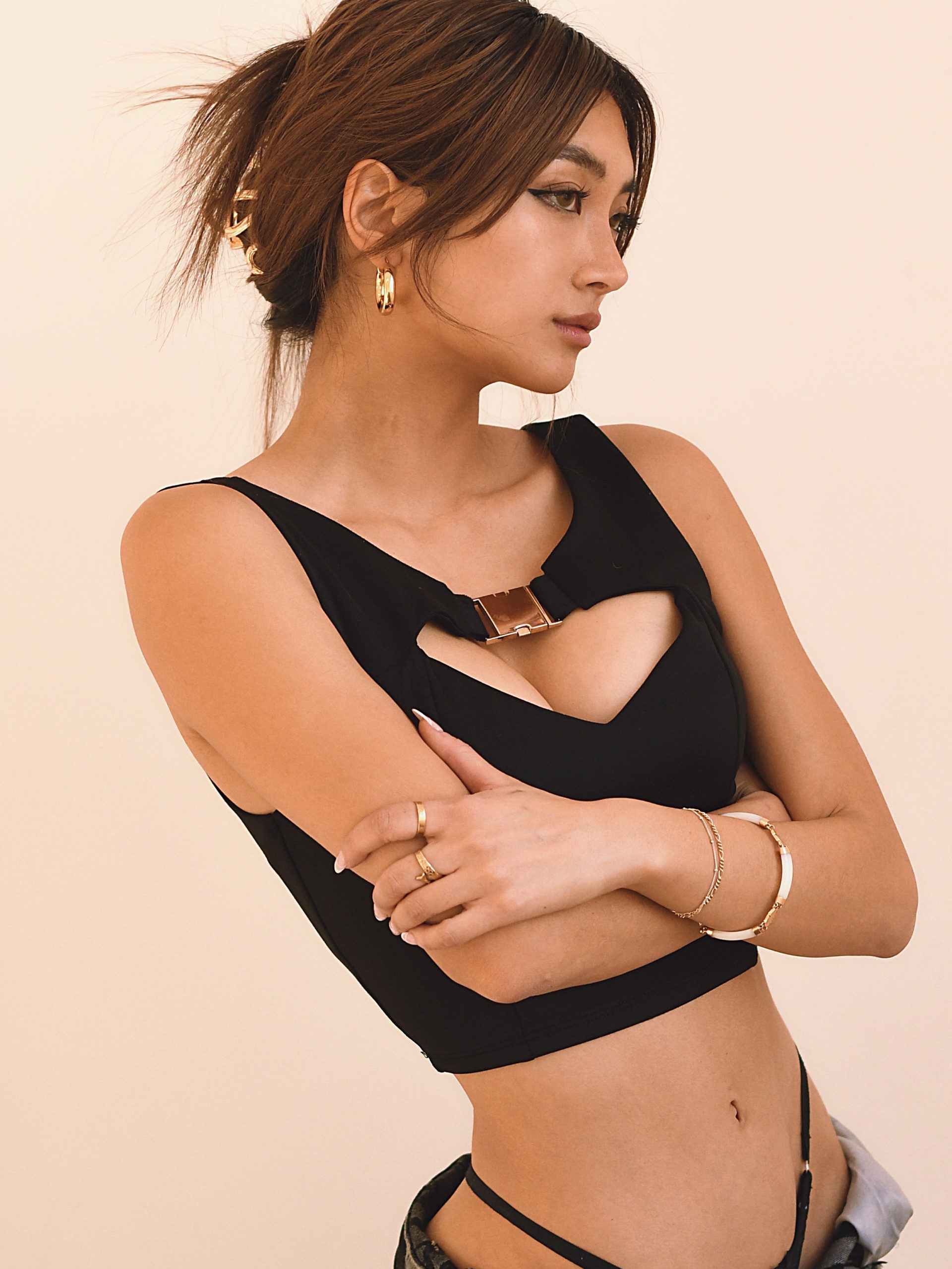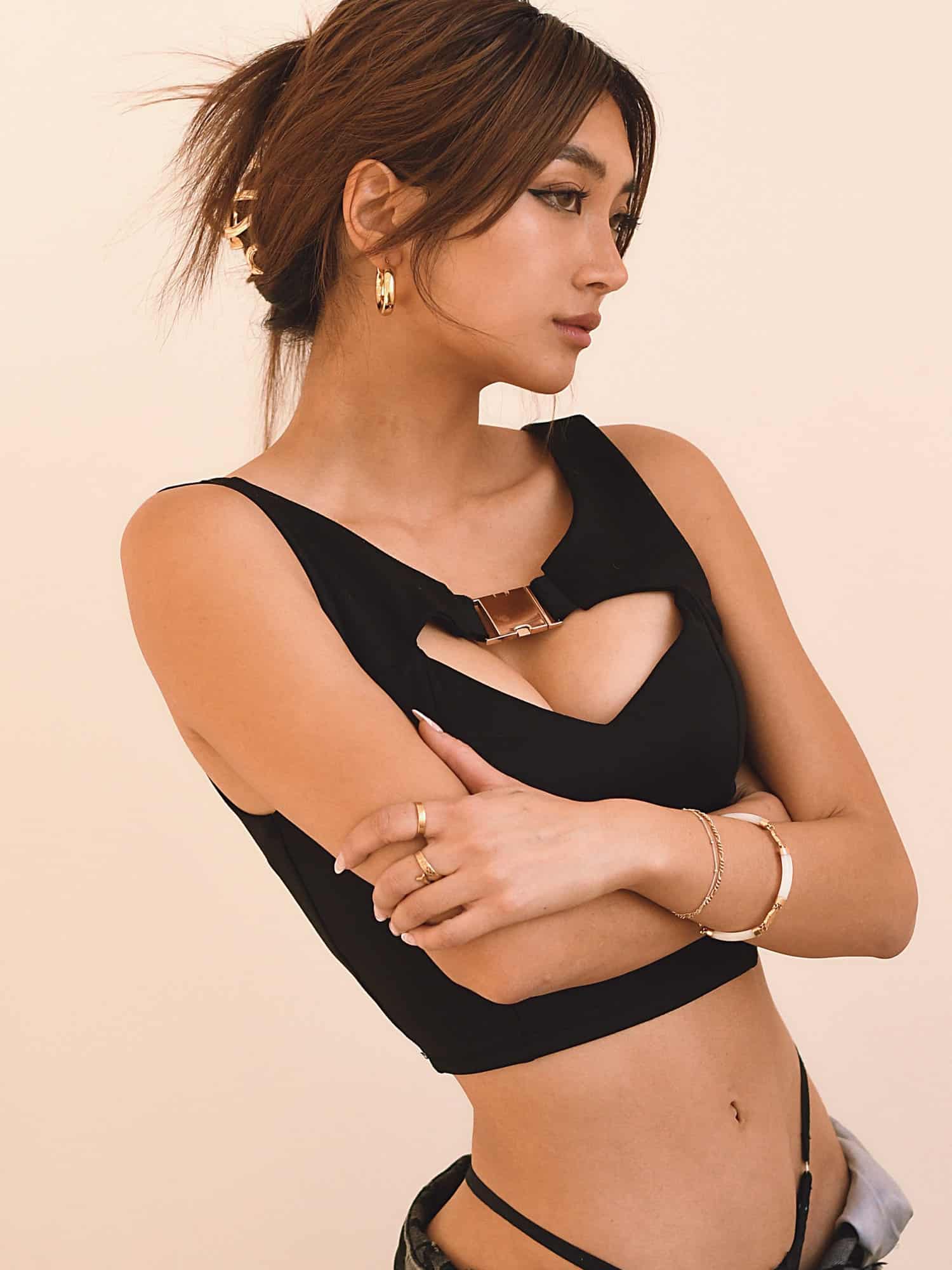 What are you wearing when you feel the most confident?
My go to confidence boosting outfit includes pairing my Somerset Tank with baggy jeans, platform sneakers, and a statement bag! This top is a favorite of mine due to its subtle push-up padding that enhances my chest and its sculpting material that cinches in my waist. The contour lines also create the illusion of a curvier body shape. To maintain comfort while adding a touch of casualness, I opt for baggy jeans. And to elevate the overall look, I pair it with platform sneakers and a statement bag.
What do you foresee as being the most trending athleisure looks for 2023?
As fashion trends tend to come full circle, I have a hunch that low-waist flared leggings will make a comeback, especially in major cities. For the overall world, I predict that one-piece jumpsuits will gain even more popularity this upcoming spring and summer. People are really leaning towards functional pieces that are convenient and can be worn again and again.
AAPI Month is upon us, but it's pivotal that the industry champions and celebrates minority designers every day. What does it mean to you to represent the Asian fashion scene as an emerging designer? What is your advice to others seeking to pursue a similar journey as yours?
As an AAPI female business owner and designer, I see myself as a role model for future generations. Growing up, I lacked representation of diversity in the entrepreneurial space and hope I can now fill that gap. I aspire to change the current male-dominated industry by setting an example for others.
For anyone starting a new business, my advice is to be super patient and remain consistent. Even if you find yourself as the outlier or minority, I encourage you to see it as an asset. Seek out opportunities to connect and uplift others who share your background or experiences. Lastly, I firmly believe that asking for help and continuously expanding your knowledge are essential factors for success. The entrepreneurial journey can be challenging and lonely, but having a network of friends will make the experience more enjoyable and avoid burnout!
What are some exciting drops and launches you have coming up this year?
We have two new styles of everyday pants launching soon. The first features our signature 400GSM heavyweight ribbed fabric, while the second is a soft, breathable lounge pant perfect for relaxing in. We are currently working on making the lounge pant adjustable in length, providing more flexibility for different heights. This added feature also allows for easy dressing up or down, whether paired with sneakers or heels!
Presented by: Tom White