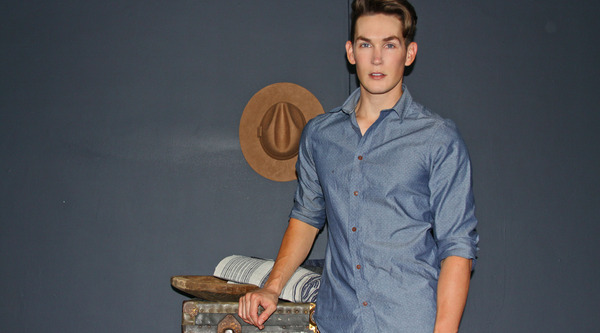 Meet Naomi and Lavender's Tyler Williams
|
Model Tyler Williams is wearing a new hat these days with the creation of Naomi and Lavender, an online shopping site that's becoming the destination for the California girl. But let's not let them have all the fun! We got Williams on the phone to get the skinny on the site and how being his Mom's stylist helped spark this endeavor.
What's Naomi and Lavender?
Naomi and Lavender is for the California girl or at least the girl who's California dreaming. She's boho '70s chic and loves a good floppy hat, wide-legged jeans, or a maxi. She likes the occasional pop of color, but likes to stick to earth tones for the most part. She never passes up a good Coachella festival. We sell everything from headwraps to handbags to blazers.
Got it! When did you start this company?
I started the company just a little over a year ago. I was talking with my mom, which I do a lot, and I wanted to create something having to do with fashion because I love it. When I was growing up my mom and sister used to come to me every day and ask me for advice on what to wear and what looks good. I've always enjoyed that, so it was a natural transition into fashion.
How often do you talk to your mom?
Like 500 times a day.
What's your background?
I grew up in Mississippi, and I always wanted to just get out and live. I knew that there was so much more for me outside of Mississippi because I never really felt like I fit in to that whole vibe. I would look in the magazines all the time and thought it would be amazing to be a model on the cover of magazines. I tried that route and modeled in New York and I did a little bit in L.A. but after doing it I found out that I wasn't really interested in it after all. I moved back to L.A. and came up with this. It's really paid off.
Do you think that L.A. residents have good style?
Yes! Our style is their lifestyle. L.A. is a really stylish city. Some people might think that high fashion is the way to go, but I like more of a relaxed look as opposed to being dressed up all the time.
Why'd you call it Naomi and Lavender?
Naomi and Lavender was named after my mom's mom, who I was very close with until she died a few years ago. Her name is actually Naomi Lavender. She always hated her name, but I think it's amazing. It's kind of a tribute to her.
What percentage of your customers are from California?
I'd say it's about 50 percent. We also have a lot of New York customers.
How are you promoting the site?
I do all kinds of events, festivals, anything that I can get into that is more of a local thing. We're at the Rose Bowl every month with a lot of the items that we sell online. You can always find us at Space 209 on the second Sunday of every month. I like building a local base. It gives it more of a homey feel.
Is your goal to design your own line someday?
Definitely! Ultimately the goal is to create our own collection. If I'm looking for that turban that Rachel Zoe is wearing I want to be able to create something similar if I can't find it!