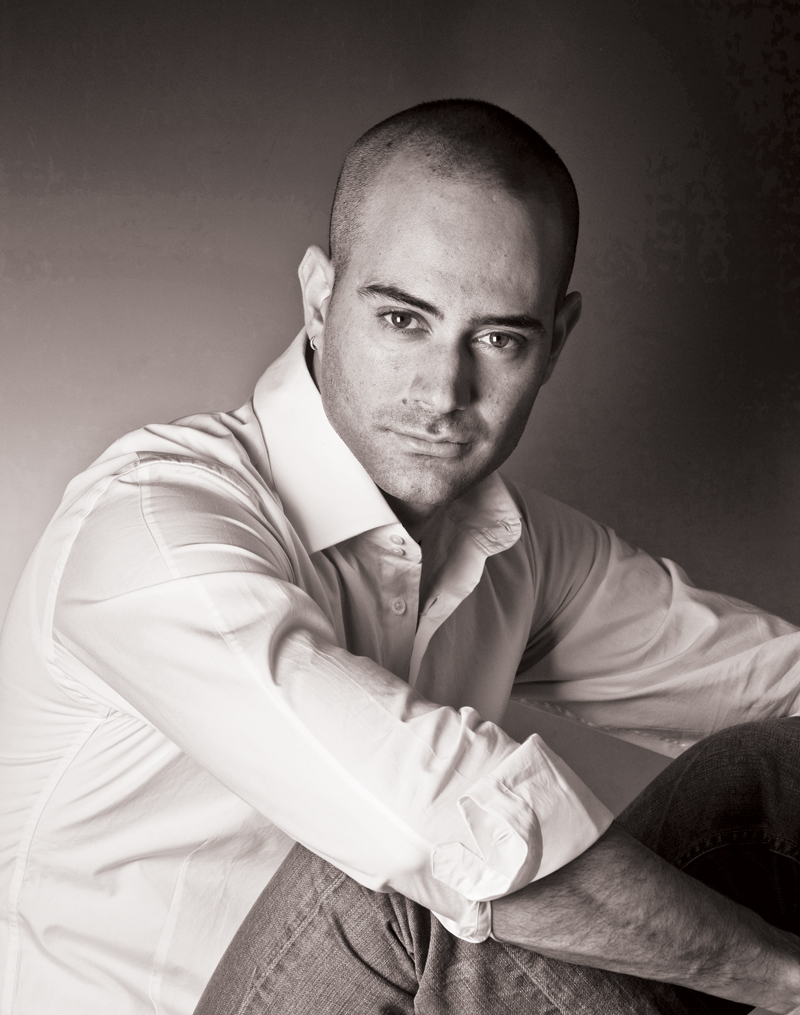 Throughout 14 beautiful seasons of New York Fashion Week, Maybelline New York's Madrid-based makeup artist and ambassador Gato has been giving models makeovers before they hit the runway. Isn't it about time you learned more about the guy with the gift of gorgeousness?
What was your first beauty-related gig?
It was 100 percent unprofessional. I was 12, and one of my best friend's brothers won two tickets to a very important music awards in Spain. We were trying out makeup looks for her to wear. I realized how fun it was, and that it was instinctive. That was the first time I tried a makeup kit.
What look did you give her?
Even thinking about it today, it was modern: a smoky eye with fresh skin, nothing on the lips. This was 1992, the middle of the grunge era.
Who influenced your interest in beauty?
When I was really young—5 or so—I was on the beach, and a freckled girl with ginger hair came up to me. I thought that she was the most beautiful girl on the planet. And of course my mom's makeup kit—the packaging and the colors they used in the '80s. It's impossible to forget those great colors.
What were you like as a kid?
I wasn't a tomboy who wanted to play sports. I was calm and quiet, perfectly happy staying in my room and painting. I loved painting faces onto my textbooks, and Japanese cartoons. Anime was, and still is, a big influence on my work. I started looking at fashion magazines when I was really, really young. I had three favorites: American Elle, Cosmopolitan, and French Vogue, which was the most sophisticated and premium magazine of the time. It was very difficult to find the magazine in Spain then, but my mother always found a way to get it.
You started out as a painter.
My mom sent me to art school when I was 8 because I loved to paint. I started to paint portraits for people, and enhancing the way they looked, making the lashes a little bit longer, changing the pigment of the lips. People love the way they look when I do their portraits. I made my first money doing that that.
Have you ever painted a self-portrait?
No, never! I don't know why. I preferred to work with women, even now, with models.
Why did you leave the art world to pursue a career in makeup?
When I was a teenager, I started to get tired of painting portraits, and I was so obsessed with fashion. All I wanted to do was look at fashion magazines. After high school, I was so sure that I wanted to be a makeup artist and I convinced my family that it was a real profession.
Did you have a mentor?
I have two. I started to assist a very big makeup artist at the time, Lewis Amarante. He taught me everything he knows about fashion and makeup. Maybelline is my other mentor, and by far the biggest in my career. Since the first time I worked with them, eight years ago, they've supported me in every single thing I do, like when I wanted to go to LA to study special FX. And they bring me to NYFW, which is a dream for every makeup artist.
Does your special FX training ever come into play?
It helps with mixing colors and learning new techniques, but I've never used it as a prosthetics artist. It's a shame! When I saw Maleficent and [Angelina Jolie's] cheeks, I was like, OK, this is the kind of thing that I want to learn!
Which designers are you working with this season?
It's the second time I'm working with Marissa Webb and the third time working with Naeem Khan. I'm also working with Rebecca Minkoff, leading the team with Amanda Steele, a very important beauty influencer. She doesn't have experience leading a show, but I think that could be good. She'll have a very fresh point of view. Also, I'm working with Jonathan Simkhai. I love the way he creates modern, futuristic fashion.
What's your creative process during NYFW?
First I look at the designer's previous collections. I want to understand the style and the evolution, and I try to forget about the makeup. When fitting time comes, I go to the studio and they talk to me about the inspiration. I also ask for three or four adjectives that describe the kind of woman they want people to see. It's important for me to know the casting to pick the best kind of makeup. After that, I show two proposals to the designer. Sometimes they don't know what they are looking for, and I think that's one of the most important parts of my job. The makeup should be something that represents the collection, but it should express things that are not easily visible. Some collections are very cool and modern, and if you create makeup that's the same style, people will only see a cool and modern collection. But if we go for a feminine and romantic makeup look, people are going to see more details and another side to the collection.
What are some of the less conventional products you've used backstage?
The weirdest thing I've done is applied plaster to models' entire faces. After it dried, I removed it, and the effect was a white, powdery skin. The model almost looked vintage.
You're also studying packaging and design. Is that next for you?
As an artist, you have to study all the time to renew yourself. Product design allows you to learn so many different things: color, illustration, how to draw on the computer in 2-D and 3-D. But I'm not looking to change my career!
Do you often work with celebrities?
I'm grateful and lucky to have worked with amazing celebrities like Penélope Cruz, Salma Hayek, and Christy Turlington, but I don't consider myself a celebrity makeup artist. Those artists usually travel with the celebrity. When I studied to become a makeup artist, I knew that I wanted to do fashion.
What's a recent fashion campaign you've worked on?
The Maybelline campaign that's launching during Fashion Week. It was my first time working with Adriana Lima, and it was amazing. The look was inspired by New York. The image that comes to mind when I think of New York is the grid of streets. So I used those types of lines to create a beautiful smoky eye. For the lips I wanted to focus on movement. You know when you are in the theater and you're wearing 3-D glasses, and when you remove them you see two different colors on the screen? I wanted to create that effect on the mouth. I used matte and opaque lipstick in a dark berry called Black as Berry, and I defined the contour and the center with Fairy Fuchsia. Then I applied a big layer of gloss.
So what's new on the beauty front?
Women are asking for easy products—they don't have more than 10 minutes to spend in front of the mirror. There's something good about social media, Instagram, YouTube tutorials. Before, women didn't know the difference between foundation, concealer, highlighter…blah, blah, blah. Now they have so many different techniques at hand. And everyone is strobing—adding light on the upper cheekbones, at the center of the forehead, in the Cupid's bow. Contouring the eyebrows—making them sharp, solid, and well-defined—is a trend that will stay through fall. I love the Brow Perfecting Highlighter for that.