Another impressive member of the Hadid family is on our radar: Meet Alana Hadid, half-sister of mods Gigi and Bella. The Cali blonde dishes on her first brand partnership, a collection of bandanas with Lou & Grey (which launches in February), and whether modeling is in her future… 
So it's your first collab with a brand! How does it feel?
It's really exciting to have a whole design team behind me. It's kind of like where dreams are made of. It all happened really quickly, probably within six months. I was excited and shocked by how Lou & Grey put all of their manpower behind this.
Why bandanas?
I've always loved bandanas and I wear them all the time! I have an insane, ridiculous bandana collection. When I started drawing ideas with Lou & Grey, one was doing a bandana print or just making a bandana. Thankfully everyone there is really amazing and was excited about it. It just went from there!
How many bandanas do you own?
I'm embarrassed to say…probably 100 to 150. I have a couple of drawers dedicated to bandanas and scarves [laughs]. I'm pretty obsessed. I love digging through bins at flee markets, looking for a good deal.
Are they making a comeback?
Oh, definitely. I think there's something really cool about bandanas—like biker-cool. Girls are wearing them a lot more now so there's something kind of androgynous and edgy about it. I think they're definitely having a moment.
Have you celebrated the line yet?
Yes! We had an amazing dinner the other night at Republique with a lot of family and friends. Everyone who has supported me was there, and every guest got their own personalized bandana, which was really cool.
Where did you look for inspiration?
In those bandana drawers, mostly! And then different things that I thought were kind of amazing. Of course Lou & Grey has an amazing team that comes with different and awesome inspirations, and we'd collaborate. It was a process of combining both of our ideas.
Where should a woman always wear a bandana?
I think every day is a bandana day—I put one on every day. You can tie one on your neck, put it on your purse, wear it as a bracelet. If it's big, you can wear it around your waist. There's a million ways to wear them!
Is there anywhere that's off limits?
No! Well, maybe a formal wedding.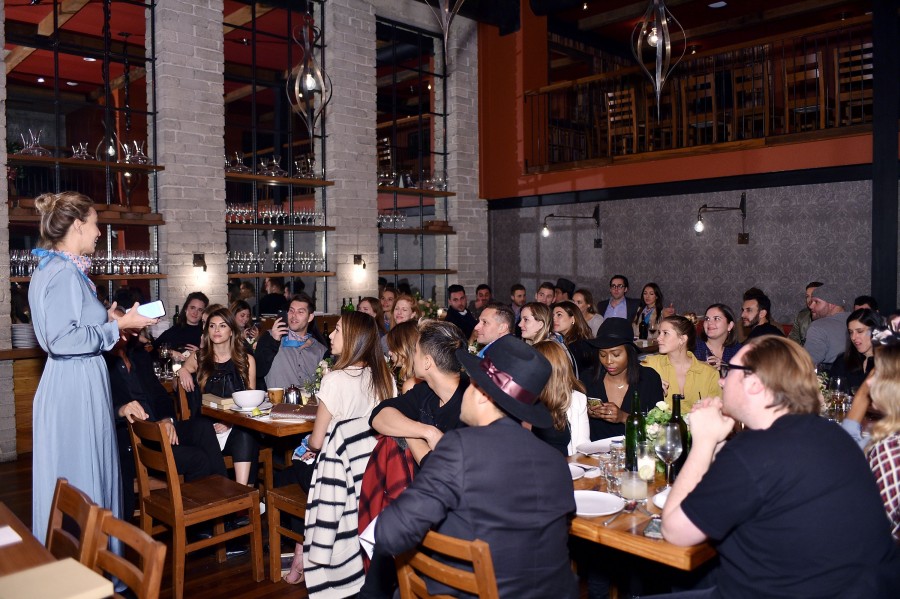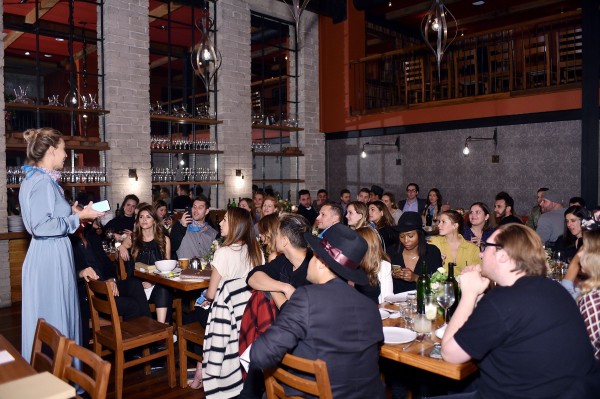 How long have you been a personal shopper?
I've been doing it in L.A. for a long time. I originally worked with Curve, which is an amazing store in New York, Miami, San Francisco, and L.A. They were the first store to carry Isabel Marant, so they're ahead of the curve. I also have a lot of personal shopping clients. It's definitely been down and dirty when it comes to going through people's closets and finding out what fashion is really about from the people who are consuming it. I think it's the most fun to dress someone for their everyday life. It's an honor, and I'm really appreciative that I get to do it.
Is fashion something that's always run in your family's blood?
I think so…it's pretty evident now! My mom and Yolanda Foster modeled. My father [Mohammed Hadid] has always been a pretty fashionable guy. My older sister [Marielle Hadid] went to school for merchandising before any of us had any idea we were going to be in fashion, and she modeled as well. I've done a million other things, but I've always come back to fashion. It's definitely something I really love.
Do you want to model?
I mean, I love modeling. I had so much fun with our Lou & Grey shoot. I don't know if every shoot would be like this one because it was so phenomenal. If someone were to make an offer, I definitely wouldn't say no!
How closely do you follow Gigi and Bella's careers?
Very closely. I talk to them all the time. We're all very involved in each other's lives in general. I also follow them on Instagram so I know what they're doing all the time! But I also get text message and FaceTime updates, which is fun.
Tell us about your T-shirt line Current Moji, please!
I own it with a few of my best friends, all of whom have their own companies and other jobs. The fact that there's a lot of us and we can all kind of work together is great.
What's your favorite emoji?
Because it just came out and I've been waiting for it for so long, the taco. It's so cool. I use it in random, totally non-taco ways.
Are you one of those who's waiting for the avocado emoji to come out?
Yeah! I want a giraffe…there are so many things we want to do with emojis for Current Moji, so we're waiting for new ones to come out all of the time!
What do you want to design down the line?
Everything…shoes, jewelry, jackets, jeans. Anything I can get my hands on to design I would love to do. Shoes would be really cool; I'm a boots girl! I'd also love to do guest-editing, photography…I want to try it all. You only live once, and if I love fashion, I want to get my hands into everything I can. Bring it my way!
The Lou & Grey bandana pictured is available December 28; the full collection is available in February 2016.