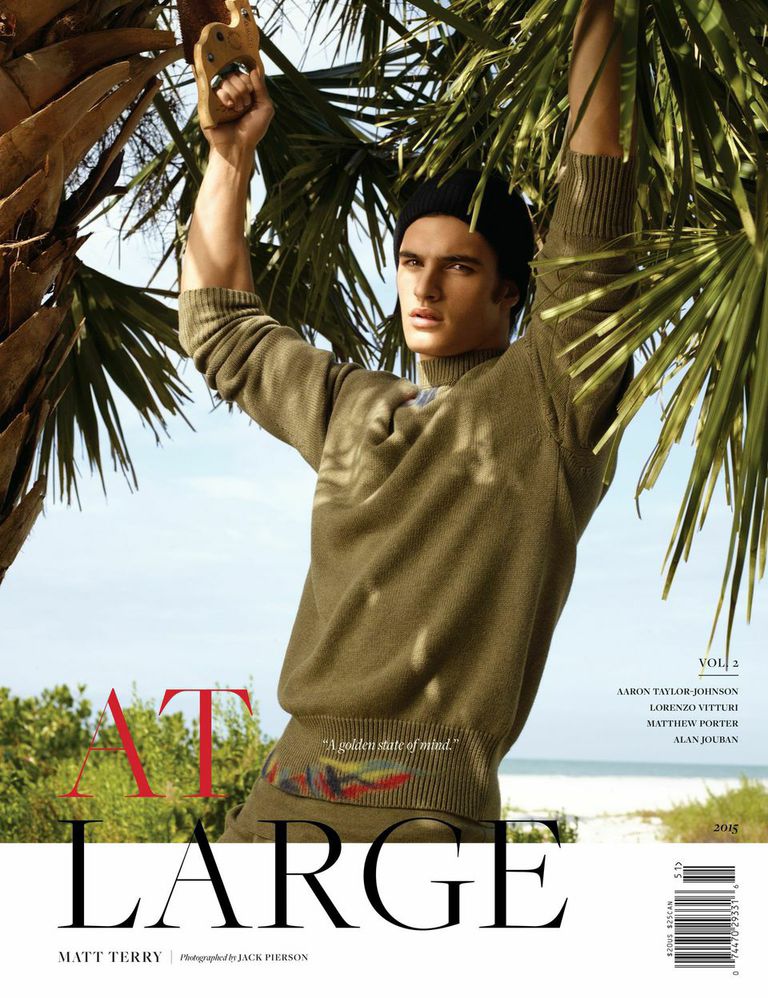 The second issue of At Large is out, and they've given readers a little something for everyone in terms of cover choices. Late last year, the men's title kicked things off with four cover stars, Ben Skinner, Luke Grimes, David Flinn, and Jack O'Connell, and the latest issue follows the same formula, featuring four cover iterations, with Aaron Taylor-Johnson, MMA fighter Alan Jouban, an art cover of a flying car by Matthew Porter, and our personal fave, model Matthew Terry. Inside the issue, the Ford mod is shot by Jack Pierson in a spread styled by John Tan, featuring looks from Calvin Klein Collection, Hermes, Thom Browne, and Louis Vuitton.
The issue also includes an an editorial starring RJ King, shot at the Chateau Marmont by Magnus Unnar (we wouldn't have minded seeing King on one of their many covers…). At Large was created by Randall Mesdon, Erik Rasmussen, Enrico Pirondi, and Julie Ragolia, all of whom left Man of the World last year to come together on this venture. "We are like a large extended family," Mesdon, who is At Large's editorial and creative director, told The Daily last year. "Some of us live in different cities and different countries, but we all share the same passions. This project's point was to unite this big family. Even when we don't see each other we have a platform where we can exist and still be creative."
The latest issue of At Large can be found at J.Crew, Todd Snyder's store on Elizabeth Street, Strand Bookstore, Soho News, Barnes and Noble, and Clic Gallery in New York. For a full list of stores selling the issue, click HERE.