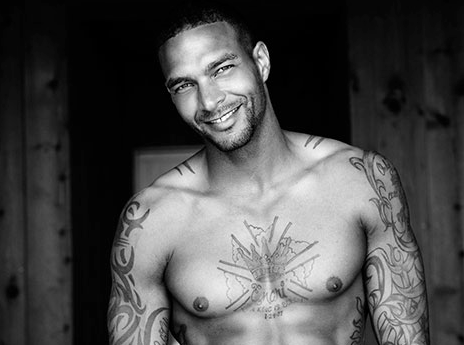 This week, we're getting to know male mod and Louisiana native Kenneth Guidroz. He's a proud pop, and one to watch for some obvious reasons. Let's meet Kenneth…
Current City: New York City
Single/Married/Dating? Single

Nickname: K.P.

First modeling  job: Back in 2012 I did an ad campaign for Rufskin shot by Rick Day.

How did you spend the money? I bought a pair of shoes and gave the rest to my son.

We'd be surprised to know… 
I haven't been in a relationship for eight years.

What scares you? Plane landings. Every time.

What do you always eat? Chicken and Doritos

Least likely place we'd find you: A strip club.

What were you like in high school? I was a C+/B- guy.  I was an athlete my whole life: the laid-back, cool, collected football player. I was always smiling and never had enemies.

When are you in the best mood? When I'm with my son.

Who do you admire most in the world? Other than my mom and brother, I would say Doug Flutie, but there are so many others as well.

Favorite Smell: A woman just out the shower.

Favorite Female Models: Joan Smalls, Candice Swanepoel, Kate Moss, and Lara Stone.

What's your greatest fear? Not fulfilling my personal destiny and not being the best father I can be to my son.

Where do you travel to most?  Las Vegas to visit my son or Louisiana to visit my mom.

What word do you always say? 'Whatup?'

The Definition Of happiness is… being true to yourself and having the capacity to love and be loved.

Ten year plan? Working as an actor, spending lots of time with my son, and in love with a woman.

Current state of mind? Wise and hungry.