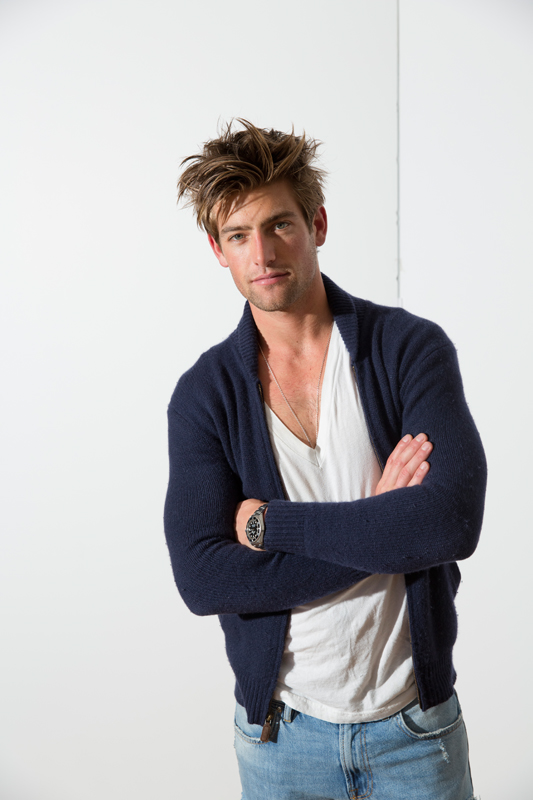 It's Friday, which means we've got another top male mod to know. Meet Justin Hopwood, who hails from Cape Town, South Africa. He shares deets on his past, guilty pleasures, and important things, like…his TV habits. You probably know him from his work with Bruce Weber, when he appeared in the relaunch of the Abercrombie and Fitch Quarterly catalog, but he's certainly a Ralph guy. He's been shot for Ralph Lauren Polo, Rugby, and Purple collections, and so much more. Look on the back of most men's mag's these days and you're likely to see him. He's also a witty tweeter, so follow him there at @justinhopwood Curious now? Meet Mr. Hopwood…
Single/Married/Dating? My career has kept me fairly busy so, for now, it's just me. 
Nickname: It's ways been Justin. Think it's time I came up with a good one…suggestions?

What were you like as a kid in a word Energetic.
What's your guilty pleasure? Good wine.
How often do you call your mom? Can be difficult at times, living in separate continents, but we both speak as much as possible. My family is very close, even if we're spread across the world.
What's your number one fitness tip? Bring a buddy! I biked over 35 miles with my friend Chad White the other day and it was so much more enjoyable when I could feed off of his energy, as well as mine.
Who is your biggest fan? My sister for sure. I have lots of great supporters but she has always, and continues to, cheer me on with her biggest smile.
Where would you like to retire? Probably back in Cape Town, with my family.
What do you watch on TV? I'm a huge animal lover and quite often find myself watching Animal Planet and The Discovery Channel.
Where would you like to go that you haven't gone to? I want to visit somewhere pretty secluded, and just really relax and explore an unspoiled environment. Got any ideas of where I could do that?
How many times do you go on Instagram every day? Big fan of the Instas. Quite often! #ShamelessSelfies
Do you read the comments? I definitely try my best!
What facial products do you use?  Nothing fancy. Mostly drug store stuff. It does the job.
Do you have a favorite female model? Ah, so many. Too many to choose.  
When's the last time you were scared and why? Moving from South Africa, leaving my family, friends, and home was pretty scary. In the end, I couldn't be happier that I chose to pursue my dreams.    

Who changed your world? My family.

What word sums up your current state of mind? Blissful.