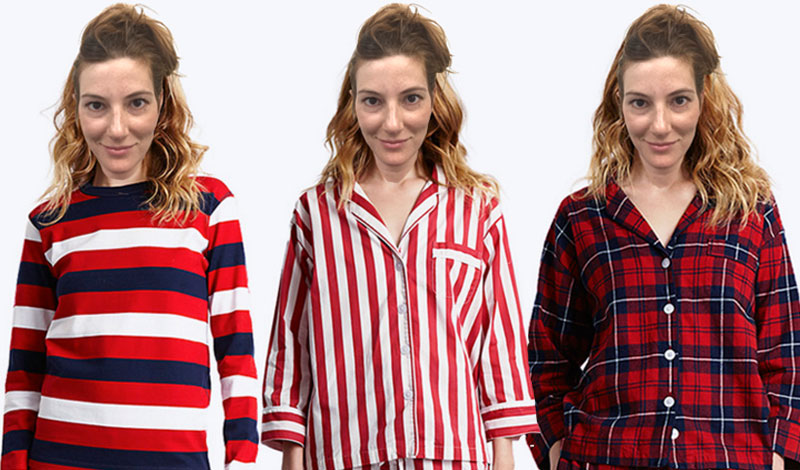 I started working in magazines in 2004 (!), which means that I've endured 10 seasons of gift guide production for both the masses and the fash-insiders. Do I tire? Of course, but you'd never know it from the length of this story. Introducing The Daily's Long-Winded Gift Guide 2015, full of exhaustive arguments for specific game-changing products that hopefully, inspire your loved ones to write you an old-fashioned thank-you note. First up: Sleepy Jones jammies. 
When Andy Spade et al dreamed up the Paloma short, I'm pretty sure they didn't have me in mind. They were probably imagining "our girl" to be in her early-to-mid-twenties, relishing the opportunity to wear porous Rag & Bone cutoffs and comically abbreviated Mikoh bikini bottoms. But over the past six months, I've come to value them above the hardest-working items in my closet. (Get over it, ladies.) In short, these pajamas shame the competition—including you, photogenic but overpriced and somewhat stifling Sleep Shirt, and you, darling but useless silk set that requires hand washing, you silly thing.
Over the summer, see, I never really experienced the REM phase (#newbaby), and was highly motivated to improve the improveable aspects of my sleep experience. Were mood-lifting pajamas the answer? Let's say sure. During this period, I was becoming one of those Marie Kondo disciples, much to the annoyance of my friends and family, and her theory of joy-sparking was even further impetus to upgrade. Enter Sleepy Jones, the Spade project that I'd assigned a story on (or maybe written myself?) ages earlier for NYLON Guys (RIP), which had recently-ish introduced a women's collection. (Now is probably the right time to mention that the brand never sent me nada, not even as a thank-you for the aforementioned piece, so this little doo-dah is utterly legit editorial.) My discerning friend Robie was all crazy for these jams, so I ordered two heavily marked down ensembles in questionable patterns. Did I sleep for eight hours straight? Hardly. But my tossing and turning was actually not so disruptive, for a change, because you guys—these pajamas must have been invented for the truly, hopelessly restless. The cut is generous through the arms and shoulders, so you don't feel strangled, but it's not so loosey-goosey that it gets tangled up in the sheets. The fabrics are opaque but gauzey, making them dreamy for hot sleepers. And as for the aforementioned shorts: They're indecent on purpose, to ensure a full range of motion. And when I have houseguests who wander into the kitchen for early-morning coffee, I just apologize and change into the pants.
Look, what Andy and his boys are doing is not rocket science—they have perfected the styles on offer (it's basically one shirt, the Marina, with complementary pants and shorts)—and every so often, they put a new print into production. Candycane stripes! Liberty florals! Cheery collab with John Derian! I know them all, because every time I get a marketing email, which is daily, I find myself on the website, hypothetically plotting my next order. They are, of course, cher, which means that I haven't done so yet, but I'm hoping that my cuter half will read this and get the hint. In closing, no full-fledged adults are likely to hate this gift, especially if you go with a normcore colorway. Be safe, not sorry!