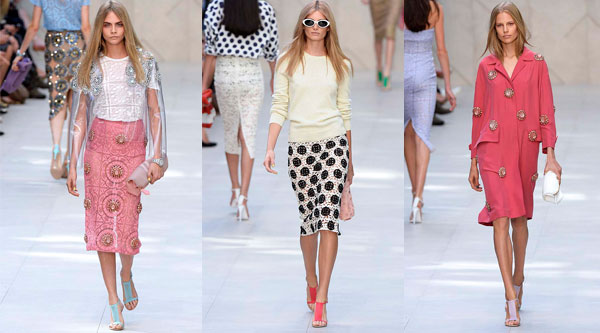 London Spring 2014: Burberry Prorsum, Mary Katrantzou, Mulberry
|
(LONDON) Burberry Prorsum
Finally London got a break from boring old rain showers thanks to Christopher Bailey making it rain petals during the finale of his pastel collection. Some of the freshest show styles were riffs on the classic trench, a topper which made a surprise appearance this time around in pale blue lace with large embellishments, cinched with a wide pink belt covered in petite blooms. Another, more relaxed trench was shown in classic beige, but its wool fabric and draped shoulders gave the outerwear piece a more casual air. One separate that is quickly becoming a signature for the British brand? The pencil skirt, which surfaced throughout the Spring spate in a variety of prints and fabrications. For spring, expect to dress up your pencil skirt wardrobe with sheer lace, a sexy drape with a slit, a black and white horizontal stripe, as well as a playfully jewel-encrusted nude number. The boys got a little bit of face time next to the girls, stealing (some) attention thanks to graphic button downs, bright suede sneakers, bold skinny ties, and some cozy relaxed jackets. A fresh outlook for spring indeed!

Mary Kantrantzou
For those that have fully embraced an obsession with shoes, Mary Kantrantzou's spring collection will have you feverishly in love. No longer bound for feet, the queen of prints took those pieds you love so dearly and superimposed them onto dresses, pants, tees, and tops. Sneaker laces zig-zagged down pant legs, the seams of oxfords decorated a suit jacket and coordinating shorts and all silhouettes were space-agey and modern. Set to the Rolling Stones "She's A Rainbow," an assortment of evening dresses in (you guessed it) a million different colors made their way down the runway. With large chest ruffles and big pleats, Krantrantzou made dressing past 6 p.m. just as fun as it's meant to be.
Mulberry
From a purveyor of fine leather goods, the final ready-to-wear collection under Emma Hill's helm at Mulberry was quite a strong one. Devoid of the pastels that have littered a number of runways this season, Hill's finale for the label was comprised of deep blues, bright oranges, and noirs that strengthened the collection and bid a solemn farewell to its creative director. Ever solid in regards to leather goods, a suede and leather striped outfit in navy was the strongest of four nearly identical outfits that preceded it. A bright floral print with splashes of orange and hints of the lightest blue were enlarged on shift dresses and zoomed out onto a skirt a top combo, even decorating a quaint outfit for an English bulldog. While this may have been a goodbye collection, it still had a brilliant sense of humor without a drop of sadness. While you're bidding Hill adieu, welcome a new bag to the family: the Kensal. This structured bag with a shoulder strap will keep her memory with the house for quite some time to come.