London Fashion Week kicked off with a bang this weekend and there were plenty of fabulous fashion moments happening. From Aime Robertson's big debut (merci Marc!) to Burberry's first "see now, buy now" collection there were plenty of changes afoot. Below are the top five moments from across the pond.
Marc Jacobs perched front row at Aime Robertson's first-ever runway show
Who is Aime Robertson, you ask? Please take notes. As Elle first reported, the former Marc Jacobs intern not only had the designer attend her show at Fashion East, she also had longtime Marc Jacobs collaborator Katie Grand style her show. Not bad for a first show. But that's not all: Robertson had A-list casting thanks to Anita Bitton, which included Lineisy Montero, Molly Blair, Georgia May Jagger, Anna Cleveland, and Edie Campbell. Major! Plus, Robertson also cut her teeth working under Raf Simons at Dior Haute Couture and Alexander Wang. In other words, she is definitely one to watch.
2. Burberry debuts its much talked about "see now, buy now" in season collection.
To clarify, this was not a "buy now, wear now" collection. Under Burberry's new show model, the collection that was shown at London Fashion Week will be available to pre-order and personalize now at Burberry's London flagship at 121 Regent Street. The pre-ordered pieces will be delivered between 12 and 18 weeks after the order is placed. The collection will later be available for viewing in Paris starting March 1st at their flagship on 56 rue du Faubourg Saint-Honoré. Starting in September, both the men's and women's collections will be available to buy immediately following the runway show both online and in store. In the meantime, you will have to wait a little bit before you get your hands on that outstanding plaid coat with the oversize collar or those shiny lamé and snakeskin looks.
3. Sarah Burton's blanket coats for Alexander McQueen
Although Burton is about to have her third baby in two weeks, she managed to turn out one of the most beautiful and talked about shows at London Fashion Week. But it was that exquisite blanket coat that was making the most rounds on social media. Perhaps Burton was thinking about the much needed rest she'll be attempting to squeeze in post-collection and post-baby. We do like the idea of her curling up in that fur trimmed silk coat with floral embroidery. The whole collection, which was shown in a space where Burton assisted Lee McQueen 20 years ago, was indeed like a dream.
4. Natalia Vodianova and Karlie Kloss' chic fête, London's Fabulous Fund Fair at Old Billingsgate Market, for the Naked Heart Foundation.
The supermodel duo drew quite a crowd for the fundraiser, which raised over 850,000 pounds for families raising children with special needs. The guest list included everyone from Erin O'Connor, Natasha Poly, and Lily Donaldson to Antoine Arnault, Natalie Massenet, and Zaha Hadid. The full guest list, which includes plenty more A-listers, can be found here. Our favorite insider look into the party, which featured various games by fashion brands like Calvin Klein, Dior, and Stella McCartney, was Suzy Menkes' Instagram. Menkes misspelled Karlie's first name, but we think she can be forgiven…can't a lady make a little mistake while having so much fun? (P.S. Suzy, there's an edit button on Instagram!).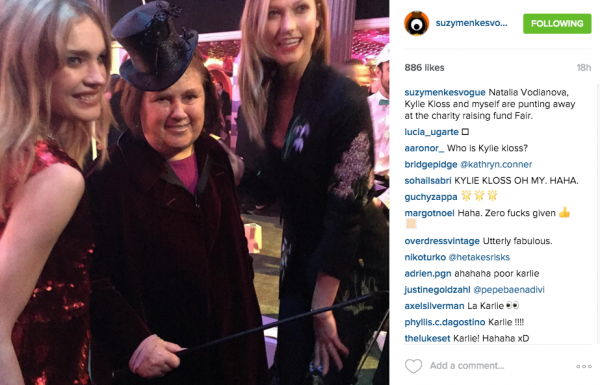 5. Gareth Pugh's "Man Eater" show with a guest appearance by Marie-Agnès Gillot, star ballerina of the Paris Opera Ballet.
Gillot presided over Pugh's show at the Freemason's Hall in Covent Garden flanked by two men as the soundtrack's chorus sang, "I'm a man eating machine". While everyone has gone goth this season, Pugh turned his back on that notion and went full-on Hollywood glam à la Joan Crawford and it was positively divine in every sense. But that didn't mean Pugh had lost his penchant for the dark side—some models sported Hannibal Lector masks, while others' makeup suggested the faint line under the cheek bones to indicate that mask had been ripped off for man dining. Gareth Pugh…is what's for dinner.