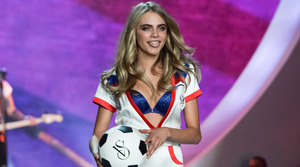 Links of The Daily
|
(NEW YORK) Before 2013 Draws to an End, Relive The Year With Cara Delevingne [The Cut]
From her twerking antics to her various tattoos (and who could forget those eyebrows), it's been a crazy ride.
Moncler's IPO Debuted Yesterday, To a Huge Success [Vogue UK]
The Milan stock's price reached 50 percent above it's starting value when markets closed.
Tracy Sedino, the Femme Behind Linda Farrow, Shares Her Vintage Shades [Style]
She reveals that sunglasses from the Eighties were much more colorful, and playful.

Jessica Hart Regrets Her Taylor Swift Statement, Goes on to Cover Vogue Australia and GQ Australia [Bullett Media]
And she looks great, carrying on post incident, without losing her Victoria's Secret gig.

Burberry Opens Their First Ever Beauty Boutique in London [Grazia]
The shop is totally teched out too; with a digital runway nail bar, huge display screens and a virtual chandelier.