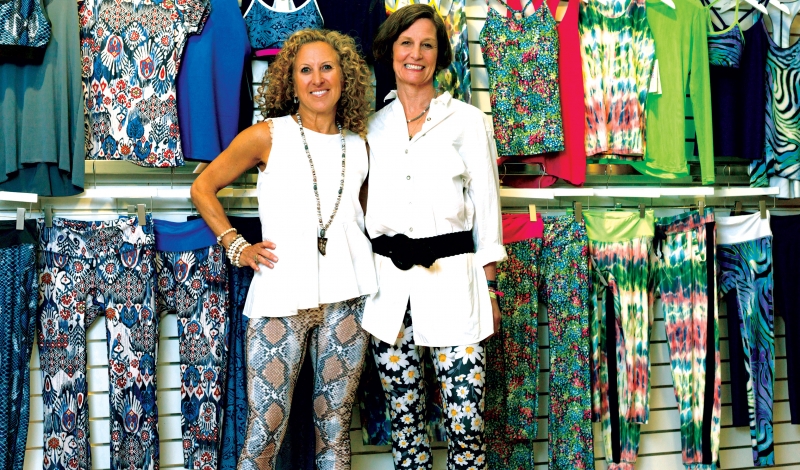 Giorgio Niro
Life In Prism! With Lori Florio & Emily Vitale
|
Another read from the pages of the Daily Summer is right this way! As the founders of the wildly successful activewear brand PRISMSPORT, Lori Florio and Emily Vitale are proof that it's never too late to start a third chapter. The longtime friends explain their reinvention of sportswear. 
How did you meet?
Emily Vitale: We formed the first sorority at Dartmouth, and we lived across the compound from each other. There weren't a lot of women there, so we all knew one another.
How did you keep in touch?
Emily: In the '80s, Lori was selling advertising, and I was buying it, so that kept us in touch. It turns out she and her husband, Tom [Florio], had a house on Fire Island, and they invited me to visit. Then I met my husband through them!
Lori Florio: We shared a love of sports: Emily had been on a tennis team, and she invited me to join it. We ended up being doubles partners who would play around with different business ideas.
What were your first careers?
Lori: I started at New York magazine right out of college as a salesperson. I got my MBA while I was still working there, and then I went to Seventeen before moving to New Woman, where I became publisher. I stopped working after my second child was born, because I felt like I was missing out on too much.
Emily: I started at Lord & Taylor in the training
program. I came to New York thinking that fashion was what I wanted to do and moved to Ellesse [an Italian sports apparel brand]. It wasn't my dream job, but it was my dream company, and I got involved in the advertising and PR there. I stayed there for five years and became the head of advertising and PR. Then I went off to start my own business in comedy promotions.
Comedy?
Emily: I had gone to see Jerry Seinfeld before he was anybody, and met his agent. He wanted to add a comedy promotions department, so I did that for a year. I didn't want to pitch new business, and I realized it was time to stay home with my kids.
What inspired the launch of your own company?
Lori: The whole idea is that you don't have to make just one choice. It wasn't tough quitting my job, and people were shocked because I had a pretty major career, but I feel like I just achieved a lot early. I kept thinking, "What's the next step? I don't want to be a lady who lunches." I love the idea that you can morph, change, and adapt. One of my daughters gave me a card, and in it, she wrote, "Thank you for inspiring me to see that you don't have to choose one path and that you can reinvent yourself and evolve."
Why did you decide on fitness fashion?
Lori: Emily is a sewer, and at the time, she was making skirts for our tennis team. They were funky and beautiful, and I kept telling her that she should make a business out of it. Concurrently, I had been collecting funky fitness pieces for years, since I'm a yogi and runner. We framed out the concept together. When we came up with the idea to do a print-driven line of fitness clothing, there wasn't a printed garment in that market. We were tired of wearing black to the gym. It was boring! Why not take the same energy and creativity that you use in your ready-to-wear wardrobe and apply it to fitness?
How do you source your prints?
Lori: We search thousands of open stock prints through a couple of resources, most of which are European. Every print has to pass the thigh test: Not only does it have to be on trend and sophisticated and inherently attractive, but it has to look good on a woman's leg.
How will you expand?
Lori: Eventually, we want to open stores in New York and Los Angeles. We'd like to be the cool, fashionable expressive brand within fitness.
Lori, you've been in Sag Harbor for 18 years. Where do you work out?
Lori: I go to Yoga Shanti and One Ocean Yoga at Channing Daughter's Winery.
I paddleboard a lot, and I also go to Core Fusion or Physique 57 in Bridgehampton. I play tennis at East Hampton Tennis Club too.
What's your best advice for starting a new career chapter?
Emily: It's a lot harder than we thought. Anyone going into a business like this should not think of it as a hobby.
Lori: Talk to as many people who have any type of peripheral relationship to the business as you can. This is so much harder than corporate situations. We're emptying our own garbage, but we're also creating something new. It's been such an education. We look at each other and say, "Can you believe we did this?" It's very gratifying.