Last year, Life Ball, the legendary AIDS fundraiser and celebration of life held in Vienna, Austria, took a little time out to regroup. When my friend Rigo Lora invited me along for my third visit to the ball, I was curious what the new and improved version would look like. Would the plane ride still be as bananas? Would there be a totally fabulous and random celebrity on our flight? (Past guests have included I Dream Of Jeannie star Barbara Eden, Greg Louganis, and Bill Clinton. For the record, Bill takes another method of travel.) Would Amanda Lepore go? All worries disappeared when I spotted Lepore in line at JFK and I was informed that music legend Dionne Warwick would be in the air with us. Dionne Warwick? You still got it, Life Ball!
The Air Austria class of 2017 included  Lepore, Anna Cleveland, Nyle DiMarco, Ajak Deng, RJ King, a few retired Rockettes, Joss Stone, Anthony Flora, Tarik Kaljanac, Brad Goreski, Dan Ragone, Emerson Barth, Kevin Carrigan, Lisle Richards, Susanne Bartsch, Marco Ovando, Ronnie Madra, Dean Winters, Beth Anne Sacks, and a countless number of drag queens, who got ready a few hours before landing. Lest we forget Dionne Warwick! Sorry, readers–what happens on the plane stays on the plane.
The flight landed in Vienna on Friday morning with passengers de-boarding onto a red carpet on the tarmac, as one does, where the event's founder, Gery Keszler, welcomed the gang to the City of Music. Everybody brought their lewk (see the pics below). There was also a huge Red Bull truck on the scene. In case you didn't know…Red Bull comes from Austria, and it's everywhere there. Yellow cabs in New York City = Red Bull in Austria.
After walking world's most fun tarmac red carpet and finishing a Red Bull, I hopped in a car and headed to my hotel, House of Time, in the charming Leopoldstadt neighborhood. The boutique hotel dubbed (their words) "fancy suites Vienna" has "the most lavish bed in the world" with only five suites. Each suite has a different theme such as the Garden of Eden, Caesars Paradise, and my pad for two nights, Home of Music. The rooms are so massive that it took me a few hours to discover an entire extra room, and the bed was indeed gigantic. The owner told me upon arrival that it was the world's biggest bed. I didn't measure it, but I'll take her word for it. The hotel provides each guest with their own butler, a bathroom bigger than the bed, and incredibly kind customer service—perfect for a couple honeymooning in Vienna. Highly recommended and truly original.
Life Ball was held on Saturday evening at Vienna's City Hall, and the theme was '20s/'30s chic with a huge nod to the musical Cabaret. I arrived on the earlier side to catch the red carpet and get the lay of the land. Backstage I spotted IMG model Ajak Deng, also in Austria for the third time and modeling in the show. "It's a such a good cause to support and the only thing I can give back is my time," Deng told me about participating in the show and her love of Austria. "I love it here. It's so beautiful. I'm obsessed with the architecture. I was never interested in architecture until I came to Vienna." How was she killing the time backstage? "You bring a book or you just go on your phone and browse online," she told me. "You stalk people on social media—maybe 'stalking' isn't the right word. I like to call it- 'social research.' I'm obsessed with looking at mani/pedicures! I look at hair. Even though I don't even have hair!" We digress.
The show was hosted by Austrian singer and Eurovision winner Conchita Wurst (who I love) and actress Verena Scheitz, and featured an appearance by Naomi Campbell, who represented the Elton John AIDS Foundation and read a message from Sir Elton, who wasn't able to be there. There were  also performances by Nathan Trent and Ute Lember, a gay couple who got engaged onstage, and an elaborate fashion show from designer Francesco Scognamiglio. Pat Cleveland and Anna Cleveland made a rare mother/daughter runway appearance together (it was a staircase, if we're going to get technical). This year the VIP seats were closer to the stage and more intimate, and there was a lot more German than I remember from past visits. I sat with PMK's Kevin Gessay and legendary photog Michel Comte and his crew. The show was a spectacular tribute to life. Life Ball 2017 also highlighted their #knowyourstatus campaign. In Europe, one out of three people infected with HIV doesn't know their immune status, and almost 50 percent are diagnosed late. The show ended with Dionne Warwick and her granddaughter Cheyenne Elliott duetting to the Hal David and Burt Bacharach classic, "What The World Needs Now Is Love."
After the show, essentially the population of Austria headed into City Hall where the party options were endless, with 18 different rooms. This is where most of the talent flown in from New York had their moment. I spent most of the night with friends in the 1Oak and Ladyfag's room. (You can take the boy outta New York City, but you can't take the New York City outta the boy.) I headed back to the hotel around 3:30 a.m. for some final moments with "the most lavish bed in the world" and was at the airport by 9 a.m to head back to New York. My crush on Vienna and Austrians remains intact. 
Waiting for takeoff, the drag queens were out of drag, Dionne Warwick was on our flight again, and I sat once more with sweet mod and my plane bestie Anthony Flora. Most slept on the flight, some couldn't. Upon arrival in New York, Amanda Lepore somehow looked fiercer than ever at JFK as we waited for our luggage at baggage claim. 24/7 fabulous. Goodbyes were said. The Cleveland family said farewell to each other. Everyone was tired, but there was a really lovely feeling in the air, at JFK, of all places, that we all experienced something special. 
Life Ball's brief hiatus worked out a few kinks, and brought a bigger and better than ever experience for all, and it was all in the name of raising money for AIDS charities and awareness. If we still have to do this, THIS is the way to do it.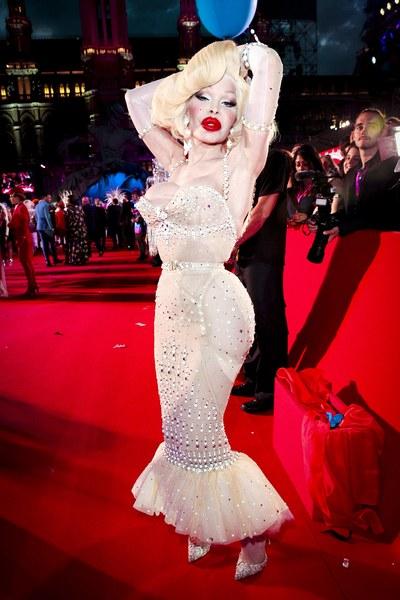 All photos courtesy of Life Ball and Getty