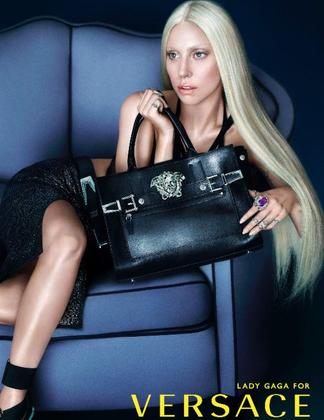 Lady Gaga for Versace! You Don't Say…
|
It doesn't come as much of a surprise that Lady Gaga was announced over the weekend as the "official" face of Versace's Spring campaign. It's the first time that Gaga has ever appeared in a campaign for any house. Mert Alas and Marcus Piggott shot the campaign in London with styling by Joe McKenna and hair by Garren. It's hard to ignore that the Lady bears a bit of a resemblance to Donatella Versace in the two shots released. "I am honored that my friend Lady Gaga is the face of our new Versace campaign," Donatella says. "I wanted to capture her true beauty and spirit in images that are elegant and alluring. She is like family to me, the embodiment of the Versace DNA." Clearly the love is mutual, considering that Gaga turned out a song called "Donatella" on her recent Artpop album. Enjoy a few lyrics, below:
Donatella!
(I'm smoking 'em on full tank of gas)
Mi-mi-bella!
(I'm a rich bitch, I'm the upper class)
All of the day
(I'm the pearl to your oyster, I'm a babe)
I'm gonna smoke Marlboro Reds and drink champagne!
(I smoke Marlboro Reds and drink champagne!)
Donatella!
Cuz she walks so bad like it feels so good
Listen to her radiate her magic
Even though she knows she's misunderstood
Who do? Who do? Who-don-na-na?