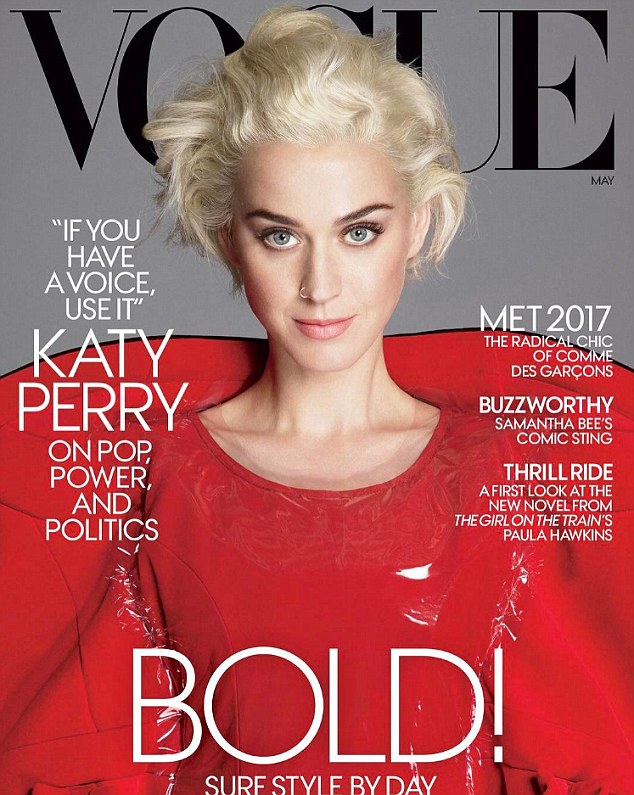 The singer responsible for our current song obsession "Chained to the Rhythm" is making her second Vogue cover debut for the glossy's May 2017 issue. Perry, 32, goes platinum blonde for the cover, which was lensed by Mert Alas and his partner Marcus Piggott, leaving her cutesy style behind and going full-on androgynous. In the feature, the pop star—who landed her first no. 1 hit in 2008 with I Kissed a Girl—wears a range of uniquely constructed and celebrated designs of Rei Kawakubo of Commes de Garçons in honor of the upcoming Met Gala theme and museum exhibition.
Hamish Bowles interviews the Santa Barbara, California native about life lessons, her style evolution, politics, why she loves being 32, and more. "All the kids made fun of me," she said  about her 6th grade style, "but I knew I was doing something right when the hot moms came over to me at school and were like, 'Where did you get that coat, sweetie?'" As for her style today? "I like more androgynous, architectural lately," she said. "I am happy to be another interpretation of myself." She also revealed that she began seeing a therapist five years ago. "When I am in the room I am just Katheryn Hudson [her name before she changed it to Katy Perry, that is], which is amazing because people in my position hear yes too much, and it kills them or makes them completely disconnected from reality – and I don't want that," Perry told Bowles. ""I don't cure cancer or anything, but I know that I can bring light and joy and happiness in tiny installments of three minutes and 30 seconds. That does something. That lifts spirits."
Click here to read the full story.