When our counterfeit Karl Lagerfeld made a surprise visit to the Hamptons recently, the locals went nuts. The Daily Summer tagged along with the Kaiser for the day as he shopped in East Hampton, stopped by the beach, and checked out the Wölffer Estate.
BY EDDIE ROCHE
1. Bob Zellner, writer and activist, East Hampton
How do you feel about Mr. Lagerfeld coming to the Hamptons?
It's the best place to be for Karl and for everybody else. Right now we're getting ready for the summer rush.
Are you a Chanel fan?
I don't own anything myself, no. I usually get that for ladies.
Where should Karl settle?
Maybe North Woods? It's very hot right now.
What did you and Karl talk about?
He said he was touring the area looking for real estate.
What do you write?
Scripts, mostly. Spike Lee is making a movie of my book, Son of the South, right now.

2. Amy Roberts, mom, Greenwich, CT.
Why is your baby crying?
She's quite a good picker of the genuine article. I think she's worried he isn't the real thing.
In what way? Are you suggesting our Karl isn't who he says he is?
No, not at all!
Are you a Chanel girl?
Of course! I'm a a die-hard.
And what about your baby?
Oh, definitely will be! She's got an older sister who already is one. This little one isn't understanding high fashion just yet, though.

Karl asked us to congratulate you on meeting him today.
The pleasure was all mine. It was the highlight of my day.

Are you going to put him on Instagram?
Definitely. Hashtag almost real Chanel.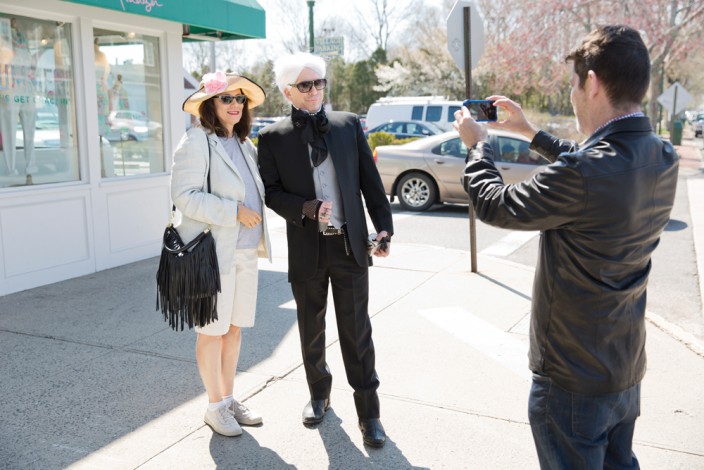 3. Catherine Gropper, playwright, East Hampton
How did you know this was Karl Lagerfeld?
Oh my god! His white hair is wonderful!
What's it like having him here in town?
It's exceptional. He has so much individuality and talent.
He's probably the biggest celebrity the Hamptons has ever seen, no?
It's his gifts that count, though, not the celebrity.
Right. Do you wear a lot of his clothes?
No, but my mom does. She's going to be so excited when I tell her about this!
4. Janet Lehr, owner, Vered Art Gallery
Were you excited to meet Mr. Lagerfeld?
Of course! It's fantastic. What's more appropriate than him being here?
Are you a Chanel girl?
I'm a Lagerfeld girl! I have a picture by Steven Meisel of Daphne Guinness to show him.
He'll love that. You've got a great place.
Thanks. We've been here since the '70s. We're even older than the pizza parlor.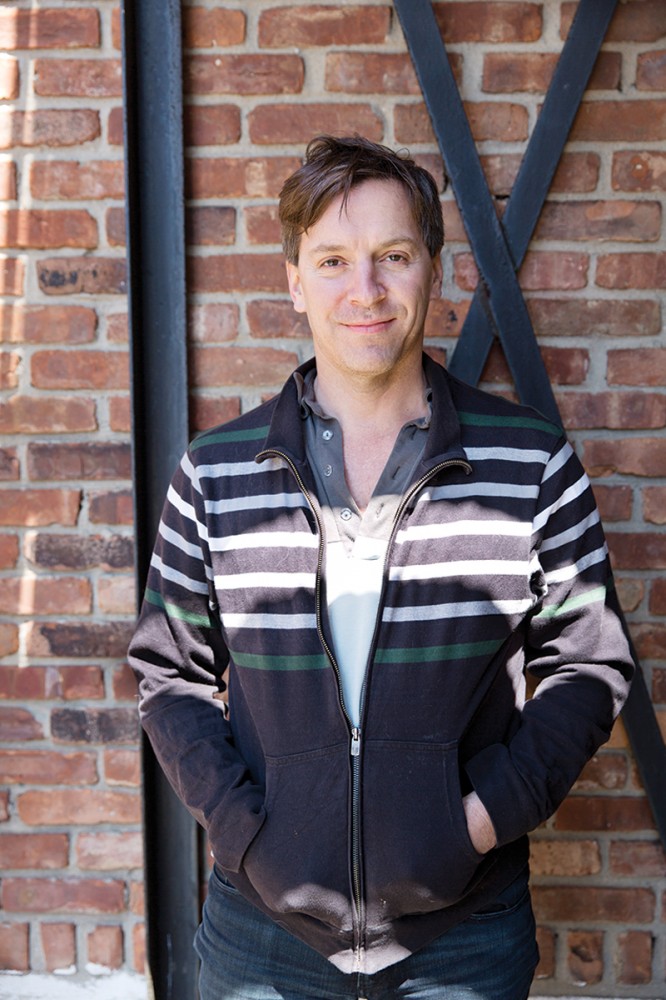 5. Actor David Ilku on becoming Karl …
How does one become Karl Lagerfeld exactly?
You start with the attitude, then layer on the clothes, the hair and the Franco-Austrian accent.
You've impersonated Karl before, right?
I have. I played Karl to my friend's Anna Wintour in a comedy variety show at La Mama. Another time I did him at Catch A Rising Star.
Have you ever met him?
No, but we've been in the same room before. I can't remember where it was. It was a long time ago.
How much Chanel is in your closet?
Zero. I do have a Valentino shirt, though.
Karl has a cat called Choupette. Do you have a cat?
I do. Her name is Catsy Cline.