Tonight's the night! The sexiest televised event of the year—the Victoria's Secret Fashion Show—will air on CBS at 10 P.M. EST, where VS angels like Lily Aldridge, Sara Sampaio, and Alessandra Ambrosio will spread their wings on the runway in Shanghai. In honor of the show, VS angels Josephine Skriver, Jasmine Tookes, and Romee Strijd came out to preview VS's first collaboration with Balmain at the lingerie giant's Fifth Avenue flagship this morning to dish on their adventures filming this year's show.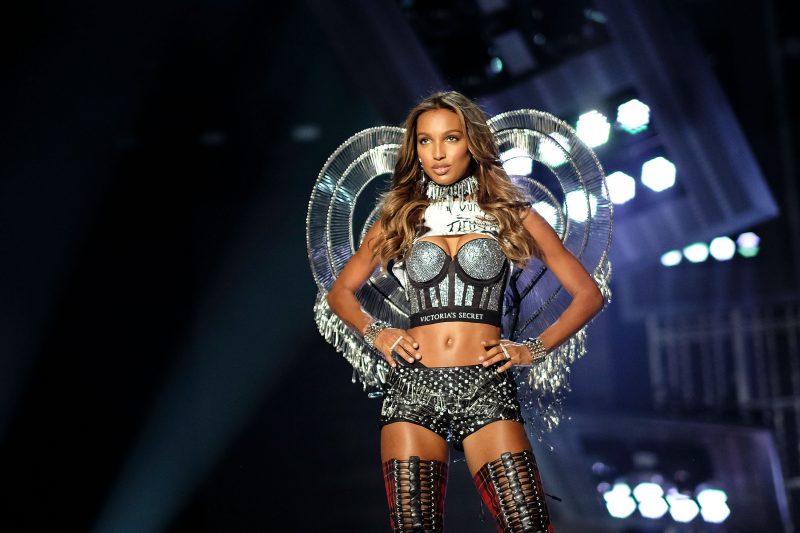 JASMINE TOOKES
What was your reaction when Victoria Secret was teaming up with Olivier Rousteing?
I was so excited because I have always loved his designs—they're so cool and badass! They remind me of very strong and empowering girls. I think he brought this amazing spin to of our bras, shirts, and bags.
Did you get to interact with him at the show?
Yes! He was backstage with us taking photos in the pink robes and he is always so nice. He's like a brother.
Give us a little taste of what it's like to be at the show.
It's a lot of madness and running around. Wings are everywhere! People are getting knocked from side to side but it's so much fun and it's very positive. We have a screen backstage and we can see the girls walking down the runway, so when a girl walks down the runway we are screaming—I'm pretty sure the audience can hear us!
Last year you wore the million dollar bra. Did Lais Ribeiro ask you for any advice?
She spoke to me about it a little bit but she's so confident. She has the best boobs, so she didn't need much help! [Laughs]. She looked so amazing and I was so happy for her. It's a lot of pressure, but it's fun and Lais really deserved it. 
What was your favorite part of this year's show?
The punk section because it was so different and cool. The music was very rock and I think all the girls looked really awesome in their outfits.
How did you re-group after the show?
I actually went to Thailand for a vacation with few of the girls—four days to relax, let loose, and have a good time. Then we got back and went straight to work!
So you spent Thanksgiving together?
We did! Me, Lais, Josephine, and Sarah [Sampaio]. The place we were staying at set up this beautiful for dinner for us with lights on the beach. It was so nice.
What's on tap now that you're back?
The show tonight, which I'm so excited to see! We film a lot of stuff before the show, so I'm excited to see those packages. It's also really fun to watch the show together because we cheer each other on. We were together in China, and it will be fun to be together again tonight.
ROMEE STRIJD
You just got back from Shanghai. What was your favorite part of this year's show?
My favorite part was just being in China! It was my first time going there so I loved seeing the culture. Everybody was so welcoming and we had this runway which was super futuristic, hyped and so different. The show was on a whole new level with a totally different vibe.
What's it like backstage before the show begins?
Once you're backstage everybody is really enjoying and taking in their time because we all know that it goes by so quickly. We all try to tell each other to enjoy the moment—everyone's super positive and everybody tells each other you look amazing.
What was the jet-lag like?
Super intense. I have never experienced such a jet lag. But it was all worth it.
How did you deal with it?
I just accept it. [Laughs].
What will you do tonight when the show premieres?
We're going to watch it all together, so that's going to be a lot of fun. We'll probably have a party after. It's going to be a cool night.
These bras are super Kira-Kira appropriate. Was anyone using the app backstage?
I actually didn't see a lot of that going on but when I saw one of the bras I said we have to do that! The Balmain bras are perfect for Kira Kira.
The show marked Alessandra's final walk. What were the reactions amongst the angels?
Well I made a speech with Alessandra backstage and it was really emotional because she did this for 17 years. When I watched the show at 13 years old she was already in it. For her to leave is pretty sad but understandable. She was such an iconic model for the brand.