rimIn under just one year, photographer and artist James Goldcrown has created a viral sensation in the worlds of art, fashion, and social media with his #bleedingheart "Love Murals" around New York. Chiara Ferragni, Eva Chen, Scott Lipps, The Fat Jewish, Rocky Barnes…the list of social media stars Instagraming his work goes on. From how he got started to his current projects to the last thing that made his heart hurt, plus more, the adorable Brit broke down his story just steps away from his Mott Street installation at Two Hands in Little Italy. 
How did you make a big splash so quickly? 
I moved to New York from London in 2007 just before Halloween, with no clue how celebratory it was. It ended up being one of the craziest things I'd been a part of. I kind of fell in love with New York slowly after that and got offered a job here as a fashion photographer for a studio. I've worked a lot with magazines as well as designers for in-house photography, for fashion shows and backstage. I was doing that back in London since I was 18, and then I did a bunch of tabloid and commercial photography but wanted to transition into something a bit different.
Why?
I just found it a bit exhausting. It was fun at first—don't get me wrong, it's nice to be surrounded by beautiful women—but the industry itself is very intense and I was at a point where I wanted to do something that felt rewarding to me rather than for other people.
How did you come up with the 'bleeding hearts' concept?
'Bleeding hearts' kind of started as a mistake. I was aware I was doing it, but at the same time, I wasn't doing it for anyone. I was actually testing the pressure of spray cans because I mixed spray paint with my multimedia and fashion photography work. To get the right pressure from the cans, I sprayed hearts on this door in my studio. Eventually, the door was full of hearts. When a client came in to pick up a piece I made for him, he ended up buying the door as well—he loved the hearts. Soon after I went to Art Basel and showed a wide spectrum of my projects. Two of them were bleeding hearts and they sold immediately. It ended up being a sell-out show, but I realized that what the people were ordering were the bleeding hearts.
How many times a day are you tagged on Instagram?
I kind of stopped counting! But it's quite a lot. It used to be like 100-plus a day. I think it's calmed down a little bit…but then there will be those days where I'll get 30 followers in a half hour.
Wow! A lot of models and bloggers pose against your work on Instagram.
Yeah, but to be honest, I don't really know any of them! That's another weird thing. My friends would tag me or write @JGoldcrown and I would see someone posting my work with like 500,000 followers. But I genuinely don't know who half of these people are. It's not that I try to stay out of the loop; sometimes I recognize faces, but I'm just bad with names in general. I'm really grateful to the fashion industry, though. They've definitely helped my career. I got in touch with Scott Lipps and did something in his office, which has been successful with his models. He's a cool guy.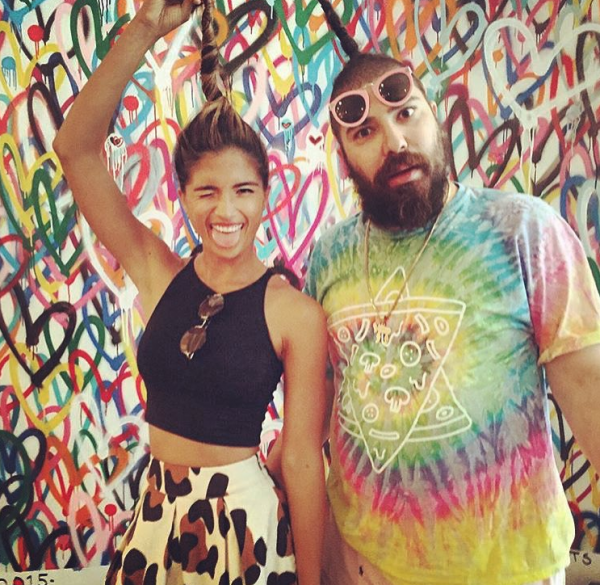 What makes you "like" someone's photo or re-gram it?
I don't really look at who posted the photo or how many "likes" it got. It's more about it being a visual image that would capture me. I'm a photographer at heart, so the way I look at everything is through a lens. That's why when I make murals, they're neatly done and at a rather old 120-film frame. But sometimes I'll also like controversial and ironic images. It really depends. I guess we all like something that catches our eye.
Where was your first installation?
Outside of L'asso. They'd seen my work and gave me the freedom to create a mural, and I decided to do the bleeding hearts. It was in February right before Valentine's Day and it just went viral. At that point, I learned what viral meant—it went a bit crazy! I knew it would have an effect, but I didn't think it would be global and have such an impact. After that, people started recognizing my work, something I thought would never happen so quickly. It was kind of like a day-and-night situation. The funniest part is when I was featured in Grazia UK, my sister called me and was like, "You've made it." I didn't even know about it, but it was really fun.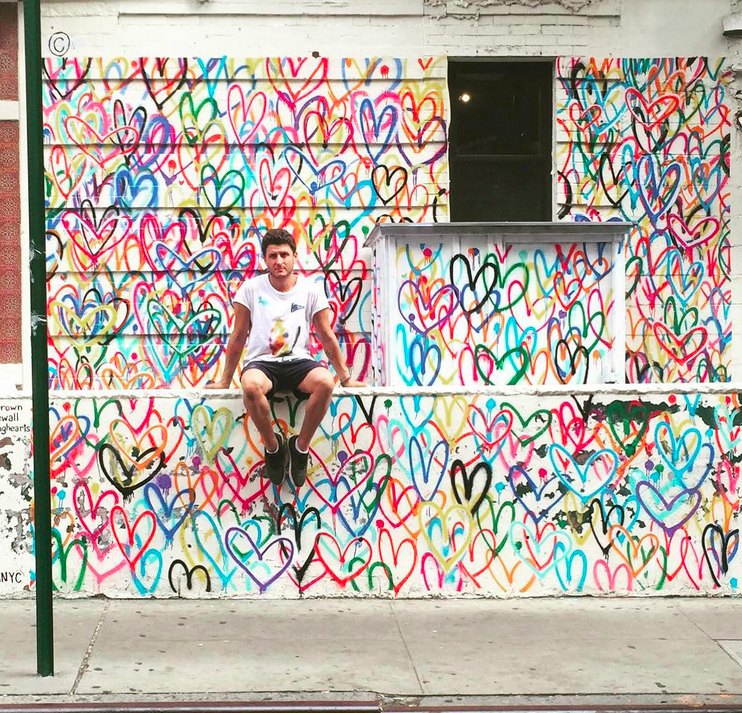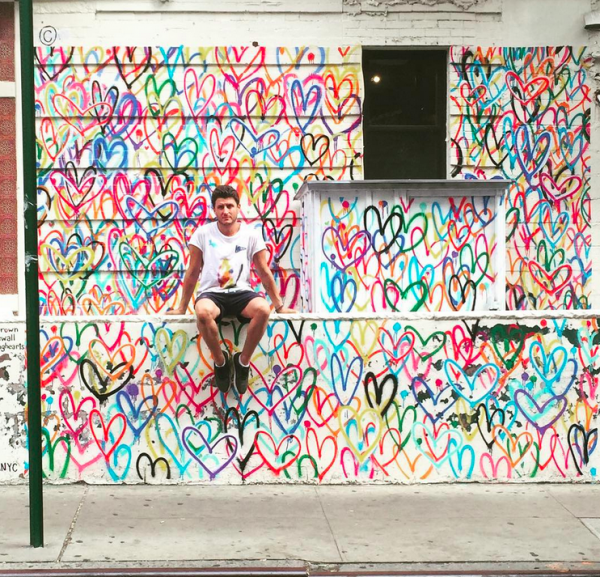 Other locations where we can find your work?
I have three around the city. I'm doing one in February at L'Asso again, in addition to one in Miami and one in L.A. I have a mural at Gilded Lily—I'll be doing other clubs like Provocateur around Fashion Week. And I'm creating one in Brooklyn at Loosie Rouge.
How long does it take to create them?
Depends, but the one on the corner of Mott Street took a day and a half with breaks. The one I did on St. Marks was on scale the largest one, at about 18 feet by 6 feet, but it only took me two and a half hours because you figure out quicker ways to do it while still making it look good.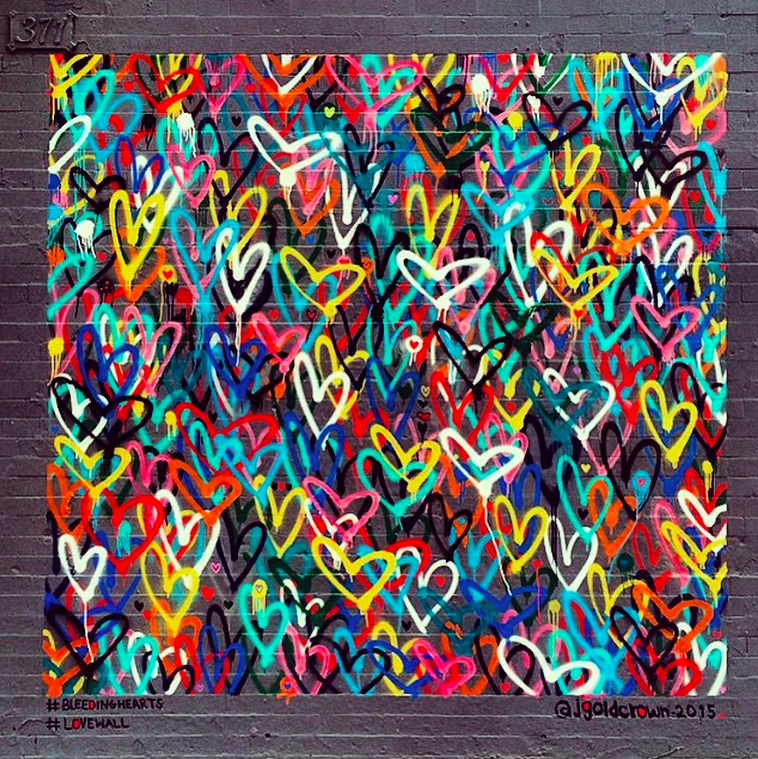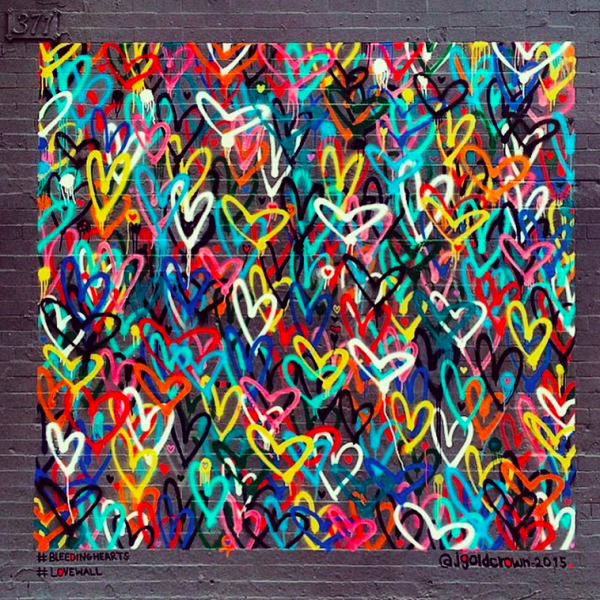 What makes a wall photogenic?
Something that's universal and doesn't need an explanation. I love how when my murals are tagged on Instagram, it's reposted in almost every language in the world: Japanese, Spanish, Korean, Italian…it's something you don't really need to know how to read because it's coming from the heart. It's like a sport that can globally, emotionally do something.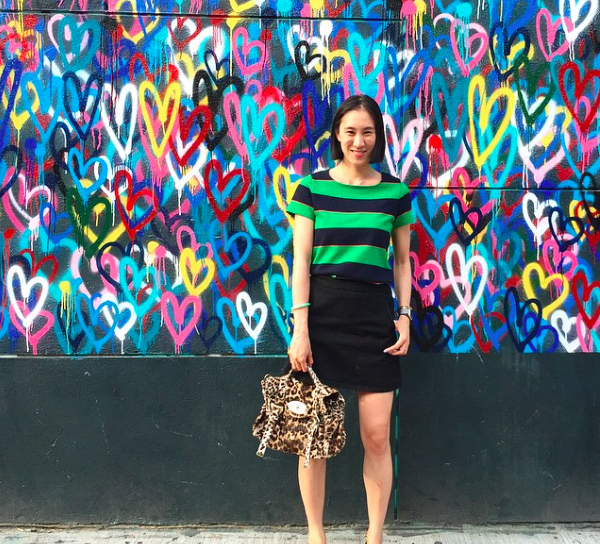 What are you loving right now?
I'm loving the idea of traveling and adventuring. I've made my mind up that I'm going to do it all on land and take trains to different cities.
Really?
Yeah! I'm not going to have a real plan, but I'll make appointments along the way to do murals. I want to learn and get to know cities and be taught by them. I'm really excited to just do it by myself and go forward.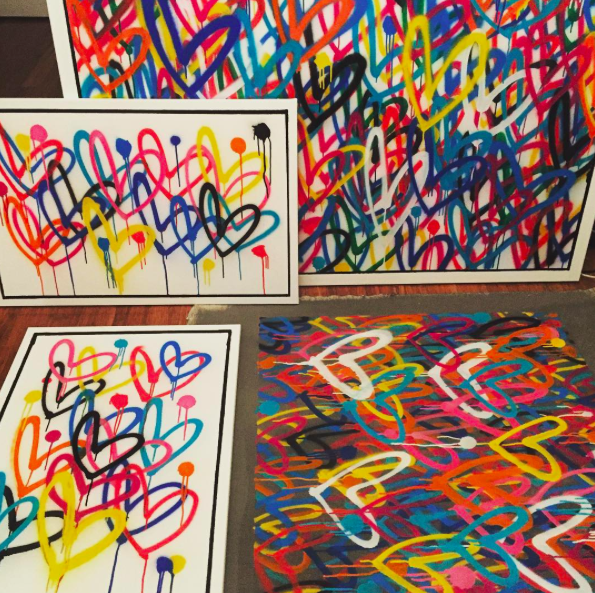 If you could pick anywhere around the world to create a Love Wall, where would it be?
Somewhere in South America. There's something about it that calls to me. I'll get private messages from people to come to Brazil and Argentina. It's definitely on the agenda, but I'd still like to do America a bit more. I think once I've done L.A. and middle-America a bit, I'll be ready to take it to another country. I'm in no rush though—I feel like it's still very young and I'm enjoying it.
What was the last thing that made your heart hurt?
The events in Paris were really traumatizing and real. That was the last thing that I posted on. It was very upsetting.
Any upcoming projects?
I'm doing at least 12 commissions a month. I also have some products in the works, like a collaboration with Portmantos in conjunction with Rimowa. They've asked me to be their official artist and do limited-edition work with them. I've also designed album covers for bands like Time Flies. It's been really weird…a very good weird. My mom keeps me grounded so I'm very humbled by it all. It's been a great little journey so far.
Photos: Instagram @JGoldcrown