Although Christian Lacroix left the fashion world in 2009 with the shuttering of his couture house, he's enchanting more people than ever as a costume designer for Europe's top cultural institutions. Now that the film version of Absolutely Fabulous is being released, isn't it about time we caught up? 
First of all, how have you been?
I am quite good, except for the weather! I was in Spain, and it was so much easier. I really feel like a southern guy. I don't feel like a Paris guy. I never feel like a Paris anything!
Were you in Spain for work?
Yeah, because I had production on a revival of an opera. I saw friends, and I'm also working on a documentary about a friend of mine who died a long time ago. I feel much better once I'm out of Paris!
Any other trips planned?
I have to go to London, because there will be an exhibition ["The Vulgar"] at the Barbican about fashion inspired by popular costumes, and the curator, Judith Clark, will present some pieces from me. As you know, I'm no longer part of the couture house—I am part of a long, long suit with them—and I don't know where my archives are, so I can't promise anybody that I can get anything for a fashion exhibition. But I lent some outfits to museums over 30 years, and I know which customers are able to lend some couture numbers for these kinds of exhibitions. I'm also working on a book of all my sketches, [starting] from early childhood. My mother kept everything—I kept everything! I'm very excited, but it's a lot of work to edit all these sketches. But it might be an interesting book.
What's your next project?
I'm doing the costumes for A Midsummer Night's Dream, the Balanchine ballet, based on the New York City Ballet production from the '60s. I'm quite close to the Balanchine trust—this is my sixth Balanchine ballet. And I'm doing Pelléas et Mélisande for the Théâtre des Champs-Élysées, and I also have my Grenier des Maîtres at the Comédie-Française, so I feel quite lucky. Being a stage designer was my dream as a child. I never thought about fashion! Never. I was born in '51, and Mr. Dior was so successful at the time. When I was 2 or 3, my grandfather had asked me and my cousins what we wanted to do later, and when it was my turn, I said I wanted to be Christian Dior, because his name was the same as mine. They were astonished. It was a very funny story [to tell] when I signed with Mr. [Bernard] Arnault in '87. Anything you have in mind when you are a child can come true one day! I didn't become Christian Dior at all, but I must say now that Mr. Arnault once, a long, long time ago, proposed me to leave the house of Lacroix and do Christian Dior, but I much preferred to keep Lacroix and not go to such a wonderful monster.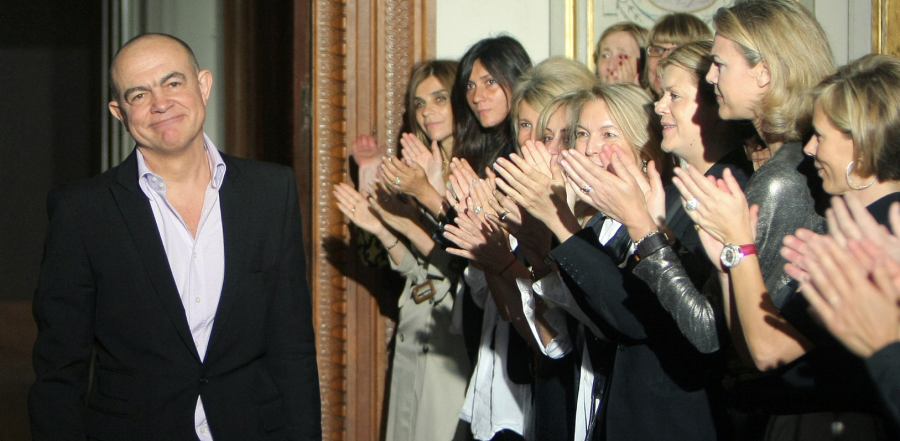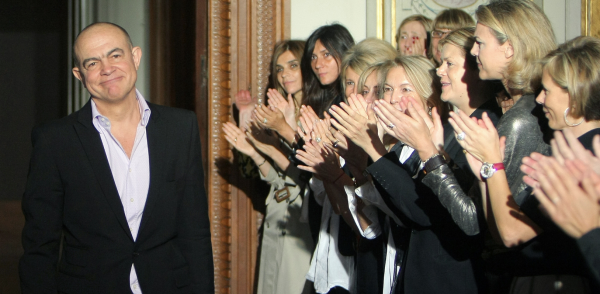 Who knew? Is it selfish to say that we want you back in fashion?
It was all by chance, just like that! When I first arrived in Paris, I wanted to be a curator for a costume museum. I was particularly fascinated by the history of clothes and costumes, which is still my main passion in life. But I wanted to be a nice guy—and successful!—to please my parents. I was sketching, sketching, sketching all day long, and my wife and a few friends encouraged me to try something in fashion. One was already involved with the industry, and she said, "Are you crazy? These sketches are totally the same trends I saw at fashion shows just one week ago." But I didn't know any difference between ready-to-wear and couture. I didn't know that there were Fashion Weeks! So I presented my sketches to a famous school in Paris, called Studio Berçot. Marie Rucki, who is still the director of the school, said, "You are too old and my school is too expensive. I much prefer to write you some letters to Mr. Bergé, Mr. Saint Laurent, Mr. Lagerfeld." I was so lucky—all those people had time for an unknown student. Mr. [Pierre] Bergé and Mr. [Karl] Lagerfeld spent a whole afternoon with me, giving advice and chatting. Very kind. I was full of hope. My work was mainly operatic and theatrical, and if I was a little bit successful, it was because the '80s were operatic and theatrical and a little crazy. If I had arrived 10 years later, nobody would have any interest in my sketches.
What was your first job?
I was hired as an intern at the house of Hermès in '78. Then I showed my work to the house of [Jean] Patou, and because I was the youngest and the cheapest, they hired me. And I stayed five years, and Mr. Arnault noticed my work because I got the Golden Thimble [the Dé d'Or Award, one of the French fashion industry's highest honors] and the CFDA Award in New York, and then it was the house of Lacroix until 2009! But meanwhile, when I was a designer in the house of Patou, a theater director in France saw a few of my dresses on TV, and he said, "This guy must do theater." He gave me the first opportunity of doing costumes, and I never stopped! At the time, I was more interested in cinema. I had just finished costume design for a movie one day,and my secretary said, "Mr. Baryshnikov is on the phone!" I thought it was a joke, because just one week before, Paul McCartney had called, and I was sure it was a joke from my friend, because I was such a fan of the Beatles. But, of course, it was Paul for real because he wanted me to hire his daughter, Stella, as an intern.
Wow. You had a very big moment on Anna Wintour's first cover of American Vogue. Was that your entry into the U.S. market?
It was just before that, in '87. I had a good relationship with Blaine Trump, and she was on a board with all these women whom Mr. [John] Fairchild referred to as "ladies who lunch." They invited me to New York. You know that film from [director George] Cukor, The Women? It was like that—I was the only guy in a wonderful, wonderful Park Avenue flat, covered with Matisse and Picasso and Braque paintings, and they were so nice, and spirited, and elegant, and beautiful that I was on a cloud! Along with Bergdorf Goodman, they organized a big show for me in a building next to the Twin Towers that had just opened. We had palm trees coming from San Diego…it was a caricature of the '80s. The following day, we got the cover of New York Magazine. I was wearing a tuxedo with the models, and I have an evil glance. It was the beginning of the [economic] crisis. So I became suddenly evil. Everybody said that my fashions were Victorian, and that was not fair to women to have that pouf or that big coat. A feminist writer in New York, who was famous at that time, wrote that [the clothes] were meant to be put on a mantle, like dolls in between candles and a clock. It was a little bit difficult then, and thank God Anna gave me this great cover, which helped a lot. I much prefer to keep the good souvenirs of Lacroix.
The Absolutely Fabulous film is coming out this month. Is it safe to say that you're a fan?
It was so wonderful. I love it! At the very beginning the TV channels were not spread worldwide as they are nowadays. I had an assistant from Central Saint Martins who said, "You know, we have this wonderful BBC program called Absolutely Fabulous, and they are crazy about you." I wrote [Jennifer Saunders and Joanna Lumley], and they answered that they were so relieved. They didn't ask me for anything—they were buying accessories and clothes like customers in our London boutique! I loved being a part of it.
Your last couture show was one of the most memorable moments in fashion history. What was going through your mind at the time?
I was mainly a stage designer, which is perhaps why the couture shows had these intense emotions. I wanted people to cry. I wanted to cry myself. I was sure of my work when the very last time we had cries of joy with the team because we kept the bride as the very last fitting during the night. It epitomized the collection. I paid a lot of attention to the music—for me, it was like a show, like a stage show, like theater or opera. Sharing this emotion with people was much more important for me than sharing success in terms of money and trends. I was lucky enough to be successful without following the trends. In my collections, people were looking for poetry, literature, and painting, much more than any length, or shape, or It bag. Sometimes on Instagram, I see a lot of pictures of mine. And when I look at things—one more time, a little bit pretentious!—like the work of [Alessandro] Michele at Gucci, I can see little things we started with in the late '80s and the beginning of the '90s. Young designers are collecting Lacroix outfits. My work seems to still be around, in a way. I'm so pretentious today—I never say this kind of thing! [Laughs]
Unbridled creativity on the runway was always one of your trademarks. Are we missing that these days?
I think that there are wonderful, wonderful guys at Loewe and Gucci, because they both have the theatrical skill and the business skill, too. They were born in the [economic] crisis, all these guys and girls—I was born in such an easy period. To be born in the '50s meant being a teenager in the '60s. Can you imagine what a wonderful time it was? We were not as aware of what was happening on the other side of the world—we were kept in a small, small Western world, when the aristocracy had a lot of money and culture. We had beautiful, beautiful everythings, without all these nightmares. When we awoke in the night, it was not because there was no work, it was because we had too many choices! For the past two seasons, I've felt that kind of extravaganza is back again. For 10 years, it was a little bit flat—just business. But last week, I looked at a Cruise collection from New York—Monsi? Do you have a house called that?
Monse.
Monse. Wow—that is very, very, very nice, and very daring for a Cruise collection, not just a blazer with the pants and the knit and the gown. Beautiful proportions and volume. We need that! The more
a period is a nightmare, the more we need to be a part of something larger than life with beauty. But real beauty—not the beauty from advertising, because people are quite tired of these plastic things.
What did you think of what Hedi Slimane was doing at Saint Laurent?
It was the cleverest work in a decade, what he did at Saint Laurent. I knew Hedi, because he started as director of a fashion house with his partner at that time, José Levy. Mr. [Jean-Jacques] Picart was my associate at the time, and we met with Hedi, and he came on as an intern and then assistant of Mr. Picart at the house of Lacroix for a year. You could see that this guy had such a universe, such a world in his mind. He was an artist, and he was already starting with photography. He changed the silhouette of the street with his menswear. It was not a caricature of Saint Laurent, but as Mr. Saint Laurent did in his very beginning, in the '60s—taking pants and the navy coat from the street…blah, blah, blah. [Hedi] did the same with the rock scene. I would like to see him either at Dior or at Chanel, if that's possible. Why not—I have been told that he kept a very good relationship with Mr. Arnault, despite everything that happened in between. I know he was quite close to Karl, and Karl is clever enough to perhaps say, one day, that Hedi might be the one and only who's able to do it himself. I don't know, but for me, he deserves such houses. I am sad for Alber [Elbaz], because he did not deserve this. If I had been told that I was stopping the house of Lacroix, and asked who I saw as a follower in the era, for me, it would be Alber. I felt very close to him, and I would love to see him doing Lacroix or Chanel.
Thoughts on the new Maison Martin Margiela?
I love John [Galliano], and what he gave to fashion. When my wife and I were in London in the '80s and '90s, we were quite close to Hamish Bowles and Mario Testino and that gang. At the time, John was living with [designer Jasper] Conran, and they were sharing the same schedule for shows and everything. John was just known by a few people, and it was extraordinary, what he was doing. When he came to Paris, he changed the face of Paris fashion with his work for Givenchy and Dior. I would like him to have something where he feels perhaps freer. Margiela was so difficult to take. Margiela, also, is one of my favorite houses. It was the rumor in Paris that Mr. Margiela himself would be the next Dior guy. Paris is full of rumors!
Would you ever want to go a major fashion house?
No, never…never, never, never. I'm just doing some sketches and bridal work for friends, and consulting. Working for stage is so couture, because I'm lucky enough to work with the main opera houses in Europe, and they have exactly the same structure, with menswear and womenswear, accessories, wigs, jewels, and shoes. This is my planet, my world!
Click HERE to read the full issue of the Daily Summer.