Yesterday, IKEA gave the world another sneak peek at their super-hyped collaboration with Virgil Abloh, via a livestream from New York City. In the video, Abloh and some guy from IKEA named Enrich (or maybe it was Heinrich?) walked through what looked like a downtown art gallery set up with selected products from the forthcoming collaboration, which isn't set to hit stores until some time in 2019.
They kicked things off with a lengthy, and — dare I say it? — painfully pretentious and bombastic discussion of "doorstops," which apparently formed the basis of Abloh's way of thinking about this collection. "When we were stuck in the beginning looking through what we wanted to do, I had this image of an airplane wheel with two chalks or like doorstops to stop it and I just posed the question, I was like the person who designed the wheel must think he's like God's gift to earth, but the person who designed the doorstop is equally as impactful because it can stop a plane in its tracks."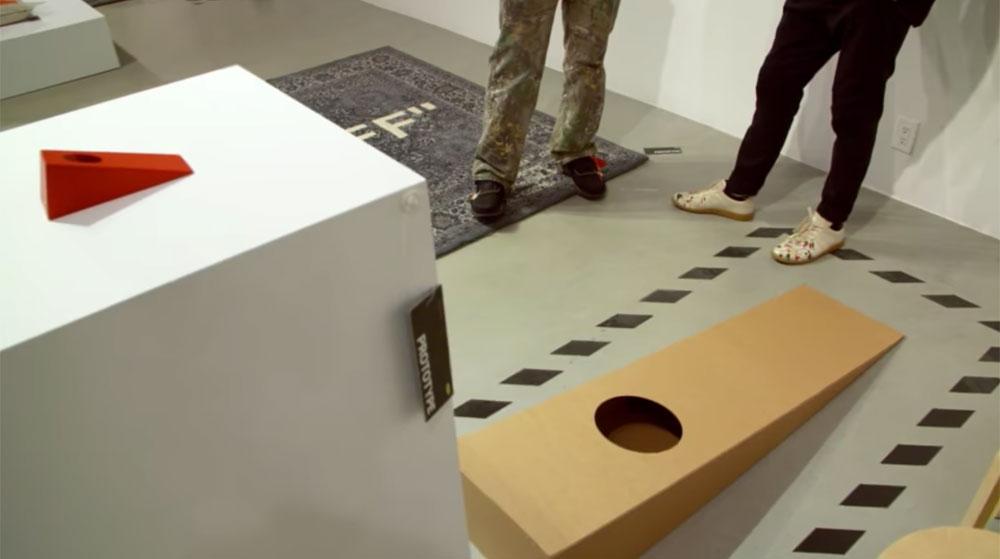 The doorstop they showed in the video was red and had a hole in it, but apparently the final product might be made of clear, recycled acrylic. It is meant to go not under a door, but on the bottom of the leg of a simple wooden chair.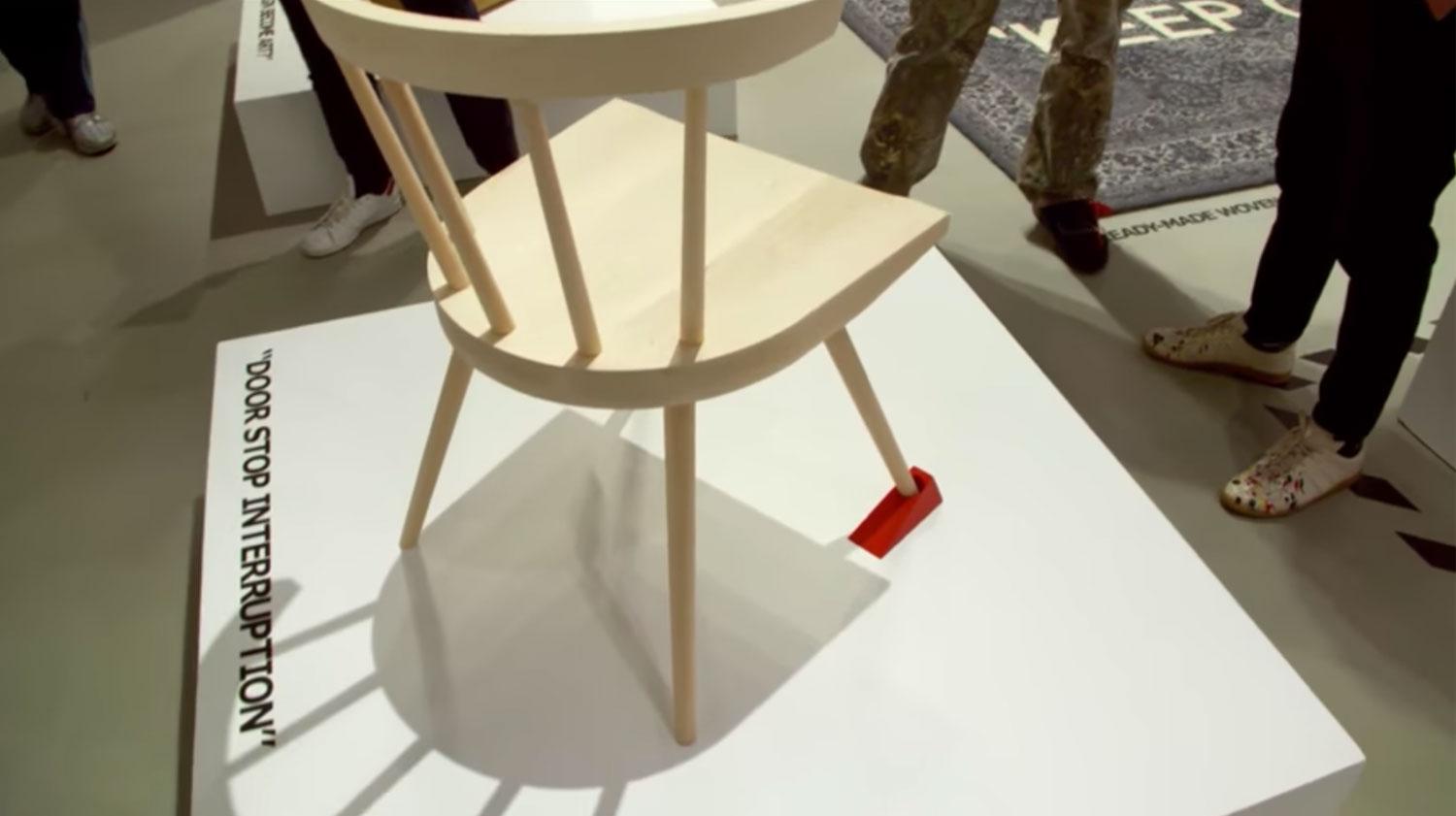 "The idea is that it's a chair with three legs of equal length, but then this one is taking use of this mythical, anonymous design that I think's a metaphor," said Abloh. Exactly what this is a metaphor for, Abloh never said, although the insistence that metaphors are at work in the collection was certainly reiterated more than once over the span of the video.
Yeah, it's about as interesting as it sounds. Unless you're super into Abloh and everything he does, in which case you probably find the whole thing riveting. Who cares that this idea of recontextualizing everyday objects to raise them to the level of high art was made famous by surrealists like André Breton and Marcel Duchamp in the last century? After all, they didn't have Abloh's following on social media.
Given Alboh's penchant for ripping off the intellectual property of other designers, his use of "anonymous" designs like doorstops and simple wooden chairs that can be found practically anywhere in the world feels right on brand for him.
Abloh also showed off a pair of glass display cases with unfinished wood frames and red handles shaped like nails. He had kind of a lot to say about those as well, but at that point I had stopped transcribing the video and was really just trying to get through to the end without jabbing a pencil in my ear. So, if you want all the details — I remember he said something about curating your junk drawer — you'll have to watch the video yourself.
The video ended in front of a red rug with the word "blue" on it. Abloh flattered himself by referencing the tapestries of Versailles as part of his inspiration for putting the rug on the wall in the first place, but, I mean, COME ON! You hung a rug up on the wall. This isn't about Versailles. Stop it. Just stop it. Also, the anemic visual pun Alboh is making by writing "blue" on something red has been done so so so many times before. It really doesn't need to be done again.
The best part of the video comes around the 44-minute mark (so long!) when someone off camera asked Abloh a question sent in by one of the people watching the livestream: "What for you is the biggest differentiation between designing clothes and sneakers and designing furniture?"
"For me there's no delineation," said Abloh. "I ask myself the same question before I start and that's Why? Why does this need to exist?"
Yes, Mr. Abloh. Yes! Why? Why does this need to exist? Why does any of this stuff need to exist? It's not original. It's not innovative. It's an exercise in millennial marketing. It exists to make money. That's why. Let's not pretend there is anything more to this whole enterprise than that.
Subscribe to our newsletter and follow us on Facebook to stay up to date on all the latest fashion news and juicy industry gossip.